The Pastor at the Top of the World
First it was the shamans, masters of spirits, both malevolent and benign. Then it was Hans Egede, the Danish-Norwegian missionary who strode ashore West Greenland 300 years ago this year to establish the country's first Lutheran mission.
Now it's an innovative pastor from Elkton, Maryland, who has founded the country's first Baptist church in the west coast Greenland city of Ilulissat.
Barely a quarter-mile from the armadas of cruise-ship-sized icebergs in the harbor, the Ilulissani Baptistit Oqaluffiat (Ilulissat Baptist Church) is a modest, dark gray building on a sloping hill near a Chinese restaurant. Scripture quotes along with seal skins are affixed to the walls of a cheery dining area inside. In a country that's increasingly visible on the world scene because of the immense amount of rare earth minerals tucked into its landscape, Chris Shull, 42, has staked a spiritual claim.
"Our mission field," he said, "is the coolest place on Earth."
It's also one of the prettiest. The town, population 4,670, is parked next to the world's fastest calving glacier that dumps 11 cubic miles of icebergs each year into the Ilulissat Icefjord from Greenland's fast-melting ice sheet. It is climate change in live action and a draw for thousands of tourists each year.
Most of them might never know of the Baptist church, even though it's down the street from the Knud Rasmussen Museum, a huge draw for visitors wanting to view the birthplace of the famous Arctic explorer. Shull is happy to show visitors around the church, which has a roomy reception area next to a separate room for Sunday services. The latter has rows of maroon-cushioned chairs next to huge windows looking out on the town and the encircling harbor.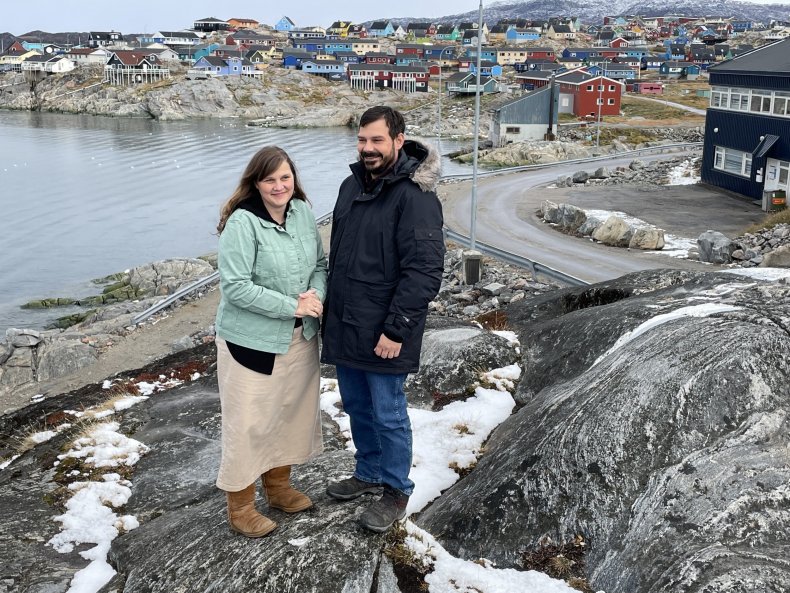 After a four-month U.S. sabbatical this summer, Shull's seven-member family arrived back in Ilulissat last month to hopefully stage their first baptism (this has to be done in a tank; the harbor water is about 35 to 37 degrees Fahrenheit); reach out to other towns via a hoped-for new boat; engage the local spiritualists ("Shamanism is big here. Everyone I know has ghost stories," he said); and build some brand recognition around the name Baptist.
Shull, a stocky man with dark hair, a mustache and a sparse beard, felt drawn to be a missionary to Greenland starting when he was 19, and in 2000 he and his wife, Carole, now 44, spent their honeymoon in Nuuk, the capital.
"I asked God to send me somewhere where there weren't too many Baptist missionaries," he said. "I knew God had called me before we even went."
The place that drew him most was Ilulissat, the world showplace for global warming. As the main city on the massive, iceberg-choked Disko Bay, which is surrounded by a number of smaller towns, Ilulissat was the strategic choice to reach the most people. (Larger cities, such as Nuuk and Sisimiut, are more isolated.)
Getting there was a yearslong process that involved 22 months in Iceland and a chance meeting with a Danish official who helped arrange their move to Greenland in April 2007, with the proviso that they relocate within a six-week window. Carole was eight months pregnant.
"When we first arrived, there was no one waiting for us at the airport," Shull said in a promotional video. "There were no believers, no veteran missionaries, no one. We had no long-term housing, nor could we speak the languages," although he'd studied Danish in Iceland.
"We had 3 children under the age of 6, and my wife was expecting our fourth child in a month. We knew no one. We were alone. It was just us and God. When all you have is God, then you find that he is all you need."
The family squeezed into a one-bedroom apartment and, for their first six years, got around town by foot, as cars were expensive. Fourteen years later, they have a 2,000-square-foot church, a home with plumbing, a car that fits their entire family, a boat, a children's ministry that draws 20 kids plus several adults on Wednesday nights, a prison ministry at a local minimum-security facility and Sunday services that draw up to 17 adults.
The prison, a low-lying bright red building down the street, brings in people from around the country, and it felt like an ideal mission field to Shull when he first started visiting in 2012. "We've been praying about a way to reach young people," he wrote supporters, "and now God has given us a 'captive' audience!"
He preaches in Greenlandic, which took him four years to master. Greenlandic, a polysynthetic language that strings together roots and suffixes in long words, is notoriously difficult to learn.
"The people attracted to us are the poorer people, the people with more problems," he wrote on his blog last June. "Which is fine—we want to help them. We see past the façade to the brokenness and alcohol.... The people have a Bible in their language, but they don't know how to read it. They've never heard the stories of Jonah and the whale or David and Goliath. It is fun to tell them, but we have had to start from scratch."
On paper, most of the population belongs to the Lutheran Church of Greenland, which Shull calls a "dead religion" that allows infant baptism, which is anathema to Baptists. (The new Lutheran bishop, Paneeraq Siegstad Munk, turned down a request for an interview.)
Shull comes from the Independent Baptists, a Christian group that makes up 2.5 percent of the U.S. population, or some 8.2 million people, according to the Pew Forum on Religion and Public Life. They are fundamentalist Christians who believe in baptism by immersion and refuse to join any organized Baptist group. The late Reverend Jerry Falwell, who began as an Independent Baptist before switching to the Southern Baptist Convention in 1996, was the most famous member of this group.
It was this loose network of churches that Shull concentrated his fundraising efforts on in a marathon sprint this summer around the U.S. Shull's home church is Pleasantville Baptist in New Castle, Delaware, and his sponsoring organization, All Points Baptist Mission in New Philadelphia, Ohio, specializes in missions to Arctic nations.
Their support is now up to about 50 churches, he said, as offerings from the Greenlanders themselves are minuscule. Shull goes to where they are, whether it is playing Greenlandic baseball ("After 13 years, we're still trying to figure out the rules...6 bases, 5 people on one base, no foul balls!" he wrote last year) or ice fishing, dog sledding, or hunting musk ox, caribou and reindeer with the locals.
He hopes to sell his current 32-foot Bayliner for a bigger boat where the parts are locally available. With the current boat, spare parts are overseas. "If something goes wrong, it's three months before we get a part, and you can't have a ministry like that," he said. He longs to use it to distribute tracts in waterfront cities like Aasiaat and Qasigiannguit along the bay's southern edge.
"Being American opens doors," he said, as people are curious about American culture.
"The big thing is getting to know people and care about them. All the people who've come to church, we've already spent many hours with them. I probably know half the town. One lady we gave a tract to, she called me a year later and said she had a 'ticket' and could she come to church." The woman wanted to be baptized.
The couple is matter-of-fact about the difficulties of getting a foothold in a community where people may attend the Lutheran Church for big events like confirmations but have extremely messy and difficult private lives.
"People will come to church, but it's hard to get them to change their lives, not go out and party and get drunk," he said. "Alcohol has destroyed peoples' lives. Lots of hashish gets boated in."
Plus, he said, "there are more divorces than marriages in Greenland. We have one family with five kids—all with different fathers."
"The intact families tend to be more educated," his wife said. "Kids aren't told no."
Suicide in Greenland, where the rates are some of the world's highest, is a constant threat, he said, along with broken families: children who don't know their parents or have moved from one foster home after another. Others have parents, particularly fathers, who committed suicide. Others have had abortions.
"One boy calls Carole and I 'Mom' & 'Dad' and asked us to adopt him," Shull wrote in one of his Facebook posts. "You cannot imagine some of the things these poor children endure at a young age."
Fourteen years into their sojourn, most of the family has acquired dual U.S.-Danish citizenship. Their eldest son, Chip, 20, teaches English at a local school, and their eldest daughter, Anna, 18, works part time at a fish factory. For years, their father has been asking other missionaries to join him, and for a time James and Cheryl Wright from South Dakota came to live in Ilulissat.
According to a letter James Wright posted online this past spring (and which has since been removed), he and Shull "had major disagreements" on several fronts.
"My current outreach and involvement are limited and restricted to the point that I feel I am not needed," Wright wrote in part. "It was never my intention to just sit under another man's ministry. We are extremely disappointed that our stay was short lived, and my heart is saddened knowing that I cannot make this work."
Asked about the Wrights, Shull cited cultural and language difficulties.
"They never adjusted to the culture or the people," he said. "The native people can tell that you don't like [them].... But they were helping us. It was unexpected; they told us they were leaving, but there was nothing we could do."
He's awaiting the arrival of another missionary couple, Gage and Aleah Gilbert of Harrison, Tennessee, who intend to work with the Shulls, then move to Nuuk, where, they say on their website, there is "no gospel witness or Independent Baptist Church."
Actually, Nuuk has a variety of Christian groups, including a Catholic congregation and Inuunerup Nutaap Oqaluffia (INO), a Pentecostal denomination that has outreaches in 14 towns around the country. The Nuuk congregation, which has about 150 members, just underwent a church split when its Greenlandic pastor left in April.
"You'll find more people here than in the Lutheran Church," said the Reverend John Østergaard Nielsen, INO's former national leader, who was in Nuuk last month to help the congregation. In contrast to congregations consisting mainly of expatriates, he said, "this church has been very Greenlandic." In 2018, it was part of a large Christian rally in Nuuk that drew 1,000 people.
"From that rally, a few stuck with the church," he said. "And healing has not disappeared. We see people getting healed here," including the time he was invited to a hospital where a woman lay in a coma.
"I began to pray," Nielsen said. "I just said 'Jesus,' and all the wires began to beep. But two weeks later, I heard she was healed. I was shocked but then was reminded of the power in the name of Jesus. Sometimes, as a pastor, you forget that."
Shull avoids such Pentecostal displays, saying they are too close to the shamanism that lurks in the culture. He plans to remain in Ilulissat for many years to come and hopes more Baptists join him in reaching out to a beautiful city with tough problems.
"When I first got off the plane, my tour guide said, 'This is the devil's town,'" he remembers about their arrival 14 years ago.
"I said, 'Well, this is the town for us.'"