Pastor Urges Trump Admin to 'Shoot' Democrats, Journalists if They Conspired to 'Rig' Election
Rick Wiles, the senior pastor of the Flowing Streams Church in Florida, said that President Donald Trump's administration should "start shooting" Democrats and members of the media in firing squads if it turns out they conspired to rig the presidential election.
The Christian pastor made the remarks during an episode of his TruNews program last Wednesday as he discussed Trump's baseless claims of widespread voter fraud. Wiles also pointed out that the Justice Department has created a new rule allowing for firing squads to be used in federal executions. Right Wing Watch first reported the pastor's remarks on Monday.
"I'm not trying to be funny but [it's been fast-tracked] because they plan to shoot some people," Wiles said. "They're gonna have a bunch of traitors. They're gonna line 'em up against the wall and start shooting them. Because that's what they deserve."
"The Democrats, the news media—if the leftists, if scientists, professors have been working secretly with the Chinese Communist Party," Wiles continued, "then line 'em up against the wall and shoot them. That's what you do with them."
Newsweek reached out to TruNews for further comment but did not immediately receive a response.
Although President-elect Joe Biden was projected as the winner of the election more than three weeks ago, Trump has refused to concede. The president and his legal team have pushed unfounded conspiracy theories that the election was rigged against him. Among other claims, lawyers working for the president have suggested the Chinese government and Venezuela were involved in the alleged plot. They have not provided any evidence to support these claims.
Last week, the Justice Department expanded the acceptable ways that federal inmates on death row can be executed. This means prosecutors would be allowed to use firing squads and electrocution—among other options—if the state where the execution is carried out allows.
Wiles previously suggested on TruNews that Trump supporters should turn to violence if the president was removed from office.
"However he leaves, there's gonna be violence in America," Wiles said last October as House Democrats investigated allegations that eventually led to Trump's impeachment. "I believe there are people in this country, veterans, there are cowboys, mountain men, I mean guys that know how to fight," he said, "and they're going to make a decision that people who did this to Donald Trump are not gonna get away with it."
"The Trump supporters are going to hunt them [the Democrats] down," the pastor said.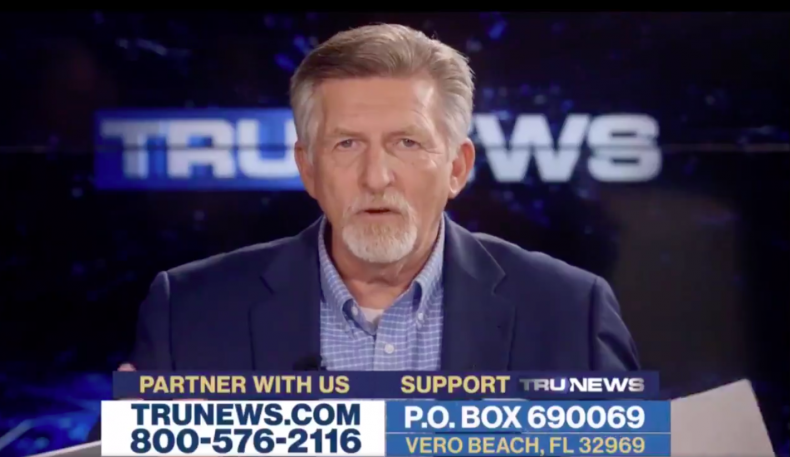 Although white evangelical Christians have been a strong base of support since Trump's first election in 2016, polling conducted by Pew Research from September 30 to October 5 showed that Christians were somewhat split ahead of the election between Biden and Trump.
Among all Protestants, 54 percent supported Trump while 41 percent supported Biden. When it comes to Catholics, 51 percent supported Biden and just 44 percent backed Trump. But among white evangelical Protestants, 78 percent backed Trump and only 17 percent supported Biden.