Pastor Michael Jacobsen of the Palermo Bible Family Church in Butte County, California said Sunday he felt no need to apologize for opening his church up for an in-person Mother's Day service this May, despite Governor Gavin Newsom's restrictions on large gatherings.
After attending the Mother's Day service, an individual tested positive for coronavirus. Their presence at the service exposed 180 other individuals to the virus. Jacobsen went into self-quarantine following the diagnosis, choosing to hold online services rather than in-person worship. During his sermon, Jacobsen told his congregants not to defend the actions of the church.
"When Jesus went before Pilate, he didn't defend himself," Jacobsen said, "So I don't feel the need. I don't feel like the decision we made was irresponsible."
Jacobsen professed no ill will toward the infected individual, saying the person did not "intentionally" expose the church to the virus.
Newsweek reached out to the Palermo Bible Family Church for comment. This story will be updated with any response.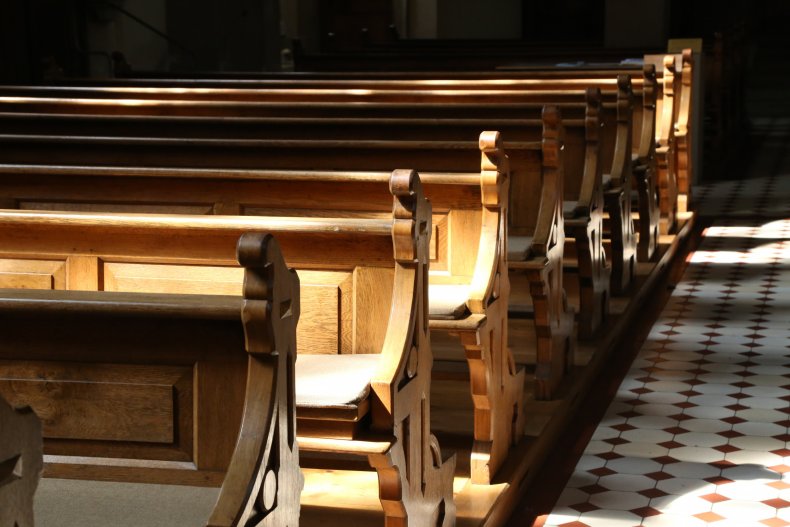 According to the Butte County Public Health department, the infected person received a positive diagnosis for coronavirus the day after attending services at the church. Contact tracing and investigation by public health officials are underway after the incident.
Butte County, which had reported no coronavirus deaths, met Governor Newsom's criteria for having some coronavirus mitigation measures relaxed before other areas of California. Restaurants, retail establishments and some personal service providers were allowed to reopen with social distancing and other safety measures in place. The county government does not have the authority to reinstate religious services at this time.
Defying reopening plans could hamper plans to reopen the rural county's economy. "Moving too quickly through the reopening process can cause a major setback and could require us to revert back to more restrictive measures," said Director of Butte County Public Health Danette York in a Friday statement.
Religious leaders in California have expressed the desire to reopen their houses of worship as quickly as possible. In a May letter, the Advocates for Faith and Freedom sent a letter to Newsom asking him to lift the church closures by May 31. Even if Newsom does not rescind the order, the churches plan to open for in-person services on that date anyway.
"Ultimately, we believe religious practices to be as essential as any grocery store or hardware store," the letter read, promising that any services held will be in compliance with the guidance set forth by the CDC and California's social distancing guidelines for essential businesses.
Attempts by churches to sue Newsom over his closure orders have also proved unsuccessful. A lawsuit brought by the Cross Culture Christian Center in Lodi, California claimed that Newsom's orders violated its constitutional rights to religious freedom and the right to assembly. Although the congregation numbered less than fifty people, Lodi police insisted the church was in violation of Newson's order. Federal Judge John Mendez upheld Newsom's orders, saying they were enacted as part of emergency powers which did not violate the church's rights.
"During public health crises," Mendez wrote in his May decision, "new considerations come to bear, and government officials must ask whether even fundamental rights must give way to a deeper need to control the spread of infectious disease and protect the lives of society's most vulnerable."