Pastor Who Prayed for Trump Tells 'Hurt' Congregation Members: 'My Aim Was in No Way to Endorse the President, His Policies, or His Party'
The Evangelical pastor David Platt, who prayed for President Donald Trump during a special day of devotion Sunday, has said he had no desire to sow political division among members of his congregation.
Facing criticism for praying for the president Sunday, Platt has defended his decision on religious grounds—but also offered an olive branch to those worshippers who may have been hurt by the session.
"My aim was in no way to endorse the president, his policies, or his party, but to obey God's command to pray for our president and other leaders to govern in the way this passage portrays," the pastor at McLean Bible Church wrote in a statement.
"I wanted to share all of this with you in part because I know that some within our church, for a variety of valid reasons, are hurt that I made this decision. This weighs heavy on my heart," Platt added.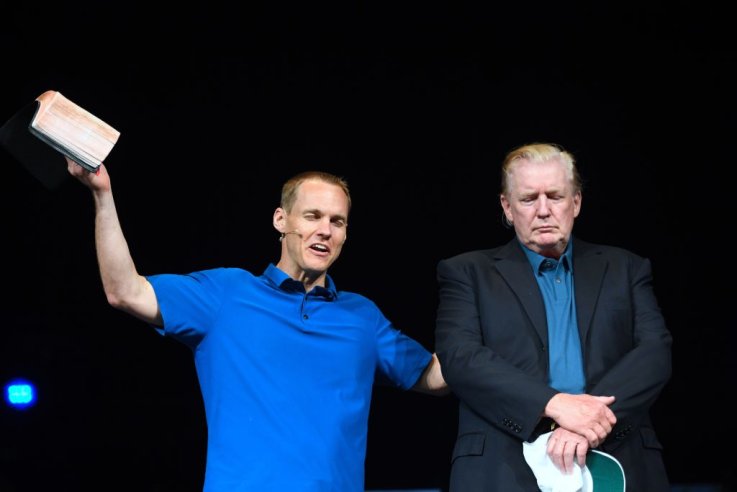 The Southern Baptist pastor has defended his decision to pray for Trump on the basis of a passage from The First Epistle of Paul to Timothy. The verse calls for the faithful to pray for leaders and ask for peace. However, some religious scholars have decried Platt's decision, saying he should not have prayed for Trump, who they claim has abused his power.
Jonathan Wilson-Hartgrove, who, according to The Atlantic, works for the progressive church leader William Barber, compared praying for Trump to praying for an abusive husband.
"The question isn't whether to pray for those in authority but how to pray for someone who's abusing authority," Wilson-Hartgrove tweeted. "Would Platt have offered a similar photo op to an abusive husband who's publicly gaslighting his spouse & kids?" he asked.
Trump arrived at the McLean Bible Church unannounced on Sunday, David Platt said in his statement. The president came to the place of worship ostensibly to pray for the victims of the mass shooting in Virginia. His visit to the evangelical church also coincided with calls for a national day of prayer for Trump led by Franklin Graham.
The president arrived at the church, reportedly in the middle of the afternoon following a round of golf. Trump made no remarks during the prayer session, which was neutral in its content. "We stand right now on behalf of our president, and we pray for your grace and your mercy and your wisdom upon him," Platt said during the prayers Sunday.
"We pray that he would look to you. That he would trust in you, that he would lean on you. That he would govern and make decisions in ways that are good for justice, and good for righteousness, and good for equity, every good path," the Evangelical pastor added.
Pastor Who Prayed for Trump Tells 'Hurt' Congregation Members: 'My Aim Was in No Way to Endorse the President, His Policies, or His Party' | News