An MRI confirmed Tuesday that New York Jets quarterback Aaron Rodgers will miss the remainder of the 2023 NFL season with a torn left Achilles tendon. Even beyond this season, though, the 39-year-old's football future is in question after suffering such a serious injury.
But at least one person close to Rodgers seems to think he will play again.
Pat McAfee, who regularly brings the four-time MVP onto his show, said on Tuesday that he thinks Rodgers is too competitive to end his career with a devastating injury.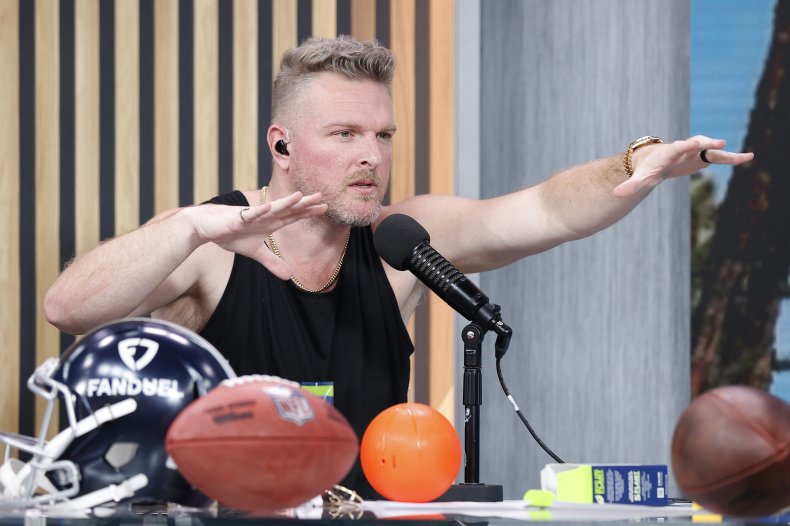 "I think what people need to remember is that Aaron Rodgers is one of the most competitive humans on Earth," McAfee said on Tuesday's Pat McAfee Show. "...What I am hearing from people close to Aaron is that he is obviously devastated. This is a very, very, very, very bad morning in Aaron Rodgers' world. Aaron Rodgers put everything into this.
"...He went all in for this. For it all just to disappear before getting to reap the benefit from that, I personally—and this is with no information from Aaron Rodgers—I don't think he's going to go out like that. Just personally."
Rodgers has made frequent appearances on McAfee's show in recent years, using the platform to have unfiltered conversations. The former Packers quarterback most recently appeared last week. Before the injury, Rodgers was set to do so weekly during the 2023 season.
McAfee wasn't the only person to discuss Rodgers on Tuesday's show. Here's what others had to say, including one of Rodgers' former teammates and a former NFL team doctor.
Former NFL Team Doctor Weighs in on Rodgers
David Chao, head doctor of the then-San Diego Chargers for 17 years and now an injury analyst, appeared on McAfee's show on Tuesday to discuss Rodgers' injury.
Rodgers went down early in the first quarter of Monday night's game. Buffalo Bills pass-rusher Leonard Floyd sacked Rodgers on the Jets' fourth snap of the game and twisted the QB to the ground. Rodgers' left foot seemingly got stuck on the turf during the play. Chao quickly analyzed on X, formerly Twitter, that Rodgers appeared to tear his Achilles.
While talking with McAfee, Chao said he is confident Rodgers can make a full recovery.
"Competitors like this don't want to call it quits on this," Chao said. "That's why he stood up after the sack—he was more mad about it. But then when he tried to take a step said: 'It's not working and I'm sitting down.' Medically, I'm confident in his recovery, even though he's 39 and he will be 40."
Rodgers suffered a complete tear to his left Achilles tendon. The Hospital for Special Surgery says on its website that it can take up to nine months to return to full activities after undergoing Achilles surgery. Chao mentioned to McAfee that recovery for an Achilles is in some ways harder than that of an ACL tear.
Still, Chao—like McAfee—expects Rodgers to play again.
"I have high optimism because of the mental side, but also the medical side, that he will come back next year," Chao said.
A.J. Hawk Has Spoken With Ex-Teammate Rodgers
Former NFL linebacker A.J. Hawk spent nine years as Rodgers' teammate on the Green Bay Packers from 2006-14. Hawk is now an analyst on McAfee's show and joined the program Tuesday to discuss Rodgers.
Hawk said he exchanged texts with Rodgers since the injury Monday night but did not think it was appropriate to directly ask the QB what his next steps were at this point.
"I would imagine, obviously I can't speak for him and he never said anything about it, but I would imagine he's in shock a little bit too right now," Hawk said. "Who knows? Can he even process it and figure out like, 'I want to come back, of course.' I don't know. I'm sure he's got a billion things going through his head right now."
McAfee referred to Hawk as one of Rodgers' closest friends. In Hawk's mind, Rodgers will do whatever he needs to do to return to the Jets again.
"I think he's coming back to play," Hawk said. "I would not imagine this is his last time on the field."
Uncommon Knowledge
Newsweek is committed to challenging conventional wisdom and finding connections in the search for common ground.
Newsweek is committed to challenging conventional wisdom and finding connections in the search for common ground.
About the writer
Robert Read is a Newsweek writer and reporter based in Florida. His focus is reporting on trending sports stories. Robert joined Newsweek in 2023. He is a graduate of the University of Iowa. You can get in touch with Robert by emailing r.read@newsweek.com. Languages: English.