Pat Patterson Dead at 79: Dwayne Johnson, John Cena and More React to Legendary Wrestler's Death
The wrestling world lost a legend this week.
Pat Patterson, credited with the creation of the Royal Rumble and the first man to win the prestigious Intercontinental Championship, passed away at the age of 79. Shortly after the somber news Wednesday morning, the wrestling world collectively mourned the loss of one of the greats.
Patterson, real name Pierre Clermont, was beloved by wrestlers, promoters and those who worked alongside him in the past and the present. The legendary wrestler and backstage producer started trending on Twitter with the news of his passing as fans and colleagues in the business shared thoughts and stories of Pat Patterson.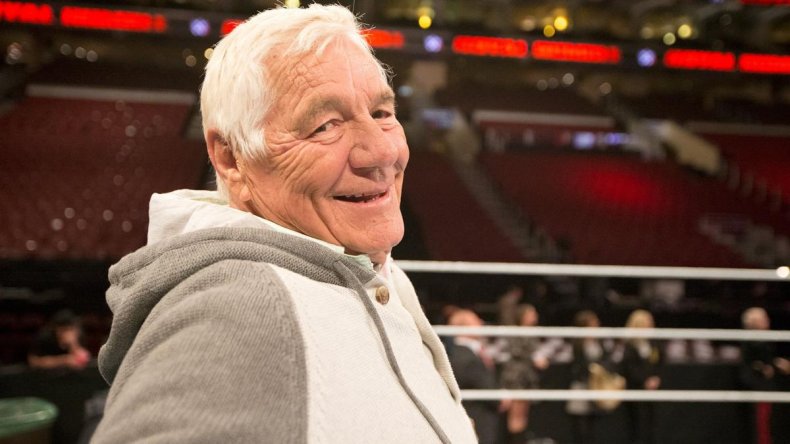 "A Great Wrestler, He And Ray Were Second To None, A Fabulous Mind, Caring And Thoughtful, Always Had A Smile On His Face. Just To List A Few Of Many! The Last Thing I Can Remember Him Saying To Me Is 'She Is So Damn Good Ricky, Are You Sure She Is Your Daughter?' RIP Pat!" Ric Flair wrote.
"Loss is incredibly difficult. Those we love are only truly gone if we stop caring. Pat Patterson lived life as it should be lived with passion, love and purpose. He helped so many and always entertained with a story or joke. He will live on in my life always. Love you Patrick," wrote John Cena.
"Saddened to hear the news about Pat Patterson. Coming to WWE in 2002 was a "unique" situation. Pat was one of the first to go out of his way and genuinely make me feel at home. We shared many hours, stories, and yes a cocktail or 2. RIP Pat. You did it your way," Eric Bischoff wrote.
"PAT PATTERSON I DONT KNOW WHAT TO SAY OTHER THAN I LOVE YOU. YOU HAVE BEAUTIFUL MIND FOR THIS BUSINESS AND BEAUTIFUL HEART FOR THIS WORLD. MY HEART IS BROKEN. GOD BLESS YOU AND YOUR FAMILY. THANK YOU FOR YOUR FRIENDSHIP," the Iron Sheik wrote.
Current wrestlers were also moved to say a few words about Patterson. Many offered thanks for his contributions to the business while others like WWE superstar Kevin Owens recorded a short video to express his feelings on the legend's passing.
Patterson's work and contributions to wrestling even touched those not in the industry including some notable names in comedy and Hollywood.
"Watching Pat Patterson sing My Way with one of @TheMarkHenry's children is still one of the sweetest memories I have. Rest easy legend," comedian Ron Funches wrote.
And, of course, Dwayne "The Rock" Johnson had to give his thoughts on the passing of Mr. Patterson over on Instagram. A touching tribute to the man who helped get him noticed by Vince McMahon and, as Johnson put it, "the rest is history."
Newsweek sends its condolences to the family and friends of Pat Patterson.