Right Wing Evangelical Pat Robertson Says Trump Pulling Out of Syria Like Appeasing Hitler
President Trump's decision to remove U.S. troops from northern Syria has drawn criticism from many of his allies, including evangelist Pat Robertson, who compared it to the United Kingdom appeasing Hitler in the 1930s.
Appearing on his daily show, The 700 Club, Robertson launched into a rebuke of Syrian withdrawal where he made a surprising historical analogy.
"Those who cannot remember the past are condemned to repeat it," he began. "In 1938, the British prime minister, after getting promises from Hitler comes back and says, 'there is peace in our time.'"
That meeting between Neville Chamberlain and Hitler granted the Sudetenland to the German government in exchange for assurances that the Nazis would not push further into Europe. Six months later, the German army occupied the rest of Czechoslovakia and were in Poland by the end of 1939.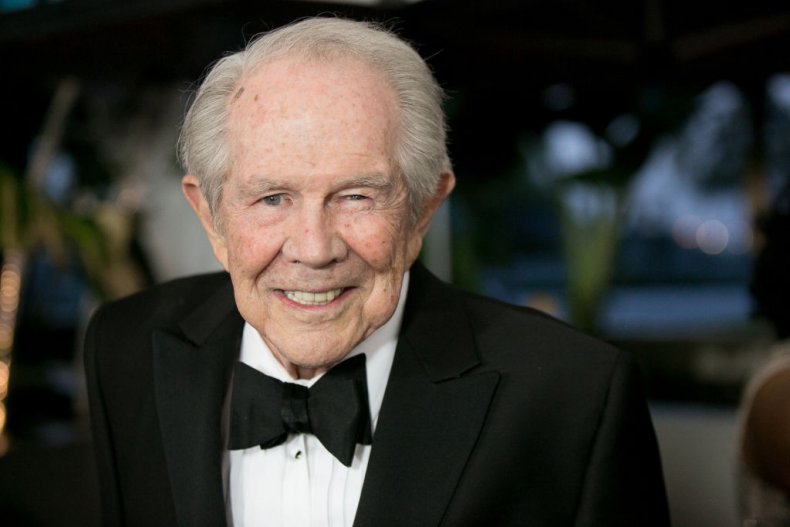 Robertson believes that American withdrawal from the region will embolden other enemies to make plays for territory much like Hitler did, stating "The Kurds, we have abandoned them. They are being slaughtered by the Turks and we have given a major port of Syria, and I promise you as I'm sitting here right now, Russia is going to come against us, Turkey is going to come against us, China is going to come against us, North Korea is going to come against us."
Robertson has been a supporter of Trump for some time. During the 2016 election, Trump appeared on The 700 Club nine times, and he won the largest percentage of white evangelical voters in history with 81 percent.
This is not the first time that Robertson has criticized the President's foreign policy. Earlier in October, he stated that Trump could "lose the mandate of Heaven" by pulling troops from the region. He criticized Turkish President Recep Tayyip Erdoğan, calling him a "thug," and not an ally of America. In the same clip, Robertson also brought up the death of journalist Jamal Khashoggi and the administration's reluctance to hold the Saudi government responsible.
A recent report in Politico indicates that Trump's foreign policy decisions might drive a wedge between the evangelical voter base and the President's re-election campaign. The administration has framed the decision as a financial one, but reports of religious persecution, especially of Christians, in the region are worrisome.
Despite criticism from prominent leaders, Trump's support among rank-and-file evangelicals remains strong. A recent report from the Public Religion Research Institute states that 99 percent of white, Republican-identified evangelical Protestants oppose the efforts to impeach him, as opposed to 89 percent of Republicans in general according to FiveThirtyEight.