Pat Sajak Thought He Was Going To Die During Medical Scare: 'This Must Be What Death Is Like'
Pat Sajak opened up about his medical scare in his first interview since undergoing emergency surgery nearly a month ago.
The Wheel of Fortune host appeared on Good Morning America Friday, and told ABC News' Paula Faris he could have died if doctors had not operated when they did.
The longtime game show host was returning home from his daily walk with his daughter in November when he suddenly felt "horrific pain" in his stomach. After being rushed to the hospital, he discovered he was suffering from a blocked intestine and his blood pressure had severely declined.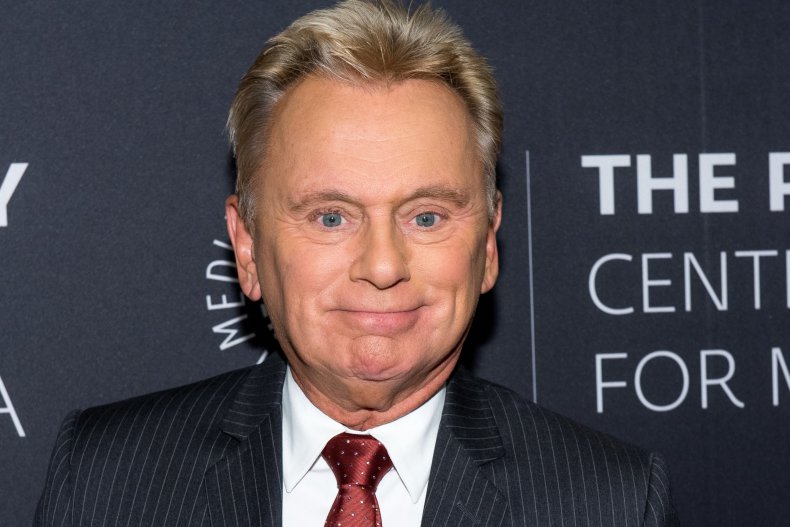 Sajak said that within two hours of experiencing the pain, he was undergoing surgery.
"You couldn't do anything. I was in [a] fetal position, lying on the bed," he explained. "They try to give you various drugs for the pain. And none of it—none—was working. And then they gave me something, I couldn't even tell you the name of it, but suddenly, I wasn't thinking about the pain. I just had these beautiful pastels and lovely faces coming out of it," Sajak told Faris.
The 62-year-old father of two said that was the moment he began to think he was going to die.
"In the background, I could hear my wife and daughter talking. It sounded like they were a mile off, but they were right next to me. They were talking to each other. And I remember thinking, not in a morbid way, 'I think this must be death. This must be what death is like,'" Sajak said. "Hearing their voices, I thought, 'Boy, their lives are going to change now.' And I felt badly for them. I didn't feel badly about dying. I felt badly that they were going to have to deal with the aftermath. As it turned out, I was just high."
Although doctors were unsure of what caused Sajak's condition, his surgery turned out to be a success. He has since fully recovered and returned to his post on Wheel of Fortune, which he has hosted for the last 40 years. "I'm as good or bad as new, and that's great," he told Good Morning America.
Sajak added: "I still have my wits about me. They didn't remove that, so I'll be selling vowels for a long time."
During his absence from the game show, Sajak's longtime counterpart and beloved letter turner Vanna White stepped in. It marked her first time hosting in her 37-year tenure on the show.
Noting that it felt "really bizarre" to see the show continue on without him, Sajak praised White for filling his role while he was away. "What a trooper. And I'm not being condescending in any way 'cause it would've been well within her rights to say, 'Wait a minute, this is not what you're paying me for. This is not what I do. And I'd rather not,'" he said. "But she's a team player. And she was very nervous and not comfortable."
In an early December interview with ABC News, White said it "felt weird" doing the show without Sajak on the set. "We've been together 37 years, and it's not the same—we are a team. We're together."
"Those three weeks without him were very hard. I really missed him. I just can't imagine doing this show without him, you know? And I hope he feels the same with me," she added.