Calls for Pat Shurmur to Be Fired After Giants Tie Franchise Losing Record With Loss to Philadelphia
The New York Giants season hit a new low on Monday night, as the G-Men slumped to 2-11 after losing 23-17 in overtime in Philadelphia and equalled their worst run in franchise history.
The Giants have now lost nine games in a row for only the second time in their history and for the first time since 1976, when they finished 3-11 after opening 0-9.
Back then, Bill Arnsparger was fired after the franchise lost the first seven games and Pat Shurmur will almost certainly meet the same fate, with the team on track for consecutive double-digit losing seasons for the first time since the three-year period between 1978-1980.
"It's not something you want to be a part of," the Giants head coach said when asked about his team's losing streak.
Three games away from completing his second season with New York, Shurmur is 7-22 and it would be a major surprise to see him keep his job for another season.
Even by Giants' standards, Monday night's loss in Philadelphia was nothing short of calamitous and the number of voices calling for Shurmur to be relieved of his duties continued to grow.
Popular New York radio broadcaster Mike Francesa ESPN radio host Dave Rothenberg both suggested Shurmur and Giants general manager Dave Gettleman should both be fired.
Fans, meanwhile, sought to find some silver lining in the knowledge a defeat put the Giants closer to landing the first overall pick of the 2020 draft and could soon spell the end for Gettleman and Shurmur.
Led by the returning Eli Manning, who made his first start since Week 2 after rookie quarterback Daniel Jones was ruled out with a high-ankle sprain, New York rushed to a 17-3 lead at halftime on Monday night.
Manning threw two touchdown passes in the first half and the Giants looked on course to deal a potentially terminal blow to the Eagles' playoffs offense.
Leading at halftime for only the third time this season, New York couldn't make it count as its offense stalled and the defense fell apart, as it has done time and again this season.
Having completed 11 of his 19 passes for 179 yards in the first half, Manning could only 24 yards in the second half, completing four of 11 passes.
"I've played a lot of football games," Manning told reporters after the game, as per the Associated Press. "I know the offense and know what I'm supposed to do. I made some good throws and didn't make some plays that I needed to."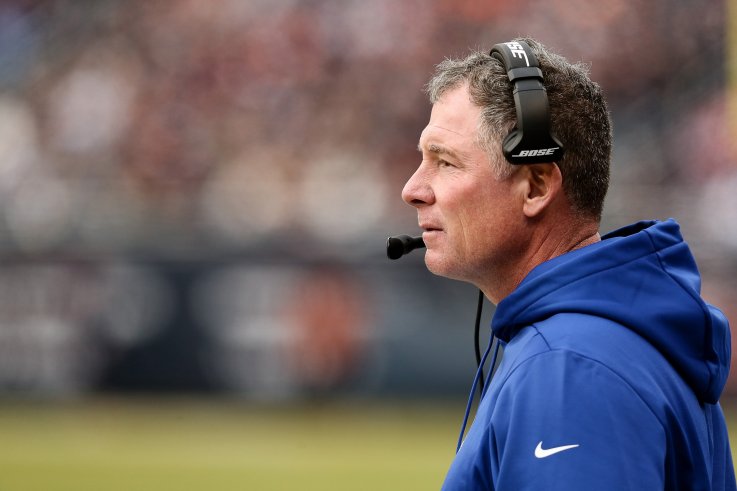 While Manning's second half performance confirmed his best days are long behind him, the Giants added only a meagre six yards to their quarterback's already modest contribution.
Shurmur's game management came under scrutiny again, with one call in particular leaving viewers perplexed. With the score tied at 17 and 49 seconds left in regulation, the Eagles faced a fourth-and-1 from their own 45-yard line.
Shurmur put his punt return team out, only for Philadelphia coach Doug Pederson to make it look as though the Eagles may go for it instead.
The Giants were caught off guard by Philadelphia's bluff and wasted 20 seconds before calling a timeout, to allow Shurmur to put his defense out on the field.
Philadelphia eventually punted the ball with 19 seconds left and by the time the Giants recovered it, they only had 10 seconds to engineer a winning field goal.
Shurmur, however, opted to call a kneel-down as the game went into overtime.
"I just wanted to make sure they were going to punt us the football there, because you never know,'' Shurmur told reporters after the game.
"I wanted to see what they were going to do. I wanted them to punt us the ball and make a play.''
On paper at least, the Giants could win their next two games before a rematch with the Eagles on Week 17.
New York hosts the Miami Dolphins on Sunday, before traveling to Washington to face the Redskins a week later.
Both teams are currently 3-10 but losing to them could help the Giants' quest for the fist overall pick in the 2020 draft.
New York currently has the second-worst record in the NFL, but the 1-12 Cincinnati Bengals are on course to pick first in next year's draft.
Calls for Pat Shurmur to Be Fired After Giants Tie Franchise Losing Record With Loss to Philadelphia | Sports