Senator Pat Toomey, a Pennsylvania Republican, asserted that the pending Senate impeachment trial for President Donald Trump is "constitutional," despite concerns raised by some of his GOP colleagues.
At the end of January, Republican Senator Rand Paul of Kentucky called for a vote on whether or not the Senate trial would be unconstitutional, because Trump is no longer in office. Just five Republican senators, including Toomey, voted with Democrats to say that the trial would be constitutional—making the vote breakdown 55 to 45. That vote has been widely interpreted to signal Trump will be acquitted, as at least 67 senators would need to vote in favor of conviction for it to pass.
Toomey previously said that Trump should resign and that he committed "impeachable offenses" due to his incitement of the violent insurrection against the U.S. Capitol on January 6, which resulted in five deaths. But the Pennsylvania Republican insisted during a Sunday interview with CNN that he would be an "objective" juror during the trial.
"I think it's clearly constitutional to conduct a Senate trial with respect to an impeachment," Toomey said, although he noted that it's "very unlikely" that 67 Senators—including 17 Republicans—will vote to convict Trump.
In addition to Toomey, GOP Senators Lisa Murkowski of Alaska, Susan Collins of Maine, Mitt Romney of Utah and Ben Sasse of Nebraska voted to say that the Senate trial would be constitutional. Although some conservatives have argued that the trial would not be constitutional due to Trump being out of office, most constitutional scholars agree that it is a constitutionally approved recourse to address the former president's actions. Precedent also suggests that it's constitutional, as the Senate has previously convicted a federal official after they resigned and left office.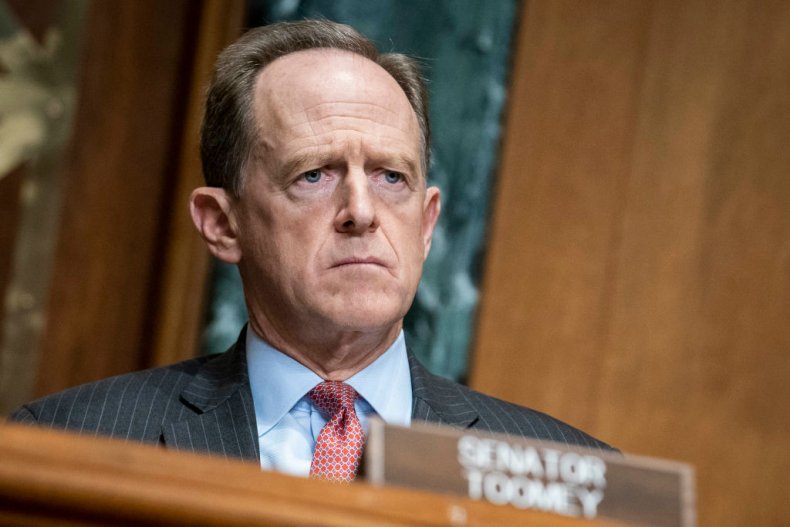 "I've read a number of law review articles, and I think if you put aside the partisan columns if you will that are written in various publications and look at those that are written by academics, you'll find that the preponderance of the legal opinion is that an impeachment trial after someone has left office is constitutional," Romney told CNN last month.
While just five Republican senators voted to say that the trial is constitutional, a number of others have condemned or strongly criticized Trump's action.
"The mob was fed lies," Senate Minority Leader Mitch McConnell, a Kentucky Republican, said last month. "They were provoked by the president and other powerful people."
Also during his CNN interview, Toomey strongly criticized the prevalence of the baseless QAnon conspiracy theory that many Trump supporters—and some GOP members of Congress—have promoted. The conspiracy theory claims that Trump has been fighting against a Satanic cult of pedophile elites, which include top Democrats. There is no evidence to support this bizarre belief.
"There should be no place in the Republican Party for people who believe in insane conspiracy theories like QAnon," Toomey said.
The senator argued that "the madness of the QAnon's of this world" will not "be a part of our party" moving forward.
Toomey announced last October that he would not seek reelection in 2022.
Newsweek reached out to press representatives for Toomey for further comment but did not immediately receive a response.