Patagonia Clothing Has a New Tag and It Might Offend You
People buying Patagonia clothes may be surprised to find a hidden message on tags for the outdoor clothing brand.
In a tweet shared by Outlander Magazine, the brand allegedly has the tag under tags stitched with the classic Patagonia logo. The tag says, "Vote the a******s out." Outlander also tweeted its excitement about the tags, saying "PATAGONIA FOR THE PEOPLE," in a tweet.
The tag was also shared to the r/IRLEasterEggs subreddit where people discussed where people could shop for outdoor fashion with the explicit call to partake in civic duty.
Naturally with the surprising tags circulating, people questioned their authenticity. One person remarked that if they were real, she was going "buy parkas in every color," despite living in Florida. Even Georgia Senator Jen Jordan weighed in.
Some people did criticize the company by saying that the message on the tags was merely a clever marketing decision rather than an actual action.
The brand's director of copy Brad Wieners confirmed the tag's legitimacy in a tweet. He also shared a link to pages on Patagonia's website that help people make plans to vote.
In a statement received by Newsweek, a Patagonia spokesperson said that the phrase has long been used by Patagonia founder Yvon Chouinard to help spread the environmental message. "Yvon Chouinard has been saying 'vote the a******s out' for several years and it refers to politicians from any party who deny or disregard the climate crisis and ignore science, not because they aren't aware of it, but because their pockets are lined with money from oil and gas interests," a Patagonia spokesperson wrote.
People on Reddit and Twitter both shared the products that people could buy to see the hidden message. Apparently, it's available on both men's and women's shorts, which cost about $80 and $41 respectively.
One Redditor had written that the tags were on products from a trade show a few years ago in response to someone who had said that they owned some of the brand's newer items of clothing and didn't see it.
On the "Elections" page for Patagonia, the outerwear company encouraged people to "Vote Early", "Vote by Mail", and "Vote Climate Deniers Out Of Office." The site is powered by BallotReady and allows people to enter their addresses and request ballots by mail as well as helping them find their polling places where they can vote early or on election day.
The political messaging from Patagonia should come as no surprise as the brand tries to get people involved in taking action mainly in taking action on environmental issues. "From supporting youth fighting against oil drilling to suing the president, we take action on the most pressing environmental issues facing our world," the company says on its "Activism" page.
People can also find Patagonia Action Works, which helps people get involved in their local communities, through its website. The company also recently released a statement detailing its efforts to be an antiracist company.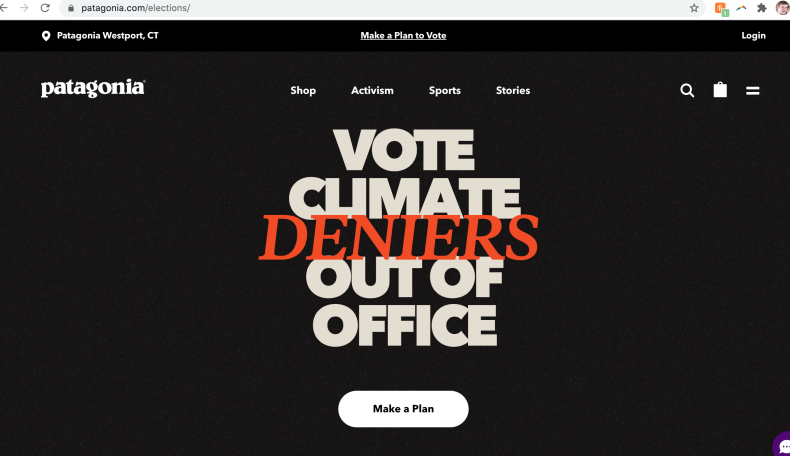 Update 9/15/20 12:41 p.m. ET: This story has been updated to include comment from Patagonia, which was received after the story originally published.