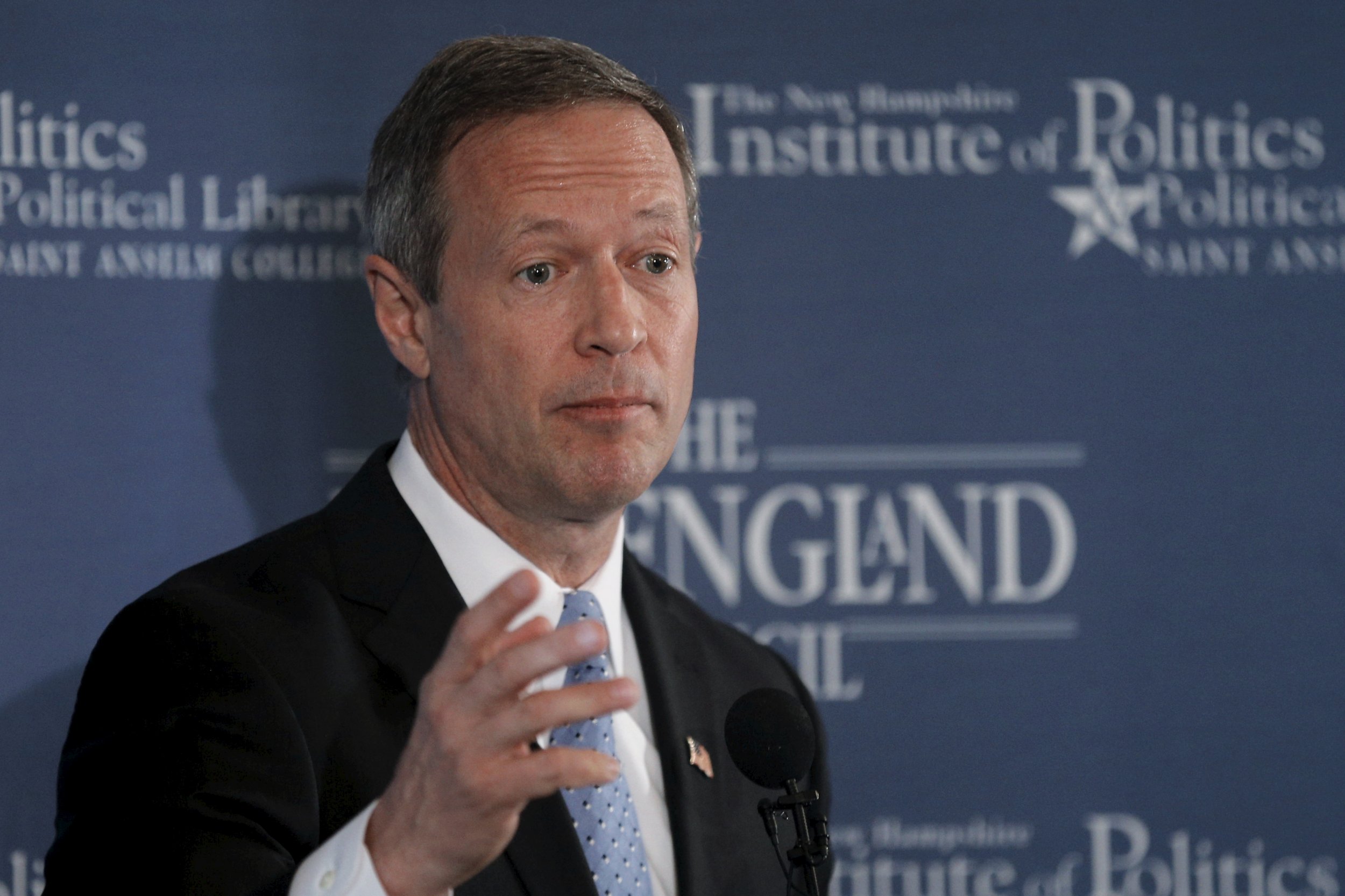 Against all odds.
It's not the campaign slogan for any of the 2016 hopefuls launching their presidential bids in May and June, but maybe it should be. In a span of 10 days, six candidates are kicking off their presidential campaigns, and only one cracks double digits in national polls.
Polls at this date aren't prophetic, that's for sure. Former Arkansas Governor Mike Huckabee won Iowa's Republican caucuses in 2008 despite polling at just 2 percent there in June 2007. But you'd have to go back to then-Arkansas Governor Bill Clinton in 1992 to find an example of a candidate with such little early support going on to win his party's nomination.
Each 2016 underdog can argue that they'll be David slaying Goliath come the Iowa and New Hampshire contests in February but the odds are long. Here are the challenges and opportunities for each of the new contenders:
Vermont Senator Bernie Sanders, Ind. (campaign kickoff May 26)
Why he has a shot:
With Massachusetts Senator Elizabeth Warren staying on the sidelines, the liberal wing of the Democratic party needs a hero. With his full-throated denouncement of Wall Street influence and free trade agreements, including the Trans-Pacific Partnership being advocated by the White House, the longtime independent and self-described, small-D democratic socialist is it. He's running in the Democratic Party, saying a third-party bid is virtually impossible. He's already shown he's not afraid to take on front-runner Hillary Clinton where he thinks she's too centrist, too cozy with moneyed interests. And as The New York Times recently pointed out, his quirky, cranky persona plays well on the Internet.
Why he's toast:
Yes, Sanders calls himself a democratic socialist but the S-word is death even in a Democratic primary. If Republicans could taint pragmatic Barack Obama with it, just imagine what they could do with Sanders. That's certainly the Democratic establishment's fear, and why they would do everything they could to block his nomination, even if Clinton falters. And then there's the demographics. At his kickoff rally in Burlington, Vermont, on Tuesday (he previously announced he was running in April), every one of the speakers that preceded him was middle-aged and white, as was most of the crowd (and most of Vermont is equally pale). Appealing to minority voters will be a challenge, and it's an increasingly crucial part of the Democratic base—according to Gallup, 22 percent of self-identified Democrats are black, and 13 percent are Hispanic.
Former Pennsylvania Senator Rick Santorum, Rep. (announced May 27)
Why he has a shot:
The 2012 Republican runnerup proved why it's dangerous to write a candidate off this early in an election cycle. He was polling at 2 percent in May 2011, too, but still managed to win Iowa's Republican caucus the next winter on the backs of evangelical support. And as my colleague, Matthew Cooper, noted Wednesday, Santorum has a trump card this time around in his "decidedly working-class pitch." That's not a bad strategy, given the number of blue-collar voters in places like Iowa and South Carolina.
Why he's toast:
Despite his victory there four years ago, Santorum is back at only 2 percent in Iowa polls. That doesn't bode well for hopes his local ties and name recognition among Hawkeye Republicans would buoy him this time around. He also faces much stiffer competition for the social conservative vote in the 2016 GOP primary, with candidates like Senator Ted Cruz, former Arkansas Governor Mike Huckabee and neurosurgeon Ben Carson all vying for that bloc. And having lost his Senate seat by double digits in 2006 doesn't make for a good electability argument.
Former New York Governor George Pataki, Rep. (announced May 28)
Why he has a shot:
He was a pretty popular three-term governor in New York, with an electability argument to make come general election time. Republicans nominated an ex-blue state governor last time around, who's to say it couldn't happen again?
Why he's toast:
He left office almost a decade ago and hasn't been in the spotlight since. And Pataki isn't really competing in Iowa, where his moderate positions on the environment and reproductive rights don't play well (indeed, being pro-choice will be problematic for much of the primary electorate). Pataki is banking it all on New Hampshire, even launching his campaign there. John McCain pulled off something similar in 2008 but "none of these folks we are talking about have that level of prestige that McCain did" then, says Tom Jensen, director of Public Policy Polling, a Democratic firm. Starting off at zero in the polls and ignoring Iowa? Former Utah Governor Jon Huntsman can tell him how well that kind of strategy works out.
Former Maryland Governor Martin O'Malley, Dem. (announcing May 30):
Why he has a shot:
He's charismatic, polished and has a record of accomplishment in Maryland. And though nobody knows who he is (he's polling lower than Sanders among Democratic voters), he has more potential mainstream appeal than the Vermont senator and proven pull among African American voters, having served as mayor of majority-black Baltimore. That makes him the Democratic establishment's backup of choice, should Clinton stumble.
Why he's toast:
Clinton would have to stumble really, really badly —"implode," as Professor James Thurber, the director of American University's Center for Congressional and Presidential Studies, puts it. Sure, she was the favorite in 2008, too, but keep in mind, at this point in time in 2007, rival Barack Obama was registering at 26 percent in one national poll, not single digits. And Obama upset Clinton by exciting African-American and young voters, turning them out in record numbers. O'Malley hasn't shown that he can offer enough of a contrast to Clinton. That 2008 campaign, says Thurber, was "unique in our U.S. history."
South Carolina Senator Lindsey Graham, Rep. (announcing June 1):
Why he has a shot:
National security is the No. 1 concern of likely Republican primary voters right now and the defense hawk has chalked up more experience than anyone else in the field on the subject. A former Air Force lawyer, he serves on the Senate Armed Services Committee and the Appropriations subcommittee that funds the State Department and American foreign policy priorities. And when it comes to saber rattling, he's not to be outdone. He told a Republican audience in Des Moines, Iowa, recently, "if you're thinking about joining Al-Qaeda or ISIL, I'm not gonna call a judge, I'm gonna call a drone and we will kill you."
Why he's toast:
See above on the uphill climb Pataki faces by skipping Iowa. Same goes for Graham. And he's polling in third place in his home state, which has a key early primary. For Graham, it's a must-win. "If voters in your own party, in your own state don't think you're the guy, it's pretty unlikely voters in the other key early states are going to think you're the guy," says Jensen. That also applies to Santorum, who lags in Pennsylvania according to a soon-to-be-released PPP poll, Jensen says.
Former Texas Governor Rick Perry, Rep. (announcing June 4):
Why he has a shot:
In terms of preparation and polish, Perry is light years ahead of where he was in 2012, when is verbal gaffes and debate stumbles led GOP voters to conclude he wasn't ready for prime time. He's got the gubernatorial experience presidential voters love, talks tough on defending the border (though he's been less gung-ho about going after illegal immigrants in Texas) and is an Air Force veteran, which he plans to play up on the trail. He's betting big on Iowa, hoping it could turn him into 2016's Santorum.
Why he's toast:
Right now, he's got a tough climb to the top of the Hawkeye state's field, where Wisconsin Governor Scott Walker, Florida Senator Marco Rubio and several others have started strong. It's hard to see exactly how Perry breaks out, with other fresh-faced governors and an even harder-line Texan stealing his thunder.