Patent Battle in LARPing Archery Lawsuit Ends but the War Rages On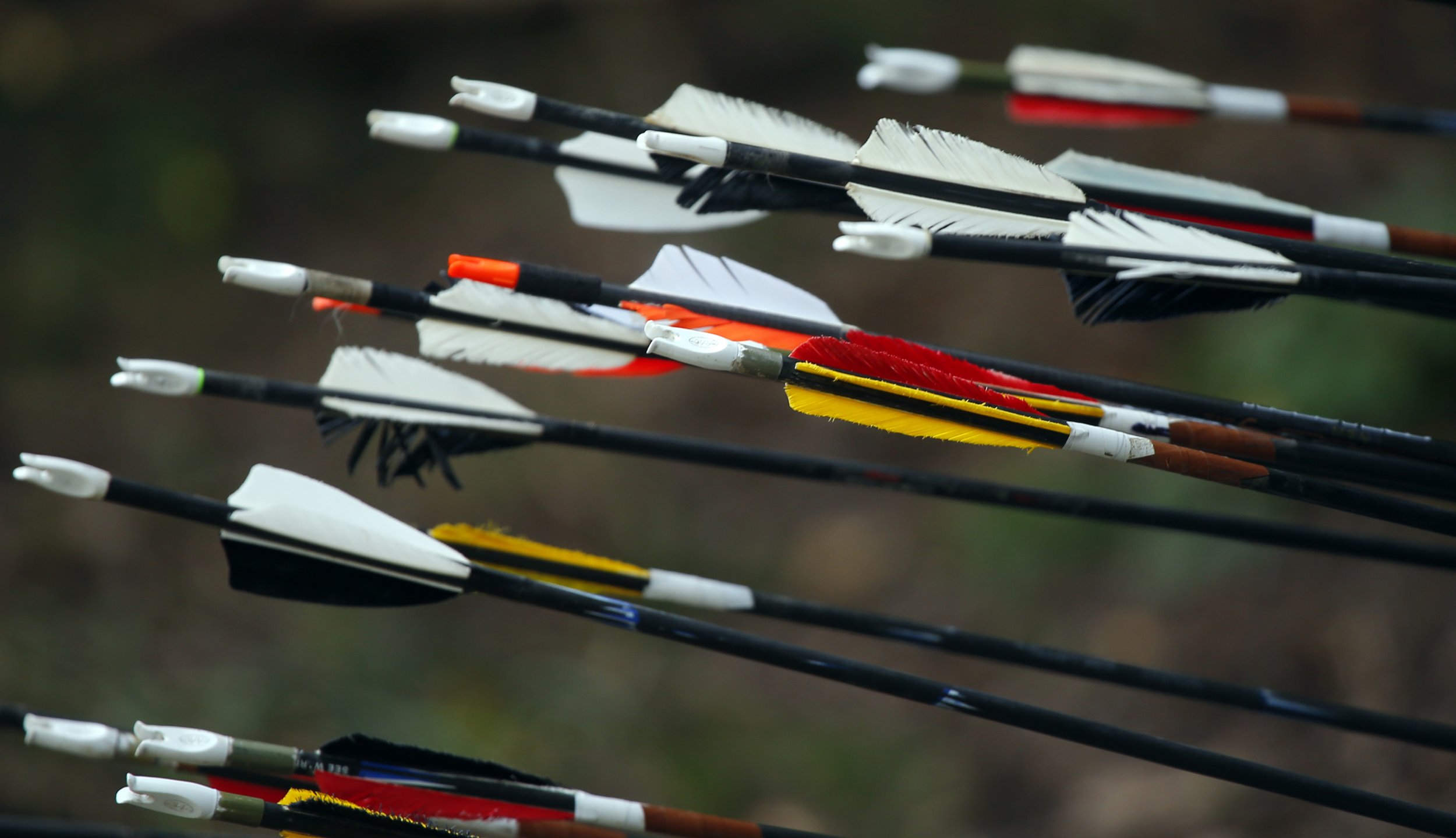 The courtroom battle between a foam-tipped arrow manufacturer and a small live action role-play (LARP) merchandiser reported by Newsweek last month took a new twist on Wednesday as the patent infringement section of the lawsuit was dropped. Despite the most publicized part of the lawsuit is now over, the war is far from over, according to both factions.
Waterloo, Indiana–based Global Archery sued Seattle-based Jordan Gwyther, owner of LARPing.org and Upshot Arrows, an online foam arrow store, for 12 counts of wrongdoing from patent infringement charges of two arrow-related patents, false advertising and "tortious interference" of contacting Global Archery's licensees to promote Gwyther's products.
After six months of behind-the-scenes legal battles, Gwyther took the lawsuit online with a GoFundMe fundraiser to help cover his rising fees. He also posted a video to raise awareness. He has raised over $7,500—far short of his $100,000 goal—but the video has over 120,000 views on YouTube. "I think the LARP community, while robust in its support, is not part large, and it does not have deep pockets," Gwyther tells Newsweek.
The public campaign, however, has brought Gwyther new allies in the fight. The digital civil nonprofit Electronic Frontier Foundation has filed an amicus brief on Gwyther's behalf. Newegg, an online retailer of electronics and computer parts based near Los Angeles, has stepped in this week to help Gwyther with pro bono legal consultation and $10,000.
Newegg's corporate attorney Lee Cheng tells Newsweek the company has been fighting patent trolls—shell companies who to sue or threaten to sue smaller companies from using patents they acquired—for over a decade and was glad to take on Global Archery.
Cheng says he jumped in after Global Archery tried to put a gag order, a court command to restrict comments being made public, on Gwyther after the video and crowdfunding campaign. "It was stupidity on stupidity," Cheng tells Newsweek. "It was an egregious practice of shutting down those who speak up."
Global Archery founder and CEO John Jackson refutes Cheng's claim that he is running a patent troll company because they actually manufacture their patented products. He also tells Newsweek the gag order was out of self-defense. After the video was published, Jackson says he has received death threats from anonymous people and a letter with one of his patents printed out, stuffed with $2 bills and smeared with feces. He said the video's title—The End of LARP Archery in North America—was "like yelling fire at a theater."
Jackson insists Newegg and Cheng joining Gwyther's team and Global Archery pulling the infringement charges were purely coincidental. He thought the patent fight became too acrimonious for the larger lawsuit. The bigger problem, according to Jackson, was the alleged false advertising Gwyther did on Amazon and Google to promote Global Archery products as his own. Gwyther denies he ever sold bows and arrows in Amazon or did any false advertising.
"My point is this: If I were to put ads on Google and if I were to put myself up as newegg.biz and sell Newegg products, do you think Cheng would side (with Gwyther and) come after us like this?" Jackson asks.
Jackson says he and his attorneys offered Gwyther a settlement in the past to go their separate ways, asking him to simply stop using Global Archery's trademarks without asking for any monetary compensation. But Gwyther refused. "We were shocked when he didn't want to settle," Jackson says. "We are different than LARP. We like LARP, but our business is separate from LARP."
Despite the contrasting stories Gwyther and Jackson told Newsweek about the case and about each other, all sides found one thing in common: They felt overwhelmed by the ongoing lawsuit and the growing public interest.
Gwyther says he plans to take a sabbatical from his work to get the lawsuit and his personal life in order. "You can imagine the stress when you have two kids and the lawsuit can cost more than what I make in a year," Gwyther says. "This battle is done but the war is far from over."
Jackson, who is also a software engineer in addition to running Global Archery, says this lawsuit—the first time he has ever sued anyone—has been a "huge distraction" and would like it to be over. "I'm just a normal guy who lives in Indiana," Jackson says. "I just bought a $3,000 computer from Newegg three weeks ago."