LARPers Fear They'll Lose Their Archer Corps to Patent Fight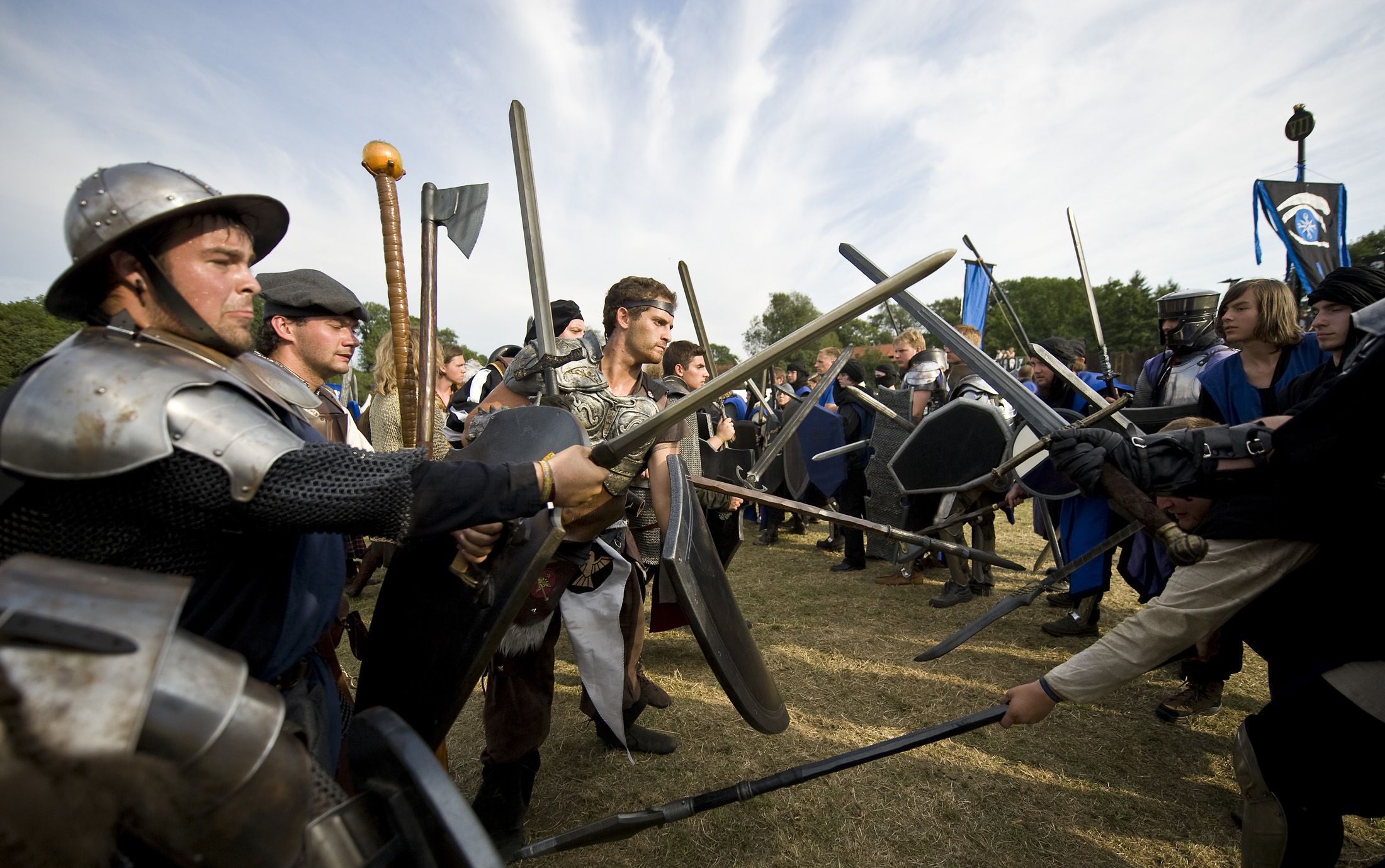 In the empty meadows hours east of Montreal, thousands of knights, warriors and magical beings gather every summer for Duché de Bicolline, the largest battle in North America. For seven days and seven nights, they fight in the fields and feast in medieval villages, living the life of fictional characters inspired by medieval history or fantasy fiction.
But a key part of this lifestyle of war—called live action roleplay, or LARP for short—is under siege. The attackers are not an army but a company from Indiana flexing its patents for foam-tipped arrows, a commonly used weapon in LARP battles. The defendant in the patent infringement case claims this lawsuit "has the potential to ruin LARP in North America as we know it."
Jordan Gwyther, owner of LARPing.org and Upshot Arrows, an online foam arrow store, published a video on Monday revealing that he's been in a legal battle with Global Archery for months about selling arrows imported from a German manufacturer and now faces a long court battle.
The distributors of these foam-tipped arrows have significant leverage in LARP warfare. As in any medieval battles from Hastings to Agincourt, a shower of arrows by archers can be the key to winning or losing a skirmish.
But more practically, home-made foam-tipped arrows can be quite dangerous when not constructed properly, creating the risk of literally losing an eye. While swords and other hand weapons—also made of soft material—are often constructed by the LARPers themselves, the vast majority of LARP archers purchase the arrows for safety reasons, Gwyther told Newsweek during a phone interview.
The patent infringement complaint from Global Archery alleges 12 counts of wrongdoing by Gwyther. Gwyther worries that Global Archery's ultimate goal is to get rid of foam-tipped arrows from LARP battles entirely, and earmark them for the sole use in a different arrow-based game called Archery Tag—a Paintball-esque game trademarked by Global Archery.
"Global Archery is not attempting to ruin the LARPing community or in any way inhibit LARP activities," a statement reads on top of Global Archery's website. "Global Archery has a long history in supporting the LARP community. Global Archery, at the advice of counsel, declines to further comment on pending litigation."
The LARPing communities in North America are much smaller than those in Europe, especially Germany and the United Kingdom. But thanks to online communities like the ones that gather on Gwyther's LARPing.org, LARP meetups and festivals have been growing across the United States.
After Global Archery's attorneys warned Gwyther's attorney they have $150,000 ready for this lawsuit, Gwyther hoped to tap into the growing LARP communities for support, starting a GoFundMe fundraising campaign with a $100,000 target. In two days, the YouTube video received over 100,000 views and generated more than 800 comments on Reddit. So far, Gwyther has raised over $3,500.
Gwyther told Newsweek the support from the LARP community after his video has been "extremely positive." "I woke up Tuesday morning up to $3,000 with tons of messages saying, 'Sorry you're in this, but we're behind you,''' Gwyther says.
Global Archery argues that Gwyther infringed on two copyrights for its patented "non-lethal arrows." It also claims Gwyther falsely advertised on Google and Amazon using the Archery Tag trademark and contacted Global Archery's licensees to "induce Global's licensees to breach their contracts with Global."
Global Archery also accused Gwyther of "misleading" others in his video by creating a narrative of a case focused on patent infringements while not addressing its false advertisement and contacting Global Archery's licensees.
When asked by Newsweek about explicitly using the words Archery Tag in its paid Google advertisements and on a product that had been sold on Amazon, as the complaint states, Gwyther says he thought Archery Tag was a generic name for the game itself, "much like paintball," instead of the trademark.
When also asked about contacting Global Archery's license partners for sales, which Global Archery believes is "tortious interference" where Gwyther intentionally damaged its business partnerships, Gwyther was more defensive. "It's not illegal to make a sales call," Gwyther says. Gwyther added that many of the licensees actually contacted Gwyther first asking for sales partnerships.
But Gwyther believes he will win this case by arguing the foam-tipped arrows he sells are imports from iDV Engineering in Germany, which held a German patent on foam arrows long before Global Archery made its foam arrows in the U.S. in 2013. iDV Engineering, who will not be a legal party for Gwyther in the lawsuit but has expressed support for Gwyther, filed its patent in 2004.
"IDV's German patent proves without any doubt that our products are prior to the Global Archery's patents and therefore cannot infringe that patent in any way," says iDV representative Norbert Fleck in an email. "Global Archery's patents should not have been granted."
For Gwyther, the fact that the U.S. Patent Office would grant Global Archery copyrights to foam-tipped arrows was disconcerting because it has been a generic weapon built by do-it-yourself LARPers for decades. Guides to making foam-tipped arrows have been around since the 1990s on the Internet, Fleck and Gwyther both say.
But a larger consternation for Gwyther was that the lawsuit came to him as a complete surprise and left no alternative ways to resolve the issue privately. "I wished Global reached me before it reached the court of public opinion," Gwyther says. "I really care about my hobby. I wished there would have been another way around this."