'Pathetic': Lincoln Project Video Calls Lindsey Graham a 'Sniveling Weak Crybaby' in Push for Jaime Harrison
The Lincoln Project, a political action committee of Republicans who oppose Republican President Donald Trump, has released a one-minute political ad targeting Republican South Carolina Senator Lindsey Graham for his support of Trump and televised appeals for money in his re-election race against Democratic challenger Jaime Harrison.
"Lindsey Graham, a political parasite with a record of lies and personal betrayals," the ad begins. "He was barely holding on before becoming Donald Trump's sycophant. Now he's despised and desperate. He's always been weak, but these days, he's just an embarrassment."
The ad intercuts clips of Graham throughout the years including an April 2017 clip from Fox & Friends in which Graham praised Trump, stating, Keep it up, Donald. I'm sure you're watching" and a July 2020 Fox & Friends clip in which Graham says, "He beat me like a Trump," in reference to a golf game he played with Trump.
Another October 2020 Fox News clip shows him saying of his state's liberal voters, "They hate my guts," followed by a quick succession of clips showing Graham repeatedly saying "Help me" on different TV news programs before saying, "Five or ten bucks goes a long way."
"Now more than ever," the ad continues, "we need a strong leader like Jaime Harrison, a man who will fight for South Carolina, and would never beg. Someone who is more than a sniffling weak crybaby bereft of dignity, begging to keep his job and political privileges."
"So why are so many South Carolinians walking away from Lindsey Graham?" the ad concludes. "Just look at him—wouldn't you?"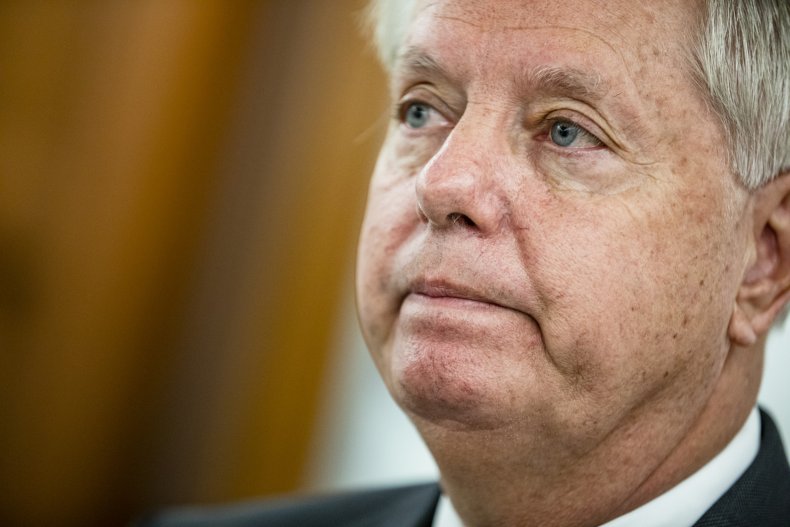 Graham's critics have often accused him of hypocrisy for two reasons: First, Graham was vocally opposed to Trump during the Republican primary, so much that he publicly called Trump a "kook," "crazy" and "unfit for office" and refused to vote for him in the 2016 election, according to political reporter Mark Binelli and Mark Leibovich. He has since become one of Trump's most vocal supporters.
Secondly, Graham changed his position about seating Supreme Court nominees during an election year. In 2016, when Republican Senate Majority Leader Mitch McConnell refused to hold hearings for then-Democratic President Barack Obama's nominee, Merrick Garland, McConnell said he would do the same if a Supreme Court vacancy opened up at the end of Trump's first term.
"I want you to use my words against me," he said, saying again in 2018, "We'll wait 'til the next election." However, after a vacancy opened up following the death of liberal Justice Ruth Bader Ginsburg, Graham justified his support for breaking his 2016 pledge based on the actions of Senate Democrats towards the judiciary.
"Democrats chose to set in motion rules changes to stack the court at the Circuit level and they chose to try to destroy Brett Kavanaugh's life to keep the Supreme Court seat open," Graham wrote in a late September tweet. "In light of these two events, I will support President @realDonaldTrump in any effort to move forward regarding the recent vacancy created by the passing of Justice Ginsburg."
The race between Graham and Harrison is one of the tighter races that will determine party control of the Senate. Polls over the last three months have shown the two men tied or one leading the other by only about 2 percentage points, according to the poll analysis site FiveThirtyEight.
A Democrat hasn't won a Senate seat for South Carolina since 1998, and state support for Trump remains strong, with polls showing him beating Democratic challenger Joe Biden by 2 to 10 percentage points, according to FiveThirtyEight.
Newsweek contacted Graham's campaign for comment.
Correction 10/29/2020 4:48 p.m. ET : An earlier version of this story referred to Jaime Harrison as Jamie Harrison. We regret the error.