'Pathetic': Pelosi Aide Slams Graham for Blaming Speaker for Capitol Security Lapse
Nancy Pelosi's deputy chief of staff Drew Hammill has called Lindsey Graham's attempts to blame the House Speaker for the security lapse during the U.S. Capitol riot "absurd and pathetic."
In an appearance on Fox News' Sunday Morning Futures, the South Carolina Republican senator suggested that Pelosi should be faulted for the security failure that allowed supporters of President Donald Trump to storm the Capitol building in Washington D.C. on January 6.
"To see people come and take over the Capitol, the House and the Senate, beat officers, defile the seat of government," he said. "How the hell could that happen? Where was Nancy Pelosi? It's her job to provide Capitol security. We'll get to the bottom of that."
Hammill quickly responded to Graham's remark in a tweet, where he said "this disgraceful attempt to shift blame for the mob attack on the Capitol is absurd & pathetic."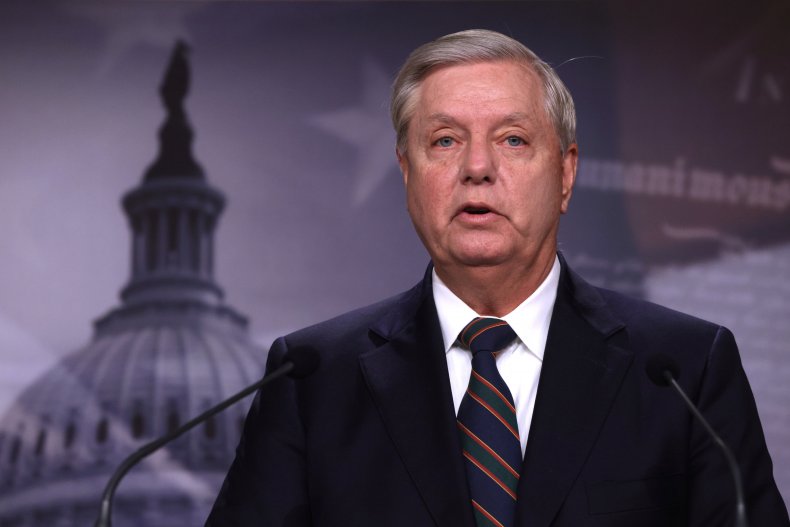 "He need only look in the mirror if he wants to start pointing fingers," Hammill added. "He has repeatedly cast doubts on the results of a fair election & dangerously fanned flames of rightwing quackery."
Newsweek reached out to Graham's office for comment. This story will be updated with any response.
A pro-Trump mob forced their way into the Capitol building as lawmakers were convening to certify President-elect Joe Biden's win on January 6. Photos and videos of the incident showed rioters roaming freely, vandalizing, looting and climbing structures.
Criticism on police preparedness and the failure to respond adequately to the violence has mounted since the siege, with some questioning why authorities weren't able to anticipate the incident despite rioters having openly discussed their plans online.
Trump finally acknowledged his 2020 presidential election defeat to Biden after the siege, after spending two months disputing the results and alleging that widespread voter fraud caused his defeat. Graham, a staunch ally of Trump, followed the president in challenging the election results.
After rioters were removed, lawmakers reconvened to finish certifying Biden's win. Senators Ted Cruz of Texas and Josh Hawley of Missouri objected to votes, but Graham did not. "Count me out, enough is enough," he said on the Senate floor at the time.
Last Wednesday, Graham called on Biden to urge Democrats to stop Trump's second impeachment trial after the House impeached the president for allegedly inciting the Capitol insurrection.
"Every president is subject to the laws of the land," Graham tweeted. "However, impeachment is political and will further divide the nation. If President-elect Biden truly seeks unity, he has an opportunity to make a major step in that direction by rejecting post-presidential impeachment."