A doctor in rural Oklahoma has claimed that people taking the horse de-wormer medication ivermectin to treat COVID-19 are filling up the area's emergency rooms.
"There's a reason you have to have a doctor to get a prescription for this stuff because it can be dangerous," Dr. Jason McElyea, a frontline family physician who works in emergency rooms in eastern and southern Oklahoma, told local news station KFOR-TV.
The rise in human ivermectin use has led multiple health agencies, including the Food and Drug Administration (FDA), to issue stern warnings against using the drug for anything other than its intended purposes.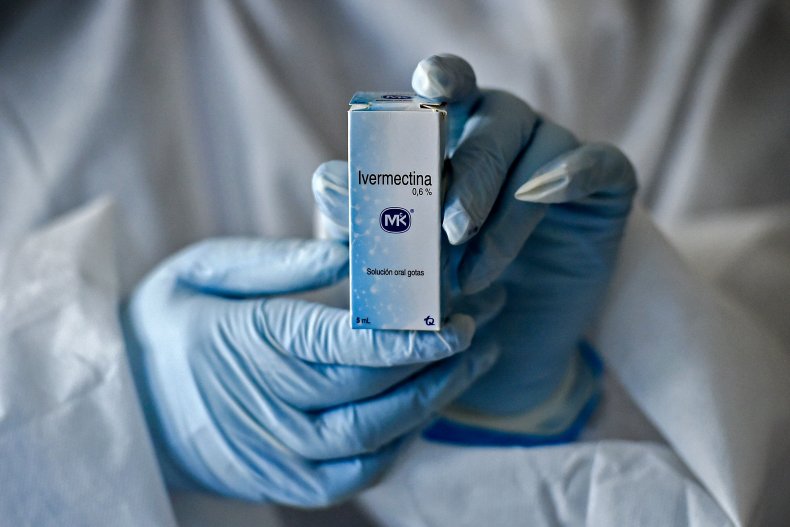 McElyea said he's seen many patients in the ER recently due to adverse reactions to ivermectin. He also claimed ambulances are being overwhelmed from responding to people sick from the medication.
"The ERs are so backed up that gunshot victims were having hard times getting to facilities where they can get definitive care and be treated."
"All of their ambulances are stuck at the hospital waiting for a bed to open so they can take the patient in and they don't have any, that's it," McElyea added. "If there's no ambulance to take the call, there's no ambulance to come to the call."
These comments from McElyea have been disputed by at least one hospital for which he has worked in the past. Dr. McElyea is affiliated with a medical staffing group that serves multiple hospitals in the state of Oklahoma. After other news outlets carried his statements regarding ivermectin overdoes, one hospital that the doctor's group serves, Northeastern Hospital System (NHS) Sequoyah, said its ER has not treated any ivermectin overdoses. It also noted it has not had to turn away anyone seeking care.
NHS Sequoyah's statement reads as follows: "Although Dr. Jason McElyea is not an employee of NHS Sequoyah, he is affiliated with a medical staffing group that provides coverage for our emergency room. With that said, Dr. McElyea has not worked at our Sallisaw location in over 2 months. NHS Sequoyah has not treated any patients due to complications related to taking ivermectin. This includes not treating any patients for ivermectin overdose. All patients who have visited our emergency room have received medical attention as appropriate. Our hospital has not had to turn away any patients seeking emergency care. We want to reassure our community that our staff is working hard to provide quality healthcare to all patients. We appreciate the opportunity to clarify this issue and as always, we value our community's support."
When speaking to KFOR-TV, McElyea said patients he's treated who believe the false claims of ivermectin being effective for treating COVID aren't afraid of the drug, since many have used it before on livestock.
"Growing up in a small town, rural area, we've all accidentally been exposed to ivermectin at some time. So, it's something people are familiar with. Because of those accidental sticks, when trying to inoculate cattle, they're less afraid of it," he explained.
Animal feed stores across the U.S. and Canada have reported a large increase in the sales of ivermectin in recent weeks, which many attribute to people using the medication to battle COVID.
"Ivermectin dispensing by retail pharmacies has increased, as has use of veterinary formulations available over the counter but not intended for human use," the Centers for Disease Control and Prevention (CDC) said in a recent statement.
"Ivermectin is not authorized or approved by FDA for prevention or treatment of COVID-19," the CDC statement continued. "The National Institutes of Health's (NIH) COVID-19 Treatment Guidelines Panel has also determined that there are currently insufficient data to recommend ivermectin for treatment of COVID-19."
The American Medical Association (AMA), American Pharmacists Association (APhA), and American Society of Health-System Pharmacists (ASHP) released a joint statement Wednesday.
"We are alarmed by reports that outpatient prescribing for and dispensing of ivermectin have increased 24-fold since before the pandemic and increased exponentially over the past few months," the statement from the organizations said. "As such, we are calling for an immediate end to the prescribing, dispensing, and use of ivermectin for the prevention and treatment of COVID-19 outside of a clinical trial."
The FDA has tried using a little levity in addressing the serious subject. In a message posted on Twitter in August, the agency wrote: "You are not a horse. You are not a cow. Seriously, y'all. Stop it."
The tweet included a link that described the dangers of ivermectin. Side effects humans may experience while taking the cattle medicine, according to the FDA, include nausea, vomiting, diarrhea, low blood pressure, dizziness, seizures, coma and even death.
As McElyea told KFOR-TV, "Some people taking inappropriate doses have actually put themselves in worse conditions than if they'd caught COVID."
Updated 09/07/21 1:25 p.m. ET: This story has been updated to include a statement from the hospital NHS Sequoyah, which disputes McElyea's comments regarding ivermectin overdoses.