Who Is Patrick Mahomes' Girlfriend? Brittany Matthews Began Dating NFL Quarterback Long Before Super Bowl 2020
Football fans will flood Miami Garden's Hard Rock Stadium in Florida for Super Bowl LIV on Sunday, and plenty of them will be rooting for the Kanas City Chiefs quarterback Patrick Mahomes.
Mahomes' longtime girlfriend Brittany Matthews will be among the many sideline supporters hoping to see the rising football star secure a victory over the San Francisco 49ers.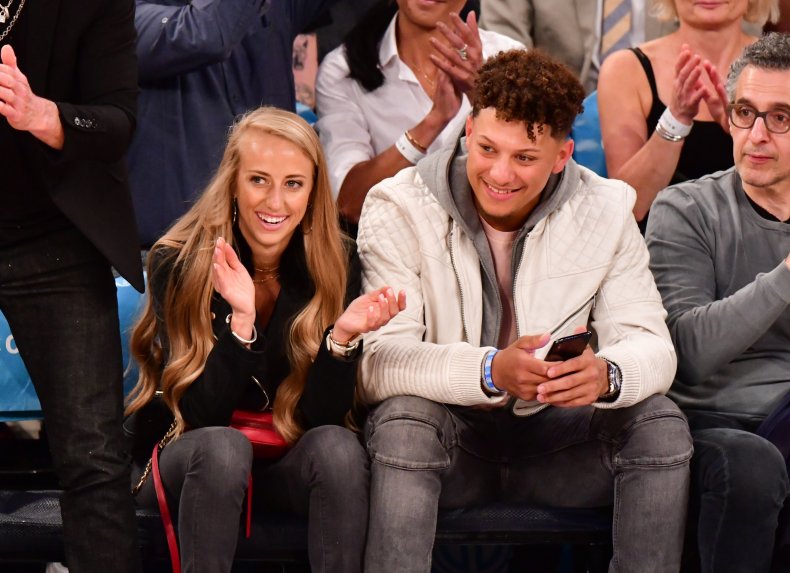 Matthews has been one of Mahomes' biggest cheerleaders throughout the 2019-2020 football season and has often shared photos of her boyfriend's many games. She also made headlines earlier in the season after she was harassed by New England Patriots fans who became upset with her support of Mahomes.
Matthews revealed in a Twitter post that she had to be removed from her section due to the rowdy hometown fans, but that didn't stop her from cheering him on.
Matthews became Mahomes' biggest fan long before he became a first-round pick for the Chiefs during the NFL Draft in 2017. The couple, who are both 24 years old, first met when they were in high school in Whitehouse, Texas. Mahomes was a star athlete at Whitehouse High School, where he played both football and baseball while Matthews, also an athlete, played soccer.
The pair began dating during Mahomes' sophomore year. One of his earliest Instagram posts was of the young couple attending prom in 2013.
Although Matthews stayed nearby when she left home for college in 2013—she played soccer at the University of Texas at Tyler—Mahomes was recruited to Texas Tech University in Lubbock, nearly 440 miles away, in 2014 on a football and baseball scholarship.
Despite the distance, their relationship remained strong and continued to flourish even when Mahomes uprooted to Missouri following the draft in 2017. Meanwhile, Matthews, who graduated with a kinesiology degree that same year, was selected to play professional soccer with the UMF Afturelding/Fram in Iceland.
Matthews has since retired from soccer and now works as a personal trainer through her own company, Brittany Lynne Fitness. However, she credited her time in Iceland for inspiring her to make health and wellness a profession.
"By the end of my first season, I truly began to fall in love with being in the gym more than being on the soccer field," Matthews wrote on her company's website. "Playing sports my whole life got me into fitness and playing in college taught me about strength training, wellness and maintaining peak fitness to perform at an elite level."
Matthews offers exercise training programs aimed at toning and strengthening for people at all stages on their fitness journey.
Super Bowl LIV will air live on Fox on Sunday. Kickoff is slated for 6:30 p.m. ET.