Patrick Mahomes Gives Ankle Update After Injury Ahead of Super Bowl
Quarterback Patrick Mahomes has reassured Kansas City Chiefs fans about the ankle injury that troubled him during the AFC Championship win over the Cincinnati Bengals, after initially sustaining the injury in the divisional round playoff win over the Jacksonville Jaguars.
There has been concern among Chiefs fans that the 27-year-old quarterback would be hindered by the injury when the Chiefs face the Philadelphia Eagles in Sunday's Super Bowl.
Mahomes, who hopes to claim his second Super Bowl win in four years, insisted on Monday that he will "push it" and "leave it all on the line" come Super Bowl LVII.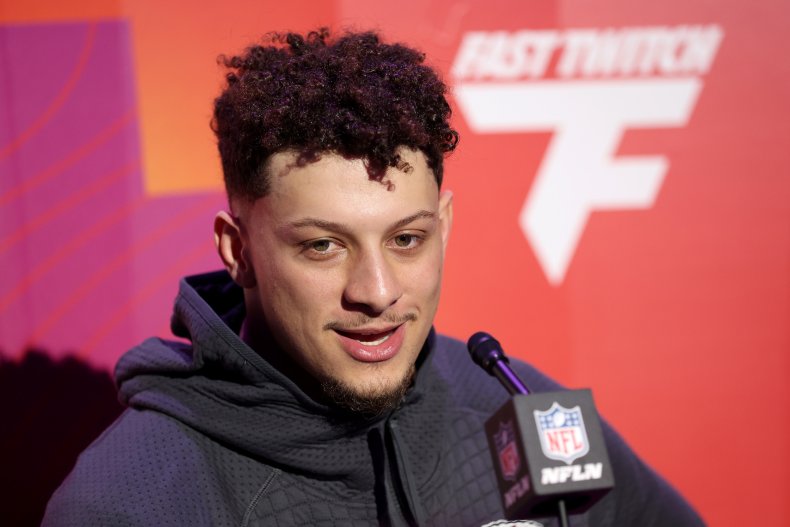 "You won't know until you get out there in the game. But I'm going to push it," Mahomes told reporters. "I'll try to leave it all on the line. I think you all saw that in the last game that I played."
The star quarterback added: "It's about relying on your teammates... I'm not trying to do too much. But I'll definitely be in a better spot [than] when I was out there last week [in the AFC Championship]."
The last time that the Chiefs were in the Super Bowl in January 2021, Mahomes was also hampered by an injury, that time a turf toe. Kansas City lost to the Tampa Bay Buccaneers 31-9 to end the 2020 season.
Mahomes harked back to a brighter moment, when the Chiefs won the Vince Lombardi Trophy the previous season, rallying from a 20-10 fourth quarter deficit to beat the San Francisco 49ers 31-20.
He said: "The win is amazing. It's one of the best moments of your entire life. You take away all the positives from that.
"But that loss, that stings. That motivates you for years. What it's done for me is it's motivated me to be back in this game again. I want to make sure that I can have that winning feeling and not that losing one because that losing feeling is one you'll never forget."
Mahomes added: "You learned that you can't take things for granted. You can't come to a game and not have every box checked. I thought we did, but obviously we didn't and we lost that game and you had to use it as motivation to get back here.
"I think the biggest motivating factor is to step on that field and try to be the best. We know we've got a great challenge with the Philadelphia Eagles, so it will be a great game."
Meanwhile, Eagles quarterback Jalen Hurts will play his first Super Bowl game in only his third year as a pro.
"I didn't put in all that work for no reason. I put all this work in, we put all this work in, to have opportunities like this. It'll be a fun one," he told reporters on Monday. "We just want to go out there and do what we've done this whole entire time, to try and play clean football and play together. We've come here to finish the job."
Do you have a tip on a sports story that Newsweek should be covering? Do you have a question about the NFL? Let us know via entertainment@newsweek.com.