Patrick Mahomes Is Being Compared to Kenny Powers of 'Eastbound & Down'
He is a two-time Super Bowl champion, but Patrick Mahomes isn't immune to going viral for the wrong reasons online.
Internet jokesters are making an unfavorable comparison between the Kansas City Chiefs' star quarterback and fictional baseball player Kenny Powers from the sitcom Eastbound and Down.
Mahomes was born and raised in Texas, but his Southern accent and way of expressing himself have been compared to Danny McBride's comedy character.
Twitter user @Chrisecrowley made a simple observation of one of Mahomes' recent talk show appearances on Jimmy Kimmel Live! and drew the comparison that spurned tens of thousands of comments and interactions online.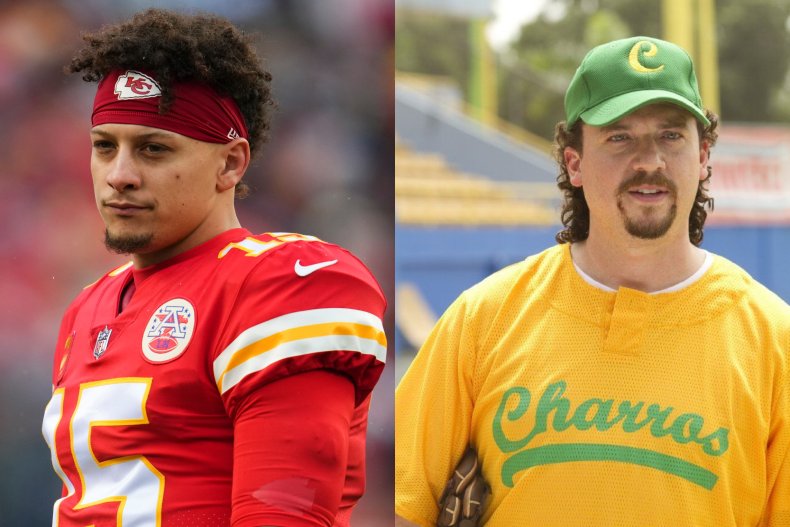 "Yeah, no, so we started off, they actually threw a nice party for us at the hotel," Mahomes told Kimmel, describing how he celebrated Sunday's Super Bowl victory. "The Chainsmokers came through, DJ Khaled came through. You can't beat that man, that's every genre of music you need right there."
"Patrick Mahomes straight up sounds like Kenny Powers," @Chrisecrowley wrote, and many others agreed.
"The voice thing is directionally right but "the chainsmokers... DJ Khalid... That's pretty much every genre of music you need" is 100% KP," wrote journalist Ben Walsh.
"He's got the hair and rocks the blades too," added another Twitter user, including a Kenny Powers gif.
The idea picked up some steam leading fans to speculate about what should happen next.
"I would pay exorbitant amounts of money to see a movie where Danny McBride plays an exaggerated version of Patrick Mahomes," @Lovewasher wrote.
After @Chrisecrowley's observation, many commented that they couldn't unhear it.
It's not clear how Mahomes feels about the actor who plays Kenny Powers, McBride, but Powers is a big fan of the athlete.
Ahead of Super Bowl LVII, McBride was asked who he'd be supporting while in attendance. While McBride's mom rooted for the Eagles, Mahomes is McBride's 11-year-old son's favorite.
"My house is going to be divided because my mom is from Philadelphia and my son is a Mahomes fan," McBride told Yahoo. "I might just be managing the peace, just trying to keep everybody happy depending on which way this goes."
This isn't the first time Mahomes and Powers have been compared. Mahomes' former Chiefs teammate, Greg Dieter, trolled Mahomes in March 2019. He retweeted another person's tweet comparing the two, writing, "This is some solid material here @PatrickMahomes."
Mahomes clapped back at the time, calling Dieter a sheepdog for stealing someone else's content.