Patrick Mahomes Expected to Practice on Wednesday, Still Not Clear of Concussion Protocol
Patrick Mahomes remains in the NFL's concussion protocol but is expected to return to practice on Wednesday, as the Kansas City Chiefs hope to have their star quarterback available for the AFC Championship Game.
On Sunday, the MVP of Super Bowl LIV exited the Chiefs' 22-17 win over the Cleveland Browns in the Divisional Round in the third quarter after taking a hit from Browns linebacker Mack Wilson, which left him unsteady on his feet.
According to ESPN, Mahomes has cleared "some big steps" but his participation in the AFC Championship Game against the Buffalo Bills on Sunday remains in doubt for the moment, as the 25-year-old is still in the NFL's concussion protocol.
Scrambling to his right during an option play, Mahomes was tackled by Wilson and was knocked to the ground. Once he got himself back on his feet, he looked wobbly and staggered and had to be briefly helped towards the sideline.
He swiftly seemed to regain his bearings but following an examination in the medical tent on the touchline, he made for the tunnel and went back to the Chiefs locker room.
Albeit in limited fashion, players are permitted to take part in practice while still in the protocol. NFL rules stipulate players have to clear five steps in the concussion protocol before being allowed to return to full practice and be available to play in games.
As per the NFL guidelines, the first four steps involve players going from so-called "symptom limited activity"—limited stretching and balance training—to "club-based non-contact training drills," before receiving clearance for full football activity.
"Until cleared by this independent physician, a player may not return to contact practice or play in an NFL game," the protocol reads.
The fact Mahomes is expected back in training on Wednesday would suggest he has cleared at least the first two steps on the protocol.
Since their star quarterback was ruled out on Sunday, the Chiefs have sounded cautiously optimistic Mahomes will be available when Kansas City hosts its third consecutive AFC Championship Game on Sunday.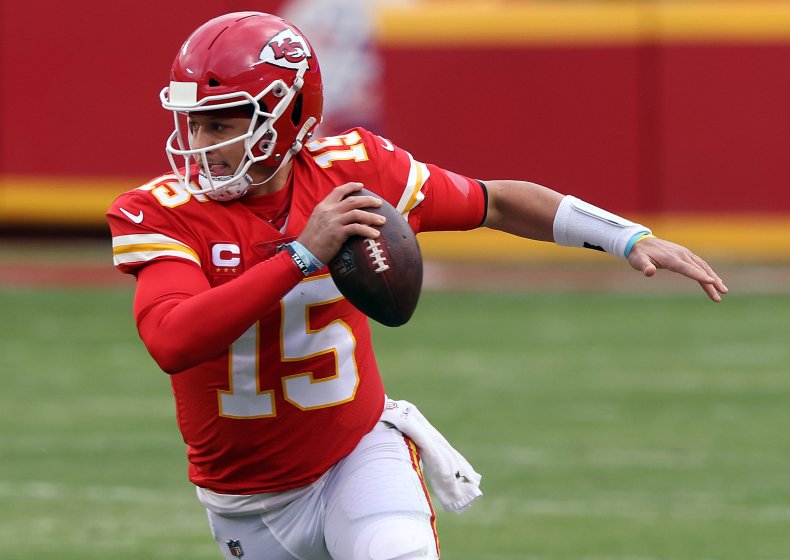 Speaking to the media earlier this week, Chiefs head coach Andy Reid indicated Mahomes could have even come back in the game against the Browns.
"There was a chance back in the day that Patrick comes back in [the game]," Reid said.
"You saw him run up the tunnel. By the time he got to that point, he was feeling pretty good. But there's a certain protocol you have to follow and that takes it out of the trainer's hand and the player's hand and the doctor's hand."
Mahomes was replaced by veteran Chad Henne, who completed six of his eight passes for 66 yards, including a crucial completion on a fourth-and-inches late in the fourth quarter that iced the game for the reigning Super Bowl champions.
With Mahomes still in the concussion protocol, Reid acknowledged the Chiefs had to ensure they had a plan in place for both of their quarterbacks.
"Because of the protocol, it's a no-brainer from a coaching standpoint," he explained. "You don't have to think about it. You just have to go forward and make sure you have an answer if he's there and an answer if he's not there. I can't tell you from a medical standpoint. I don't know that. That's their decision and I just follow it."
Mahomes, who passed for 255 yards and a touchdown and added 14 rushing yards and a score on the ground against the Browns, is also dealing with a turf toe injury that caused him to limp on Sunday before he exited the game with concussion.
Since making his first NFL start in Week 17 of the 2017 season, Mahomes has missed only three of the 54 games the Chiefs have played between regular season and playoffs.
He missed Week 8 and Week 9 of the 2019 season due to a knee injury he picked up against the Denver Broncos in Week 7 and this year he sat out Kansas City's Week 17 loss against the Los Angeles Chargers as the Chiefs rested several of their starters.