Patrick Mahomes Injury Update: Will Kansas City Chiefs QB Play in Week 15 Vs. Denver Broncos?
Patrick Mahomes has declared himself fit for Week 15 after recovering from what he described as a "scary" hand injury.
The Kansas City Chiefs quarterback bruised his passing hand during Sunday's 23-16 road win over the New England Patriots.
The reigning NFL MVP was hit early in the game and injured his hand as he landed awkwardly.
After the game, Mahomes said his hand did not "feel great right now" and he subsequently underwent X-rays, which came back negative.
Speaking in his press conference on Wednesday, Mahomes admitted being concerned by the injury, but indicated he had returned to training as usual and was confident of being under center when the Chiefs host the Denver Broncos on Sunday.
"It's doing better," he said.
"A lot of the swelling went down these last two days, so I was able to throw the football around today. [...] Definitely was a little scary after the game when it was a little bit bruised. We've done more and more treatment since the swelling went away, so I was able to throw the football and everything."
Despite the injury, Mahomes played the rest of the game on Sunday, finishing 26 of 40 for 283 yards, with a touchdown pass and an interception.
Kansas City, however, had to get creative with their play calling, to minimize the impact of Mahomes' injury.
Chiefs head coach Andy Reid adjusted his game plan, allowing Mahomes to throw more short and intermediate routes.
The 24-year-old averaged 6.6 yards per attempt in the game, compared with an average of 8.3 yards per attempt this season.
"They gave me the good-to-go and so I went out there, battled, figured out ways to throw the ball across the middle and maybe not shoot those long shots that I usually throw," he said in his post-match press conference.
Mahomes, however, remained tight-lipped when asked whether he would adopt a similarly conservative approach against the Broncos in Week 15.
"We're going to go out there and just test it out and see where I'm at," he said on Wednesday. "As far as throwing, I was able to throw and do everything like that and take snaps from under center so I'm excited to get out there and practice."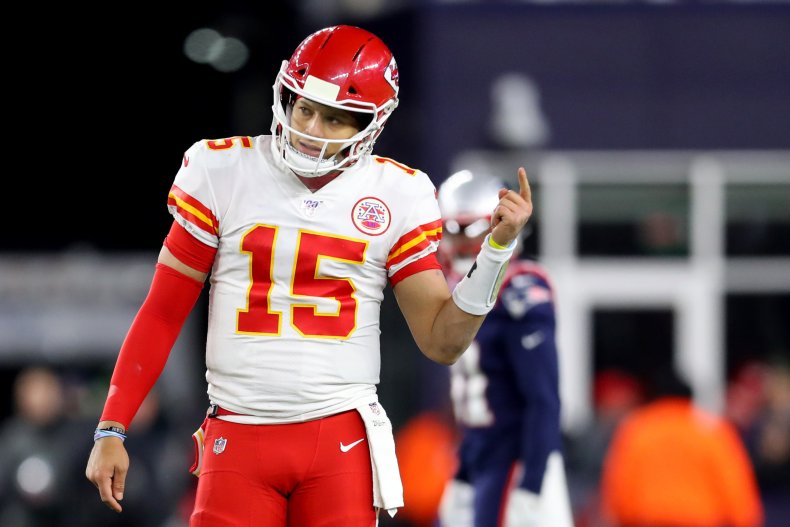 With the win over the Patriots, the Chiefs improved to 9-4, secured a fourth consecutive AFC West title and clinched a playoff spot.
The result also vaulted Kansas City in third place in the AFC as the Houston Texans lost at home to the Broncos, meaning they are well primed to pounce should the Patriots slip up over the next three weeks.
FiveThirtyEight's statistical projections give the Chiefs a 22 percent chance of a first-round bye, but with chinks appearing in New England's armor, the Chiefs remain in the run.
If Kansas City's playoff runs is to end in Miami, Florida, with Super Bowl LIV, it's imperative Mahomes remains fit.
Mahomes won't miss any games because of his hand issue, but the problem was serious enough for him to land on the Chiefs' injury report for a third time this season.
While he did not miss any games after spraining his ankle in Week 1 against Jacksonville, he sat out two games after being hobbling off the field with a dislocated kneecap sustained in the 30-6 road win over Denver in Week 7.