Patrick Mahomes Injury Update: How Long Will Chiefs QB Be out For?
The Kansas City Chiefs returned to winning ways on Thursday but their night was marred by an injury to Patrick Mahomes.
The reigning NFL MVP suffered what looked to be a serious knee injury as he attempted a quarterback sneak on fourth down late in the second quarter of the Chiefs' 30-6 road win against the Denver Broncos.
Mahomes was immediately attended to by trainers and medical staff before hobbling off the field and be ruled out for the remainder of the game. As he was being treated, it appeared his right knee was popped back into place.
NFL Network's James Palmer reported that the third-year quarterback underwent X-rays at Empower Field at Mile High, which determined he had suffered a dislocation of his right kneecap.
Palmer and ESPN's Adam Schefter both confirmed Mahomes, who was spotted wearing a knee brace in the locker room, will undergo an MRI scan on Friday to assess the full extent of the injury.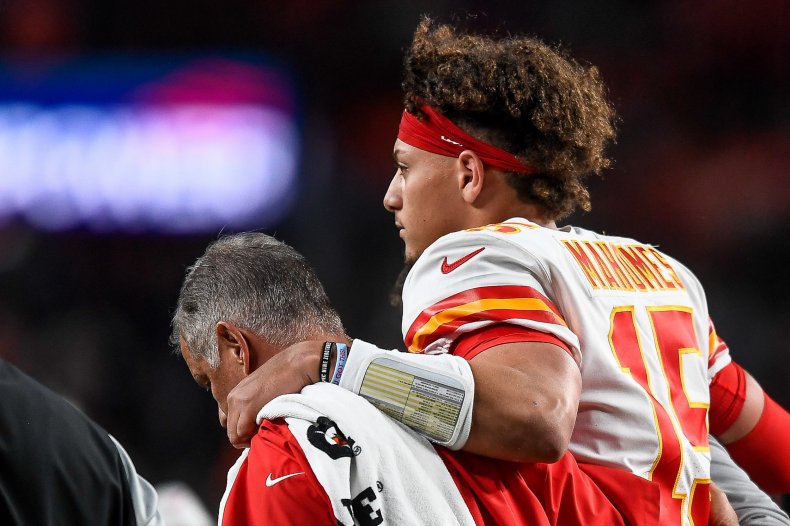 According to the U.S. National Library of Medicine, the MRI scan will determine whether the dislocation caused a broken bone or cartilage damage.
If the tests show no damage, the knee will be placed into a cast which Mahomes will have to wear for about three weeks.
If, however, the diagnosis is more serious, the Chiefs quarterback may have to keep the cast on for up to six weeks, before beginning rehab.
Broncos cornerback Chris Harris Jr. and Denver quarterback Joe Flacco both wished Mahomes a speedy recovery.
"Hopefully he's not too injured, for the season," the former was quoted as saying by the Associated Press. "He's great for our league, he's a great player. So, hopefully he's not hurt too bad."
Flacco added: "A young guy like that who's starting off his career the way he has and starting off this season the way he has, it's definitely not easy to watch guys go down with injuries like that. I hope that he's all right."
The 24-year-old was relatively upbeat after the game and took to Twitter to congratulate his teammates for snapping a two-game losing streak.
Chiefs coach Andy Reid, meanwhile, told reporters he would wait for "further evaluation" before commenting on the injury and did not regret calling the play on which Mahomes got injured.
"Not many people get hurt on a sneak, so it's a freak thing," he told NFL.com.
"It happens. I was proud of our guys stepping up. They didn't let down. You've seen that over the years. You've seen teams let themselves down after one of your best players or the best player gets hurt, particularly the quarterback [...] They really upped their game, I thought."
By the time Mahomes left the field, he had completed 10 of his 11 passes for 76 yards and one touchdown.
Matt Moore replaced the reigning MVP with the Chiefs up 10-6 and guided his team to score 20 unanswered points, finishing 10-of-19 for 117 yards and one passing touchdown.
"Matt did a nice job of stepping in there," Reid said of the veteran quarterback's performance. "We didn't have to really back down on anything we had called. We were able to pick up from right where we left off, so I was proud of him. He's not getting any younger. So for him to get in there and do what he did, that's a heck of a job."
While Moore did well, Kansas City defense stole the show. After being criticized for poor performances against Indianapolis and Houston, the Chiefs defensive unit stepped up emphatically in Denver.
Kansas City conceded just 205 yards of total offense, with only 71 yardson the ground—a season low—after giving up 180 rushing yards against the Colts and 192 rushing yards against the Texans.
The Chiefs sacked Flacco eight times and forced three fumbles, recovering two of them.
After two consecutive losses, the win over their AFC West rivals improved the Chiefs to 5-2 for the season, while the Broncos snapped a two-game winning streak and slipped to 2-5.