Patrick Mahomes Much More Popular Now Than His First Real Super Bowl Party
The Super Bowl was in Houston three years ago, two months before Patrick Mahomes was drafted by the Kansas City Chiefs. Mahomes was a Texas high school player and Texas Tech quarterback who had signed on with sports agent Leigh Steinberg.
Steinberg is the real-life Jerry Maguire—the actual source that inspired the movie—who throws a larger-than-life Super Bowl party each year in the city where the game is played. In 2017, I had the pleasure of attending his 30th annual party in Houston.
At first, it felt like I had snuck into a 1980s beer commercial, where great athletes and beautiful celebrities congregated in a wonderful setting and have a great time. I felt like Bob Uecker in that commercial, the outsider looking into the action.
Steinberg brought many of his new signees and invited former clients and other mega-famous athletes to the bash. Many athletes and sponsors always had a crowd of folks around them, especially Warren Moon, Kordell Stewart, Earl Campbell and other NFL and Texas sports figures.
I met a few of them, but always noticed Patrick Mahomes just quietly standing around, not hobnobbing and rubbing elbows. Mahomes was not starry-eyed, nor was he particularly outgoing. Every time I noticed him, he was standing alone with a smile as big as Texas, taking in the atmosphere, but waiting in the wings.
Having covered hundreds of high school football games in Texas, I knew of him. I knew he was from East Texas and went to Whitehouse High School—with few major college offers. I knew his father, Pat Mahomes, had once been a pitcher for the Texas Rangers. And more recently, I knew the younger Mahomes had been the quarterback at Texas Tech.
Mahomes had high hopes of becoming the next great quarterback at Tech, only to find himself playing behind Davis Webb and shuffling in and out with Webb during 2014. In 2015, Mahomes took over the starting role and passed for 4,658 yards and 36 touchdowns. Then in 2016, his junior year, Mahomes passed for 5,052 yards and 41 touchdowns. He was the 12th college player to ever pass for 5,000 yards in a season. It could have been more had the Red Raiders not gone 5-7 that season.
And why blame Mahomes? The Red Raiders scored 55 points in a loss to Arizona, 38 in a loss to Kansas State, 59 in a loss to Oklahoma, 37 in a loss to Texas and 44 in a loss to Oklahoma State.
Mahomes did not play defense for Tech, neither did the Tech defense, apparently.
So, Mahomes was a college kid getting ready for the 2017 NFL Draft when he attended his first star-studded Super Bowl party as a pro. He sat quietly, waiting in the shadows of others and waiting for his big moment.
Mahomes was drafted in the First Round—No. 10 overall—by the Kansas City Chiefs.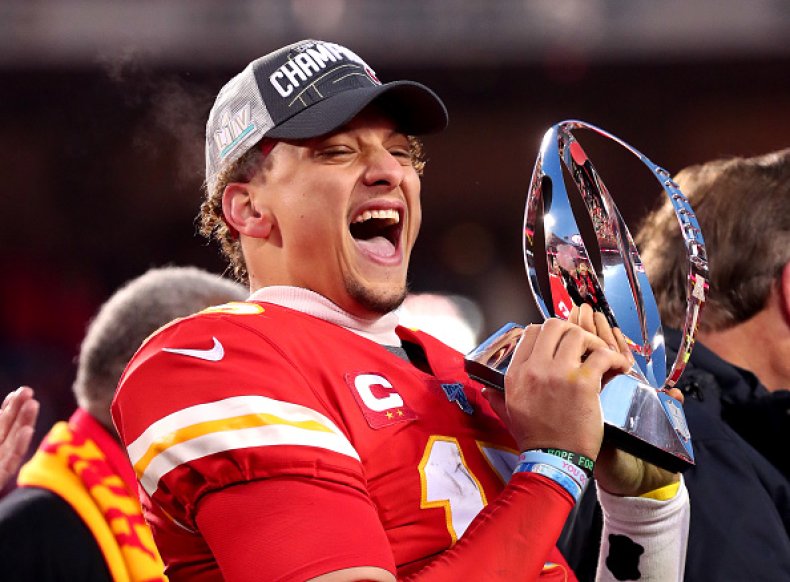 Mahomes was the second quarterback drafted, and only three were picked in the first round. The Chicago Bears picked Mitch Trubinsky out of North Carolina, and the Houston Texans picked Deshaun Watson with the 12th pick.
The Chiefs actually traded up to get Mahomes.
But that's when more waiting on the sideline began for Mahomes. The Chiefs brought in Alex Smith, who had been the quarterback of the San Francisco 49ers, during a trade before the 2013 season.
Mahomes was the backup to Smith in the 2017 season before the Chiefs pulled the string and traded Smith to the Washington Redskins. SInce then it's been Mahomes' ball club.
Mahomes won the NFL's MVP award for the 2018 season and led the Chiefs to the AFC Championship, falling to eventual Super Bowl champs New England Patriots.
With Kansas City's 35-24 win over the Tennessee Titans on Sunday in the AFC Championship, the Chiefs are finally heading back to the Super Bowl for the first time in 50 years.
But before Mahomes led the Chiefs back to the Super Bowl for the first time in half a century, he has become a household name—not only for his prowess on the field, but through endorsements. His more notorious appearances have come in the State Farm promotionals alongside Green Bay Packers quarterback Aaron Rodgers.
Mahomes will be back for a huge Super Bowl party this season, but this time as a player. And he's no longer taking it in as a spectator or backup.
This time he's the life of the party, and larger than life himself.
Patrick Mahomes Much More Popular Now Than His First Real Super Bowl Party | Sports