Patrick Mahomes Reveals Whether He Wants More Kids With Wife Brittany
Patrick Mahomes has said whether he wants to have more children with wife Brittany Matthews.
The couple, both 27, have been in a long relationship after meeting at high school in Whitehouse, Texas. They later had a long-distance romance while attending college. Following a decade of dating, they finally tied the knot on March 12, 2022, after they welcomed their daughter, Sterling Skye, on February 20, 2021. Their son, Patrick "Bronze" Lavon Mahomes III, was born on November 28, 2022.
Alec Lace of the First Class Fatherhood podcast asked Mahomes about his desire to expand his family during a chat ahead of the recent Super Bowl, in which the Kansas City Chiefs triumphed over the Philadelphia Eagles 38-35.
The Chiefs QB said that two children are enough at the moment and that he wants them to "grow" before he and Brittany consider any more.
He was then asked: "You've got one and one. Are you going to try and break the tie?" He replied emphatically: "Oh no, I'm not going to break the tie for a while at least."
Mahomes went on: "I got a girl and a boy and I'm 27, and I'm going to let these kids grow up. It's hard when you get home after a long day at work and you got the baby in one arm or a baby in the other arm at all times."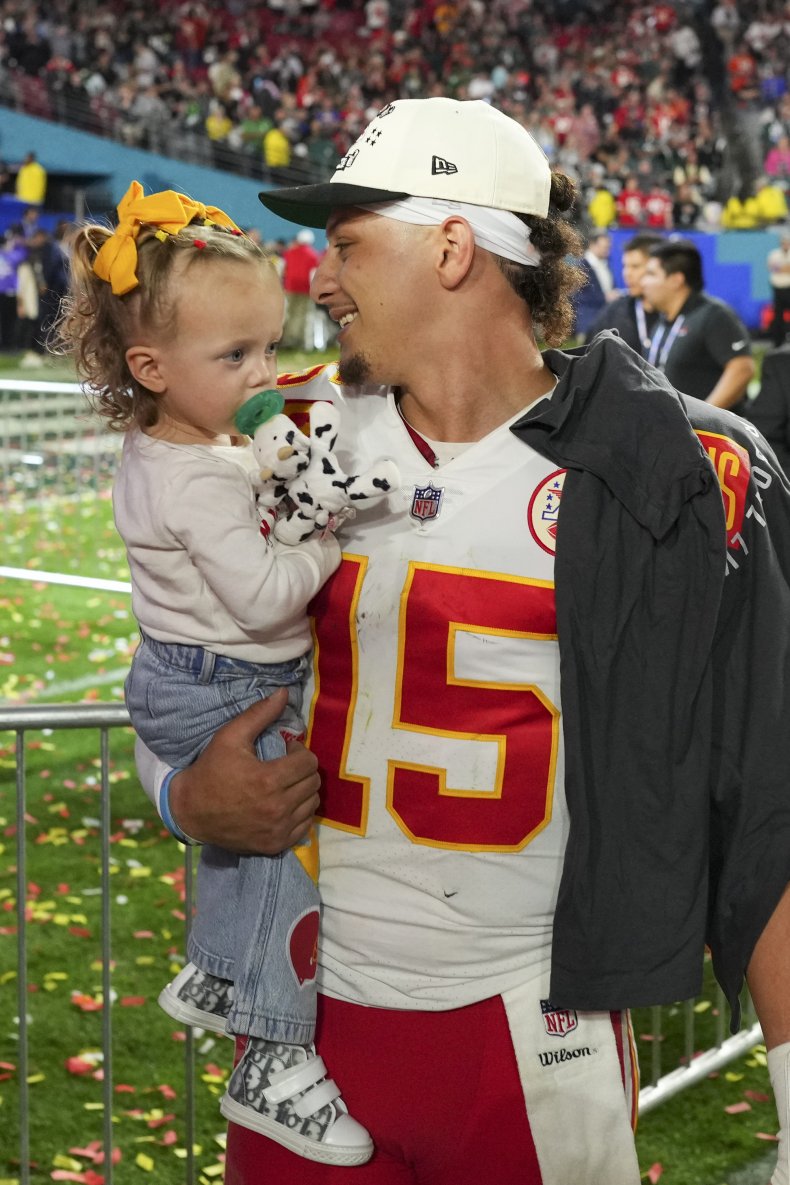 Mahomes has embraced being a father. Five months after becoming a dad for the first time, he told People that the feeling has "been awesome."
He said it helped that Sterling Skye was a model newborn and that he felt "blessed to have a really, really good first baby."
There was also plenty of praise for Brittany, whom Mahomes credits for helping him with the challenges of becoming a father.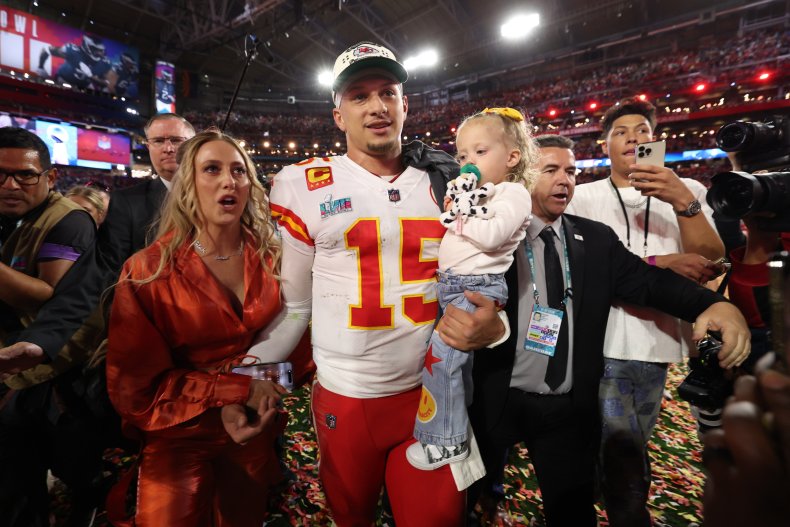 "Brittany has helped out a ton being a champion mom, and so it's been a lot of fun and to be able to come home every single day and see her and how energized she is and how she's changing and growing already. I'm just trying to tell her to slow down so I can enjoy every minute of it," he said.
Mahomes went on: "Nothing's like having a kid and having someone that you're going every single day knowing that you're trying to take care of. It truly is an amazing feeling to know I get to go to work every single day for something and then get to come home and enjoy the time I get with them."
Do you have a tip on a sports story that Newsweek should be covering? Do you have a question about the NFL? Let us know via entertainment@newsweek.com.