Patrick Mahomes has admitted it would be strange to see Tom Brady wearing a uniform other than New England's next season.
The six-time Super Bowl winner will become an unrestricted in two weeks and his future has been the subject of speculation for months.
The prospect of Brady walking away from the Patriots after two decades is no longer as far fetched as it may have seemed a year ago, with the Tennessee Titans, San Francisco 49ers, the Los Angeles Chargers and the Las Vegas Raiders among the potential suitors.
In two seasons as a starter in Kansas City, Mahomes has read NFL defenses like an open book, but Brady's future is too hard to decipher even for the reigning Super Bowl MVP.
"I have no idea, just like everyone else," Mahomes, who won Super Bowl LIV last month, was quoted as saying by CBS Sports.
"I haven't been able to talk to him. He hit me up after the Super Bowl and congratulated me. It's hard to see him not being in a New England Patriots jersey but you never know. I'll just kind of see when everyone else does."
While free agency officially starts at 4 p.m. ET on March 18, players' agents can negotiate terms with other teams from two days prior.
Brady has kept his cards firmly close to his chest during the offseason and remained tight-lipped on Wednesday, during an Instagram livestream with UFC president Dana White.
"Right now, I'm just trying to be patient through this process," the veteran quarterback top White.
"It's my first time going through it. In the meantime, I'm going to spend a lot of time with my family over the next 10 to 12 days. We have a little vacation planned, which I'm looking forward to."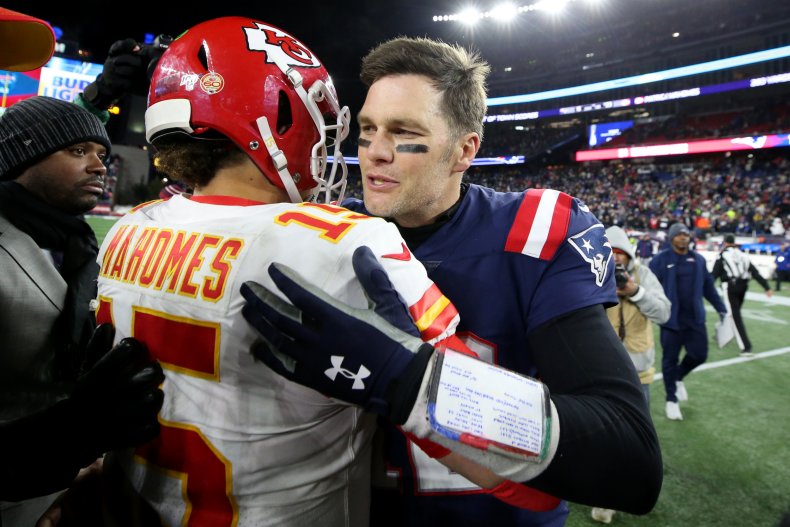 On Tuesday, ESPN reported that Brady had spoken with Patriots coach Bill Belichick and the conversation was described as "business as usual".
Tom Curran of NBC Boston echoed the sentiment, but suggested the talks had not been "particularly productive" as Belichick spoke to Brady as if he was "still under contract".
Along with Peter King of NBC Sports, and Karen Guregian of the Boston Herald, Curran also floated the suggestion Brady could see the 49ers as a viable option to the Patriots.
San Francisco acquired Brady's former understudy Jimmy Garoppolo from New England two years ago, but the team has not ruled out the chance of signing the six-time Super Bowl winner.
Garoppolo's salary for 2020 only becomes guaranteed on April 1, but the 49ers could get away with a cap charge of just $4.2 million should they trade him before the end of the month.
Doing so would also free up $22.4 million in cap space, which the team could use to fund an eventual pursuit of Brady.
While the Patriots, 49ers and Titans all retain hopes of landing the 42-year-old, the New York Giants and the Indianapolis Colts are reportedly out of the running.
Earlier this week, Albert Breer of Sports Illustrated suggested both teams be "crossed off the list" of teams pursuing Brady if he does indeed opt to become a free agent this month.
About the writer
Dan Cancian is currently a reporter for Newsweek based in London, England. Prior to joining Newsweek in January 2018, he was a news and business reporter at International Business Times UK. Dan has also written for The Guardian and The Observer.