Patrick Mahomes, Wife Brittany React to His New Netflix Doc, 'Quarterback'
Patrick Mahomes and his wife, Brittany Matthews, have reacted to the announcement that a new Netflix docuseries, Quarterback, will be released by the streaming service this summer.
The Kansas City Chiefs quarterback, 27, was mic'd up during games in the 2022 season, and cameras also followed his life away from the field. The result is the most comprehensive and insightful look into his life so far.
Minnesota Vikings QB Kirk Cousins and Marcus Mariota, QB of the Atlanta Falcons, are also featured in the series. They are followed from team huddles to their home life with their family and time spent with friends.
This is the first time such access has been granted by the NFL and its players, and it was quite a season to choose. Mahomes shattered the record for most offensive yards in a single season and clinched a Super Bowl victory with his Kansas City Chiefs, who beat the Philadelphia Eagles 38-35. Vikings star Cousins engineered what could be the greatest comeback in the history of the league, while Mariota had a roller-coaster first season with the Falcons.
Mahomes' newly formed 2PM Productions will produce the series along with NFL Films. He told Netflix: "I'm excited for fans to get an exclusive, behind-the-scenes look at an unforgettable season for the entire Chiefs organization and for my family."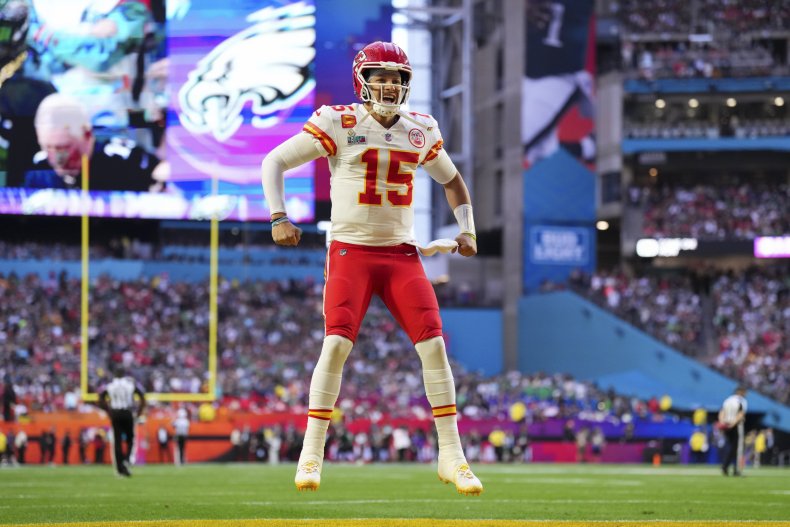 He continued: "From welcoming home a new baby in the middle of the season to welcoming the Lombardi trophy back to Kansas City, our crew was there for it all. This new Netflix series will show the time, preparation and balance that it takes to be an NFL quarterback and perform on the biggest stage."
NFL star Peyton Manning serves as an executive producer under his Omaha Productions banner. He promises that the series will give fans "a unique and intimate look at what life is like as a starting QB."
Mahomes is looking forward to the release and shared the announcement from Netflix along with the message to his fans: "Can't wait for everyone to see!!"
Mahomes' wife also showed her support by liking the announcement on various social media platforms.
Fans of the Chiefs' star player also look forward to seeing the series, with one replying to Mahomes: "That will be awesome!"
Another added: "Can't wait! This series will help me get through the summer with no football."
A third tweeted, with tongue in cheek: "I'll watch it, my kids will watch it, my future grandkids will watch. My family will watch it every Christmas and my wife and I will on our anniversary."
Netflix has not given the docuseries' summer release date yet.
Do you have a tip on a sports story that Newsweek should be covering? Do you have a question about the NFL? Let us know via entertainment@newsweek.com.