Patrick Mahomes' Wife Brittany Shades 'Haters' in Photo With NFL Star
Patrick Mahomes' wife, Brittany Matthews Mahomes, has once again poured scorn on her haters with a discreet like of a post that supports her and her husband.
The 27-year-old wife of the Kansas City Chiefs quarterback has been the subject of much criticism over the past couple of years, as she publicly celebrated the successes Mahomes has had on the field, culminating in two Super Bowl wins.
She has discreetly shown her feelings on the constant online criticism she has faced as she celebrates her husband's Super Bowl victory with the Kansas City Chiefs.
A Chiefs fan account posted a photo of the Mahomes celebrating together along with the caption on Twitter: "This one's for the haters"
Brittany is seen with her arms around her husband, Patrick, as he holds a selfie stick to take a photo of their happy moment together.
Matthews Mahomes showed her delight at the post by liking it, along with more than 9,000 others, an apparent swipe at those who have been tearing into her over the past months.
Even so, there were still those who couldn't stop posting a negative comment, with one complaining: "Nah, this is cringy asf"
To which the post's originator replied: "People having fun isn't cringy"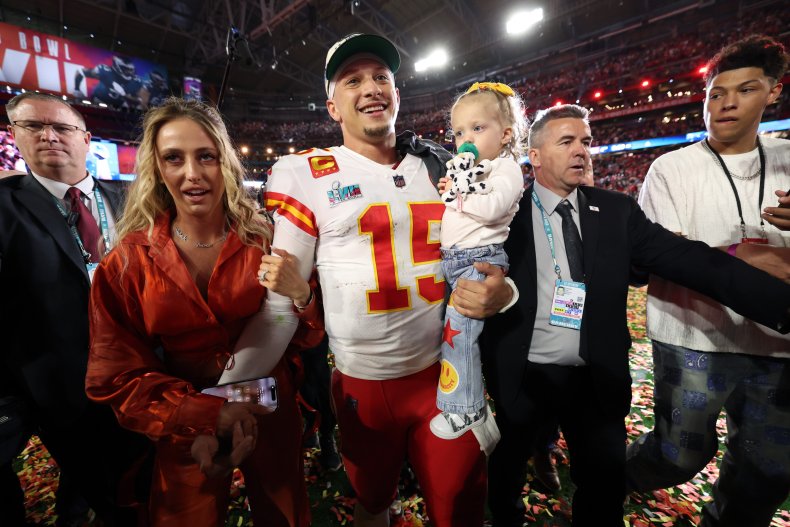 There was plenty of support for them as well, with many calling the Mahomes a "cute couple."
One fan summed up the feelings of many by tweeting: "I can't stand all the people who are hating on her so much. I don't think she's annoying. I love the fact she celebrates and supports her husband. Do I agree with everything she does? No but I don't judge her either."
Anger over Matthews Mahomes' celebrations of her partner's victories has been stretching back for years. Back in January 2022, she expressed her frustration at the criticism she faced after she posted a video on Instagram showing her celebrating the Chiefs' divisional round win over the Buffalo Bills.
In the video, she was seen popping open a bottle of champagne inside her suite in the stadium and spraying it all over fans.
"I just wish I could do what I want without getting attacked every week," Matthews wrote on Twitter in response to the subsequent backlash.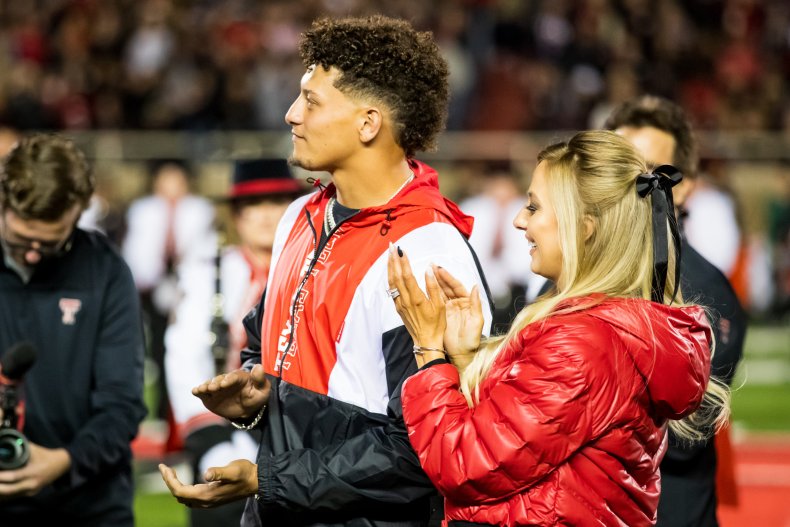 The couple met when they were at high school together in Whitehouse, Texas. Despite spending their college years miles apart, they maintained the relationship and eventually married on March 12, 2022, following a decade of dating.
The couple welcomed a daughter, Sterling Skye, on February 20, 2021. Their son, Patrick "Bronze" Lavon Mahomes III, was born on November 28, 2022.
She has been one of Mahomes' biggest cheerleaders throughout her husband's career and has often shared photos of his games. She also made headlines in the 2019-2020 season after she was harassed by New England Patriots fans who became upset with her support of Mahomes.
Matthews Mahomes revealed in a Twitter post that she had to be removed from her section because of the rowdy hometown fans, but that didn't stop her from cheering him on.
Do you have a tip on a sports story that Newsweek should be covering? Do you have a question about the NFL? Let us know via entertainment@newsweek.com.