Patrick Moore, Man Who Refused to Drink Roundup, is Not a Monsanto Lobbyist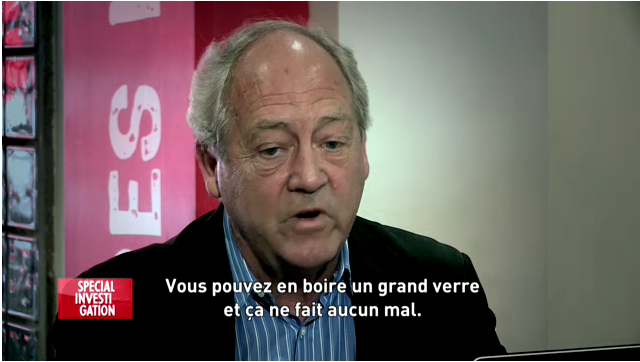 The Internet went wild this week when a video emerged of a man named Patrick Moore bombastically offering to drink a controversial Monsanto herbicide then quickly refusing when a French journalist offered him a glass of the stuff. By Friday morning, the video was trending on Facebook and many news outlets sounded the alarm: "Watch a Monsanto Lobbyist Claim a Weed Killer Is Safe to Drink but Then Refuse to Drink It," read Time's headline. But there's only one problem: Patrick Moore is not a Monsanto lobbyist.
"Dr. Patrick Moore is not and never has been a paid lobbyist for Monsanto," Charla Lord, a spokesperson for Monsanto, wrote in an email Friday. Yes, Moore's bumbling defense of the herbicide Roundup on French television's Canal+ spectacularly backfired. And his defense of the herbicide is especially noteworthy in light of the fact that, last week, the World Health Organization classified Glyphosate, the main ingredient in Roundup, as a "probable carcinogen." But does that make Moore a Monsanto lobbyist? Apparently not.
Instead, Patrick Moore is a former Greenpeace member and an ecology PhD with an unusual history. He is an ardent proponent of genetically modified crops and a vocal skeptic of man-made climate change. In 2014, he testified to a U.S. Senate committee that there is "no scientific proof" that humans are driving the global warming.
In 2010, Moore became a controversial figure for his work on an environmental sustainability report for Asian Pulp & Paper, an Indonesian company derided by groups like the World Wildlife Fund for, among other things, threatening endangered Sumatran orangutan and tiger habitats.
Moore's report came back glowing. APP, he said, was "engaged in world-class sustainable forest management," according to the Guardian.
"[Moore] is seen by some environmentalists as the most brazen of the spin doctors they face," the Guardian's George Monbiot wrote at the time.