Patriot Front Leader Tom Rosseau Among 31 Arrested Near Idaho Pride Event
Tom Rosseau, the leader of the white nationalist hate group Patriot Front, was among 31 members arrested Saturday for conspiring to riot near a Pride event at an Idaho park.
The members were detained by police in Coeur d'Alene after a concerned citizen reported seeing dozens of masked individuals who "looked like a little army" loading riot gear into a U-Haul. Only one of the members was from Idaho, according to the Idaho Statesman. Rosseau came from Texas, while the rest were from Arkansas, Colorado, Illinois, Oregon, South Dakota, Virginia, Washington, and Wyoming.
"They were all wearing similar attire. They had shields, shin guards, and other riot gear with them, including at least one smoke grenade," Coeur d'Alene Police Chief Lee White said Saturday during a press conference. "It is clear to us, based on the gear that the individuals had with them...that they came to riot downtown."
In addition to the riot gear, police found "paperwork" among the group that appeared similar to a military operations plan. Each of the members was charged with a misdemeanor count of conspiracy to riot, White said.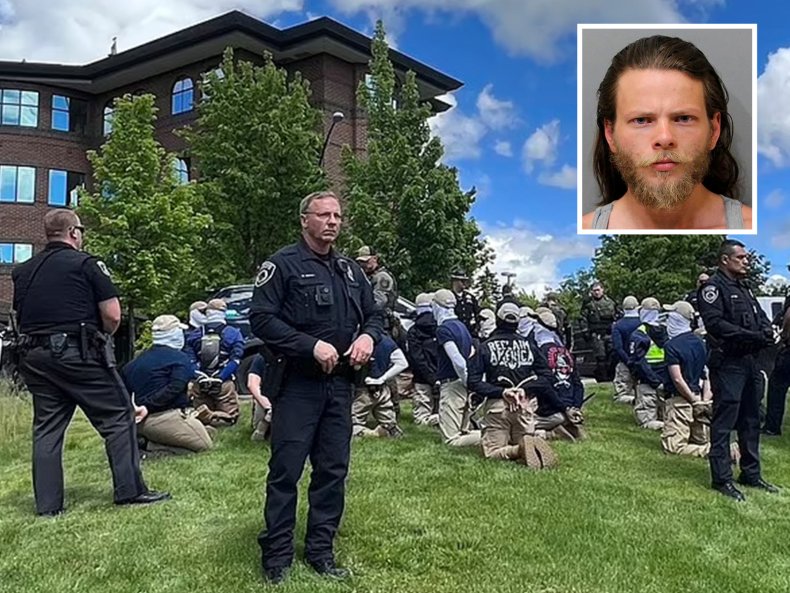 Who Is Rosseau?
According to the Southern Poverty Law Center (SPLC), Rosseau was born in Texas in 1998 and was previously involved with the neo-Nazi white supremacist group, Vanguard America. With them, he helped organize the 2017 Unite the Right rally in Charlottesville, Virginia, where white nationalists engaged in violent clashes with counter-protesters, leading to the death of 32-year-old Heather Heyer.
Following that event, Rosseau worked to dissolve Vanguard America and "rebrand" the organization as a more image-focused group, Patriot Front. According to the SPLC, Patriot Front is "an image-obsessed organization that rehabilitated the explicitly fascist agenda of Vanguard America with garish patriotism."
The group advocates for a separate white-only state within the United States, and claims that only those with European ancestry should be legally defined as "American." The group also promotes the ideas of "replacement theory," a racist theory that claims that white people are becoming "replaced" by non-white populations.
He was previously arrested in Texas in 2020 for misdemeanor charges related to putting up stickers on county property.
What's Next?
The arrests of Rosseau and other members of Patriot Front gained widespread national attention.
Videos of the detained members wearing khaki pants, blue shirts, and white balaclavas quickly circulated across social media. Some of the members were seen wearing shirts that read, "Reclaim America" while another said, "Conquerors not Thieves," apparently in reference to the belief that white colonialists were right to violently take Native American lands.
Each of the 31 members have since been jailed, and are now scheduled to be arraigned in court Monday.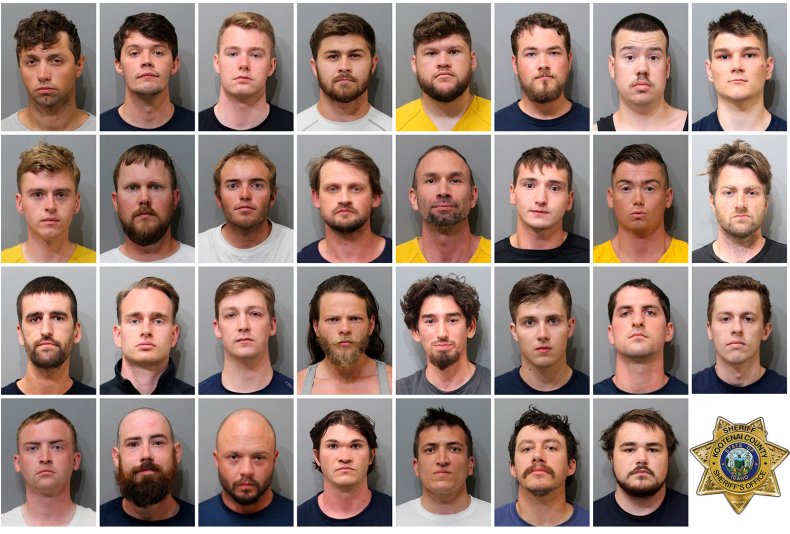 "In my opinion I would gladly arrest 31 individuals who are coming to riot in our city for a misdemeanor, rather than have them participate in some sort of seriously disruptive event which is exactly what they were planning in the downtown area," White said, according to the Idaho Statesman. "I don't think this would have been as successful had we not had one extremely astute citizen who saw something that looked very concerning to them and reported it to us."