Patriots Will Use Team Plane to Take 76 Health-Care 'Superheroes' to Super Bowl
The New England Patriots announced on Tuesday that they plan to use their team plane to send 76 vaccinated health-care "superheroes" to the Super Bowl in Tampa, Florida.
According to a statement released by the Patriots, the workers will be guests of team owner Robert Kraft and "will be granted an all-expenses paid trip to Super Bowl LV in Tampa, Fla., including roundtrip travel on the Patriots team plane."
"The mission of this trip is two-fold: to recognize and thank a representative group of the countless healthcare superheroes in New England, and to celebrate and spread the important message of getting vaccinated," the team said in a statement.
In April, the Patriots and Kraft used the team's plane to travel to China to obtain personal protective equipment (PPE) for health-care professionals working on the front lines against COVID-19.
The team's plane, which is a Boeing 767 decorated with the Patriots logo and "6X Champions," brought roughly 1.2 million N95 masks back from China, according to the Wall Street Journal. The paper also reported that Kraft and his family put up $2 million, which accounted for around half the cost of the face masks.
"Ten months later, it's an honor for us to celebrate these healthcare workers by giving them a well-deserved break for a day and an opportunity to enjoy the Super Bowl, a reality that is only made possible because of the vaccines," the team's statement said. "We hope that in doing so, others are also encouraged to get vaccinated as they are able. Once again, we want to say thank you from the bottom of our hearts to all of the healthcare heroes who have risked their well-being to ensure ours. They are truly superheroes to us."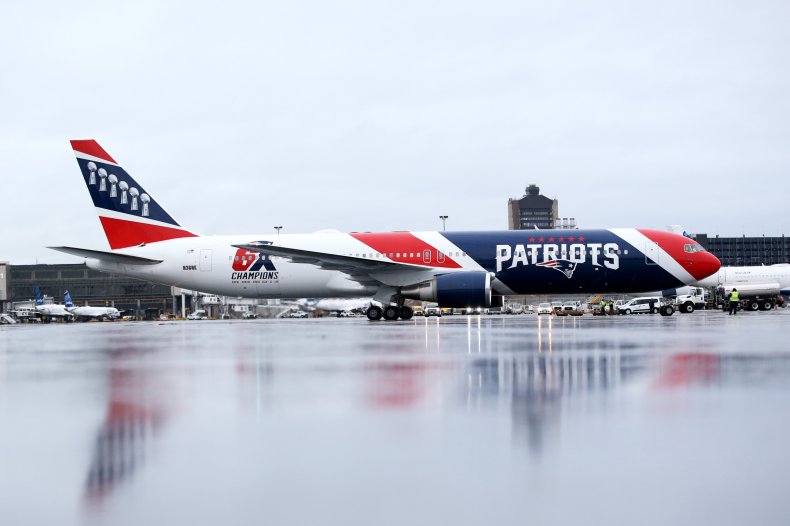 According to the team's statement, the health-care workers are from all six New England states and all have been working in COVID-19 units in their respective hospitals. Kraft and his family provided four tickets to the Super Bowl to governors in states surrounding Massachusetts "for a total of 20 individuals representing Connecticut, Maine, New Hampshire, Rhode Island and Vermont."
The team then distributed the remaining tickets to several not-for-profit hospitals across Massachusetts.
Prior to the announcement by the Patriots, NFL Commissioner Rodger Goodell announced on January 22 that the league was inviting around 7,500 vaccinated health-care workers to the Super Bowl.
An additional 14,500 fans will also be allowed to attend the Super Bowl at Raymond James Stadium in Tampa.
"We hope in a small way that this initiative will inspire our country and recognize these true American heroes. This is also an opportunity to promote the importance of vaccination and appropriate health practices, including wearing masks in public settings," Goodell said in a statement.
The Super Bowl will feature a matchup between the Tampa Bay Buccaneers and the Kansas City Chiefs. In the game, Buccaneers quarterback Tom Brady, previously with the Patriots, could add a seventh Super Bowl ring to his trophy case, while Chiefs quarterback Patrick Mahomes will look to secure his second consecutive Super Bowl ring.
Newsweek reached out to the Patriots for comment but did not receive a response in time for publication.