'I'm Patrolling Florida's Overflowing Beaches As the Grim Reaper'
I am a second-generation Floridian and live in Santa Rosa Beach, Walton County, Florida with my wife and two young kids. I am a trial attorney and for the past couple of years, I have been working very hard on fighting against privatization of Florida's beaches.
Then the pandemic hit, right during Spring Break—which is a big time of year for tourists in Florida. I was seeing people flocking to beaches everywhere, and at the same time I was following what was happening with the spread of COVID-19 in Europe and Asia.
We had a family trip planned to travel Europe in the mid-March, and after cancelling it I was at the paint store looking for places to get masks. I saw they also had paint suits for protection, so I bought a couple, as I had seen pictures of people in Europe and Asia wearing them—the ones that look like hazmat suits.
Then in early March, I decided to go out and patrol some of the beaches, to encourage people to social distance and not spread COVID-19. I know how precious and important our beaches are in Florida, but I felt it was important to limit the number of people who were coming into our state and going to our beaches, to help limit the spread of the virus.
It seemed to have an effect—that image of a person walking the beach in what looked like a hazmat suit. I got some hecklers, but at that point Florida was still open for business, even though many other states were not. Florida's Governor Ron DeSantis had refused to close beaches, so people did not think they were doing anything wrong.
Eventually in early April, a stay-at-home order was issued and most of the beaches were closed for a few weeks. But there seemed to be a lack of a state plan and a couple of weeks later, many reopened. I sued the Governor for opening the beaches too prematurely, so I then wondered what I could do to create a clear, unambiguous image to show people on beaches that this virus is deadly, and I decided on the Grim Reaper.
I am not really a costume person, but I ordered one online. It was hot to wear and didn't look very realistic, so I asked a friend of mine who makes clothing to make me something. I wanted it to look authentic, and I also did not want to die of heat stroke! She suggested making it from linen so it is actually very comfortable, and I bought a plastic black scythe online to go with it.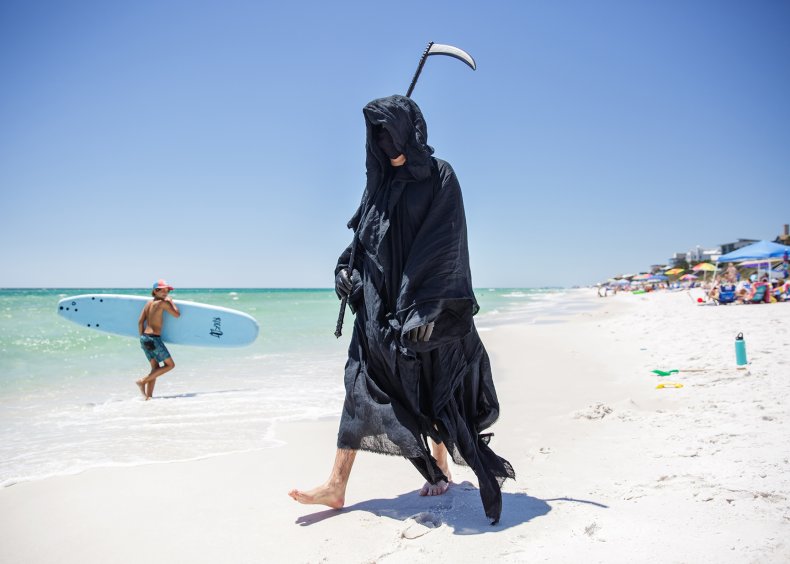 Since May 1, I've been doing the Florida Grim Reaper Tour to encourage social distancing to prevent the spread of COVID-19. I have worn my Grim Reaper costume to seven beaches now, from Pensacola to Jacksonville and Miami.
In an ideal world people could walk and social distance on the beaches without an increase in cases. But Florida has had people coming here from all other parts of the country, and they may be bringing the virus. People come here for the beaches, and then they go to a restaurant, or to a grocery store and don't wear a mask. So, it is not necessarily just the act of going to the beach.
I usually spend an hour or so walking each beach I visit. I do not approach people, this is their day at the beach, but if they want to talk to me, that's fine. I'm not doing it to engage in a debate, I think what I am wearing should clearly indicate to people why I'm there.
A lot of times people want to take pictures of me, or they want to know why I am doing it. I explain it to them, and most are polite. Of course, some are unpleasant—there has not really been a lot of middle ground reaction.
People might be misinformed or misunderstand what I'm doing, and they can get a little upset. There is an irony to adult men screaming profanities at me in front of children, saying that I am scaring kids. I showed the costume to my kids who are 11 and nine-years-old, and they were not scared. Normally kids come up and want to talk to me.
I was in Jacksonville at a beach there over a recent weekend and there was a guy who appeared very intoxicated and was screaming at me, calling me various expletives—the police had to intervene as he was being inappropriate. So, some of the reactions I get are strange, but I'm a trial lawyer and I'm used to getting yelled at—I am thick skinned.
I would like to finish this tour sooner than later, but Florida has become a COVID-19 hotspot in the U.S. We have had more than 200,000 cases now. It took us three months to reach 100,000 cases and just two weeks to see another 100,000 cases.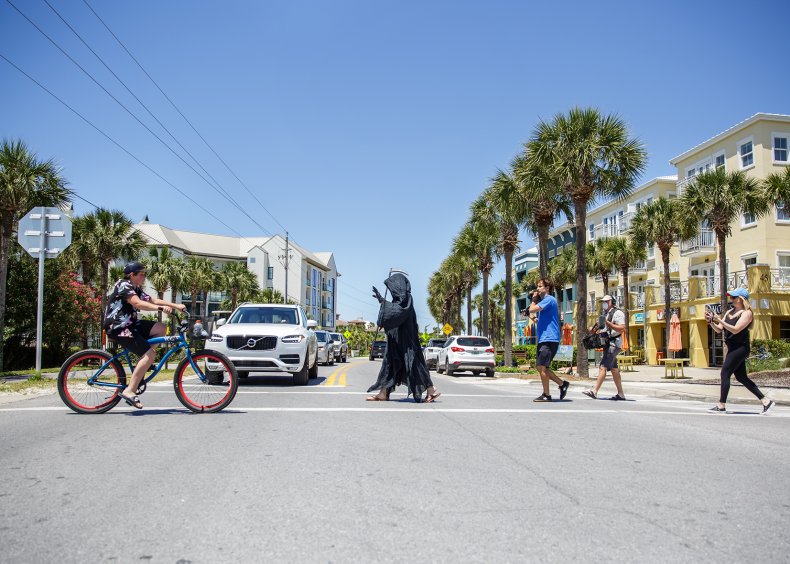 I think there are sacrifices that we all need to make, like wearing a mask in a grocery store. The Governor of Texas has announced that masks are mandatory, so that is what I want the Governor of Florida to do. I think we need to have a statewide mask requirement, we need to temporarily close the beaches and manage unemployment so people can have the ability to live while things get back to normal.
When I first started my wife was not happy about it and didn't want me to do it. She thought it was crazy. But she, and other family members, have come around because they have seen that my heart is in the right place.
I would not be able sleep at night if I wasn't doing something. But if you had told me before I started this that I was going to be on the beach in a Grim Reaper outfit, I would not have believed you. But unusual times cause unusual measures.
And so many people have been really appreciative and grateful; I've had people emailing me from all over the world thanking me, from medical professionals to people who have family members who have been sick or passed away from COVID-19.
I have been asked to go national and international. But I have got my hands full in Florida, it is the third largest state in the country, we have 21 million people here and 1,350 miles of coastline.
I was raised by two parents who always taught me that you can complain about things or you can do something about it. When I believe something is wrong, I am going to do something about it, and I have been trying to do that my whole life. I've been involved in civil rights—in removing Confederate flags from memorial sites in Florida, I've fought to protect public beaches and I've been a pretty thorough trial attorney. In this case, I am trying to do something about a global pandemic.
I love Florida and seeing COVID-19 wreak havoc here is like watching a family member get hurt. Fortunately, one of the great things about our country is that I can peacefully express myself.
Daniel Uhlfelder is the president of Daniel W. Uhlfelder, P.A. He studied at Stanford and University of Florida Law and lives in Santa Rosa Beach, Florida. He is a husband, father, lawyer, entrepreneur, justice advocate and founder of Make My Day PAC. Daniel has been on the Florida Grim Reaper Tour since May 2020, raising awareness of the risks of spreading COVID-19 by not social distancing. You can follow him on Twitter at @DWUhlfelderLaw.
All views expressed in this piece are the writer's own.
As told to Jenny Haward.