Patti LuPone Tells Sen. Lindsey Graham to 'Bite the Bullet and Come Out' as Gay
Tony winner Patti LuPone attacked Republican Senator Lindsey Graham for supporting Donald Trump after comments the president directed at four freshman Democrats were criticized as racist.
In a tweet on Thursday afternoon the Evita star called Graham a "disgrace." She then alluded to Graham being in the closet.
"On a personal note, why don't you just bite the bullet and come out. You might just come to your senses."
The 64-year-old congressman, who has never married, has faced innuendo about his sexuality before: In January 2018, comedian Chelsea Handler tweeted that Graham's supported Trump because the White House was blackmailing him with a gay sex tape.
"Wouldn't coming out be more honorable?" she added.
Then on October 11, National Coming Out Day, she took aim again in another tweet: "If you're wondering why Republicans took a sick day today, it's probably because it's #NationalComingOutDay," she wrote. "Looking at you @LindseyGrahamSC."
Critics attacked Handler for what they perceived as a homophobic slight aimed at Graham.
"Hey, this isn't allyship," one Twitter user replied. "It reinforces a negative connotation about homosexuality and links bigotry to being in the closet which is unhelpful. This tweet is trash, and you know it."
For his part, the South Carolina politician denied being.
"She knows zero about me," Graham told TMZ. "To the extent that it matters, I'm not gay."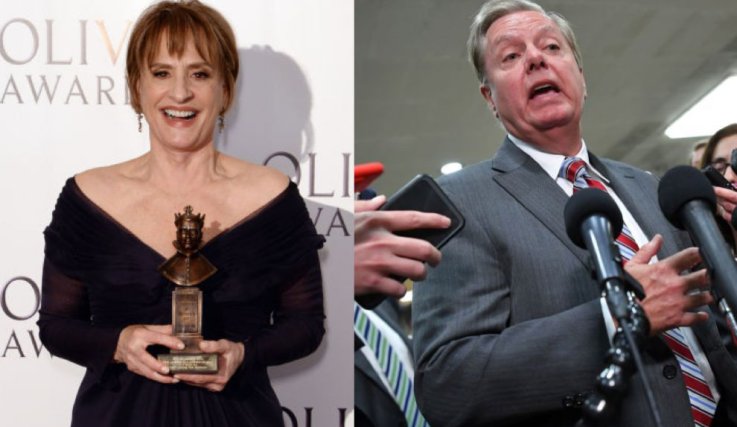 As with Handler, LuPone was criticized online for what some perceived as a homophobic joke.
"More evidence the left doesn't actually care about their woke causes and merely uses them as a bludgeon with which to strike their opponents," wrote one Twitter user.
"I'm guessing Twitter won't consider this homophobic because it's directed at a Republican," added another.
Just last week, however, LuPone tweeted that "gays rule."
Doug Stafford, chief strategist for Kentucky Senator Rand Paul, suggested, "Why don't you just delete your account and not be an ass."
LuPone had slammed Paul minutes after her Graham comment, for allegedly blocking a vote on a 9/11 victim compensation reauthorization bill.
"Don't set foot in NYC. You too are a National disgrace. Maybe your neighbor had a point?" tweeted the performer, recalling Paul's 2017 assault by a neighbor.
Advocates on both sides of the aisle have come out against making innuendos about public figures' sexuality. "When we start using this as a political tool, it takes away from the beauty of somebody celebrating their sexuality and coming out, even though there is sometimes legitimate difficulty with that and legitimate strife," Jerri Ann Henry, executive director of Log Cabin Republicans, said to the Washington Blade after Handler's tweet.
Joie DeRitis of the Trevor Project told the paper, "It is absolutely never okay to 'out' someone without their permission."
Others, meanwhile, disapprove of such statements because they imply being part of the LGBT community is shameful or humorous. Just last week, however, LuPone tweeted that "gays rule."
In another tweet that same day, she shared her opinion on Donald Trump's voice: "I cannot stand his voice anymore," she wrote. "The drone of it. I cannot stand the words that come out of his mouth. My soul withers every time he speaks. Shut up."
With all the debate, at least one celebrity has come to Patti's defense about her comments to Graham.
"I have faith in Patti LuPone's gaydar," tweeted LGBT activist and advice columnist Dan Savage.
Patti LuPone Tells Sen. Lindsey Graham to 'Bite the Bullet and Come Out' as Gay | Culture