Patti Smith's 'M Train': A Melancholy Musing on Meandering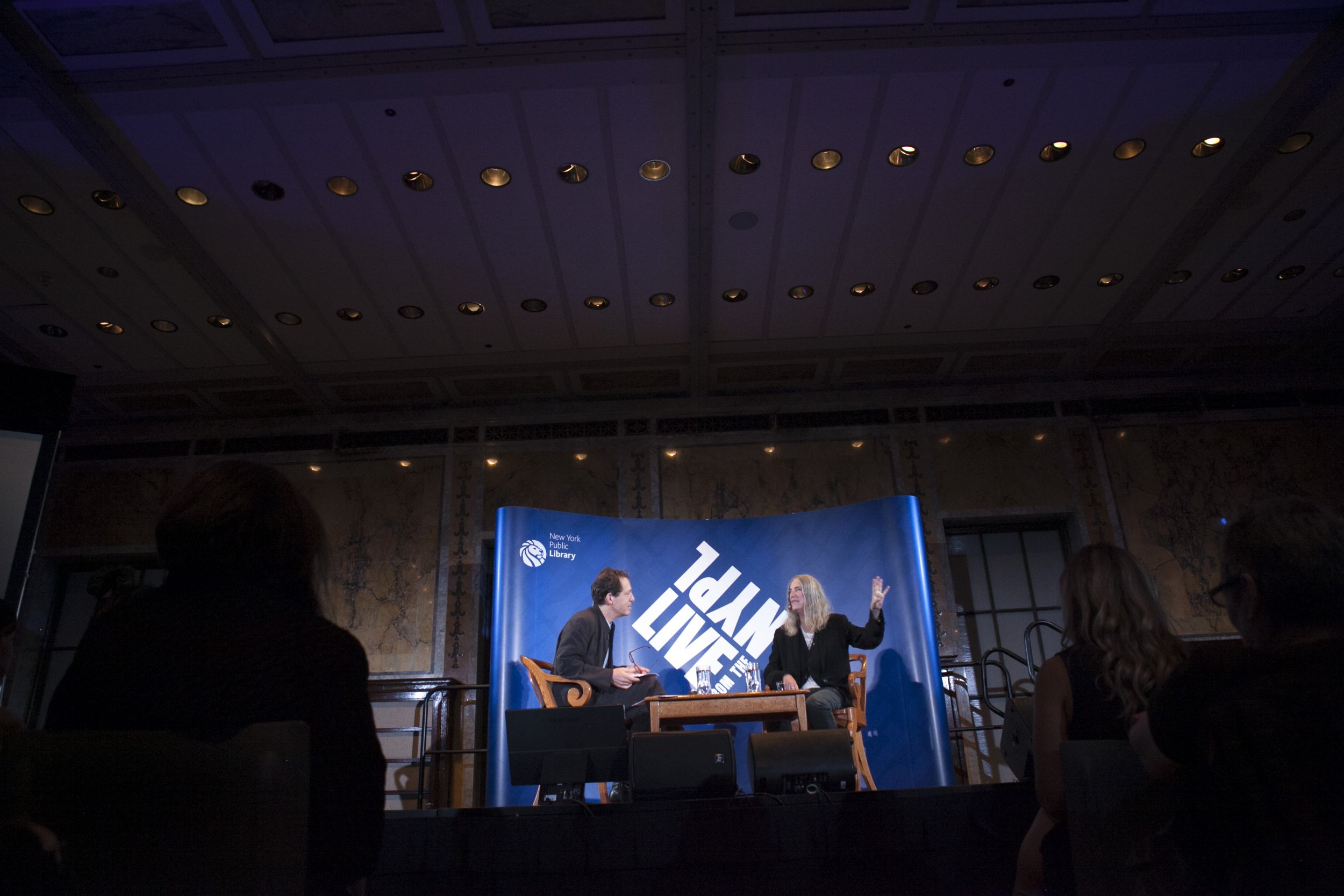 Sometimes when Patti Smith visits her mother's grave, she's gutted with grief and weeps uncontrollably; other times she makes the journey and, honestly, just wants "a hoagie." So confessed a humbled Smith on Tuesday evening to a reverent crowd gathered at the New York Public Library to celebrate the release of her second nonfiction book, M Train.
Smith's rumination on sandwiches and gravestones wasn't so much an aside, but rather an honest answer concerning the many, many graveside pilgrimages she takes throughout M Train. Among these are a visit to the resting places of poets Sylvia Plath in Sussex (she went three times, the first two with intentions to take photographs and the last to just be with "a friend") and Arthur Rimbaud and the political activist and novelist Jean Genet. The idea is that upon visiting these fallen luminaries, she "quietly contemplates" the work they gave us, "meditating" about their lives.
Several times during her hour-long conversation with Paul Holdengräber—the director of Live from the NYPL—Smith brought up up her fixation with proximity. And while she doesn't identify as Catholic, Smith admitted she harbors a fascination with relics. (As Holdengräber posited, "Attention is a form of prayer.") In the book, for instance, Smith writes of consciously "feeling [Frida Kahlo's] proximity" while touching the Mexican artist's crutches at her Casa Azul. (But she slept in Diego Rivera and not Frida's bed while visiting, as she told the crowd.) She also described how touching Virginia Woolf's cane, which floated to shore from North Yorkshire's River Ouse after the poet filled her pockets with stones and drowned herself in 1882, had been a transformative experience.
These detailed encounters with seemingly peripheral objects, or proximities, are a vehicle for Smith to speak about how her experience has been informed by myriad people, places and things. This is illustrated perhaps most viscerally in one of M Train's first chapters. In it, Smith brushes by a chair belonging to her father, whom she "admired from a distance" and who encouraged her and her siblings to "question everything," advice she would guard dearly throughout her life. But this is the only connecting thread throughout M Train, really: The book is a brief, winding journey through Patti Smith's lengthy lineage, a spidery and non-linear re-tracing of the poet's literary and familial predecessors.
M Train's notable departure is from the sensibilities that defined Smith's stunning 2010 memoir Just Kids, which detailed her relationship with photographer Robert Mapplethorpe in the 1970s and earned her a well-deserved National Book Award. As in Just Kids, Smith's lyrical prose, carefully metered, is potent.
One could say that the two books form a diptych, as Holdengräber suggested when introducing Smith. But the two books were bred from entirely different experiences, and promises. "Just Kids fulfilled a sacred vow," she told the crowd, referring to the promise she made Mapplethorpe the day before his death from AIDS: that she would write a book about him.
M Train was instead "bred from nothing at all." As in the book, Smith explained how a "vaguely handsome" and "intensely laconic" cowpoke came to her in a dream and said: "It's not so easy writing about nothing." Irked by this premonition, she took the cowpoke's challenge and tried to write eloquently about, well, nothing. And thus, she boarded the M Train.
The "m" in the book's title is unexplained, but it could stand for "memorial," as it honors those who have drifted in and out of her life. She does this ingeniously, examining objects that belonged to, and are now mouthpieces, for friends, lovers and heroes long gone, from crutches to canes to endless cups of coffee (nearly every page of the 272-page book contains a mention of drinking black coffee—count 'em). The "m" in M Train could also stand for "meditation," as she has no qualms meditating on, say, a lost copy of Haruki Murakami's The Wind-Up Bird Chronicle for several pages.
"Meandering," or "moseying" could also be the "m," as she flits in and out of subjects and places at will, sometimes circling in and around in peculiar ways. Smith muses about buying a mighty little house in the Rockaways (which she calls her Alamo, and was not stripped during the Hurricane Sandy's ravaging), watching Law and Order, studying maps of Asia, and dreaming that a lost, beloved black coat was tapping her on the shoulder.
Throw in "memory" and "misinterpretation," too: M Train is all of these things. "All of this has meaning for me," as she told Holdengräber.
Of course, Smith makes many an unusual stop along the way in the exploration of nothingness. She and her late husband Fred Sonic Smith ventured to Saint-Laurent-du-Maroni in French Guiana—where criminals were taken before being brought to Devil's Island—a border town immortalized in her dear Jean Genet's The Thief's Journal. They went there because: "Fred told me that if I promised to give him a child he would first take me anywhere in the world," she writes. But when Holdengräber suggested that the book seemed like a love letter to her late husband, Smith insisted that this wasn't conscious. "Fred found his way in," she said. "He came in by his own design."
Judging from his questions, Holdengraber was intrigued and perhaps mystified by what exactly the book was about, too. "The book didn't have any design. It's an exercise in freedom," she said. As she told the packed crowd, it's a sort of study in "living in real time," which includes traveling as often as possible, which she does to "stay in the now."
This is also where I found that the M Train adventure got bumpy: At this point in time—that is, sitting in a room with Patti Smith—I felt as though I fully understand the conceit of this book, and could engage with Smith on adventures we hadn't shared. Hearing her speak frankly, too, humanized the polemic poet and cultural figure often elevated to an inaccessible pedestal. When Smith cracked wise about her own nerves meeting writers ("I feel like Chris Farley," she quipped) and talked about buying a group of chess champions ice cream so as to get out of a chess match at the Library, I felt a warmth and humor that I didn't within M Train's pages. While highly introspective and insightful, the book occasionally comes off as a bit aloof. It occasionally ambles, unsure of where it finds itself.
Now 68, Patti Smith clearly knows herself. Gone is the identity-probing work that punctuated her 20s, like Horses, the extraordinary, thunderous 1975 album that propelled her into underground stardom and made her the belle of CBGB's. The transgressive punk poet redefined conceptions of performance, and became an unwitting, androgynous style icon by draping a black jacket over a white button-down shirt. She saw the construction and unraveling of punk, and New York, and has seen friends and lovers slip from her life, like passing tides. No one should have to bury friends. She is a survivor in every sense of the word.
Her grappling with loss pours out of the book's every page, whether it's mourning a perfect coat or a friend, and it's here where Smith is at her most salient. "How did we get so old? I say to my joints, my iron-colored hair. Now I am older than my love, my departed friends," she writes. "Perhaps I will live for so long that the New York Public Library will be obliged to hand over the walking stick of Virginia Woolf. I would cherish it for her, and the stones in her pocket. But I would also keep living, refusing to surrender her pen." Holdengräber read this passage aloud—and confirmed that she could not, in fact, have Woolf's walking stick.
So, the title begs the question: Where does the M Train go? Nowhere. And, everywhere. When we read, we are searching for answers of some kind. Or at the very least, explanations through which we can contextualize our own experiences. The first time I read Legs McNeil and Gillian McCain's scintillating punk oral history Please Kill Me—it belonged to my best friend, and was so tattered it appeared fresh from combat—I was an impressionable teenager, an Amazonian miscreant who hid her insecurities behind books and a veil of elbow-length curls. Gabs, gaffes and gossip aside, the book's yarns spun by punk's matriarchs, notably Debbie Harry and Patti Smith, were instrumental for me to begin stitching an identity for myself that had been shaky before. It was essential to be unapologetic in this cock-rock-driven world.
So perhaps I naively believed that Patti Smith, a survivor, had all the answers. She doesn't. Like all of us, she harbors confusions, gets grumpy without a cup of coffee, and holds fascinations with certain people and certain things. Perhaps that's the point: When Smith grapples with the intention of writing "about nothing," she does manage to probe the peculiar depths of human listlessness. While she also occasionally panders to reference-dropping that can go a bit over your head (especially if you're not extremely well-versed in French literature), it's certainly worth sitting down with this book and a cup of joe. But with M Train, a lot depends on whether you're along for the ride. And that means all of it.