Senator Patty Murray, a Washington state Democrat, indicated Friday that she would be willing to look into an exemption to the filibuster in order to pass a sweeping election reform package with only Democratic votes.
In an earlier statement to The Spokesman-Review, Murray made the suggestion regarding the Senate rule as a means to pass the For the People Act, an election reform bill that would expand voting access.
"The For the People Act is essential to making sure our democracy stays a democracy," Murray told the publication, "and I will consider every legislative option, including an exemption to the filibuster, to ensure it can be signed into law."
Murray, the third-ranking Senate Democrat, has previously refrained from signaling support for overturning the filibuster, which typically requires a 60-vote bipartisan majority to pass legislation.
In October, Murray told the Seattle Times that she hoped Republicans would be more willing to cooperate with Democrats after winning in November races, and declined to offer a stance on ending the filibuster.
"We should work with people on the other side and get things done," she said at the time.
But her comments now come as Democrats are attempting to pass a significant election reform package while combating fierce Republican opposition.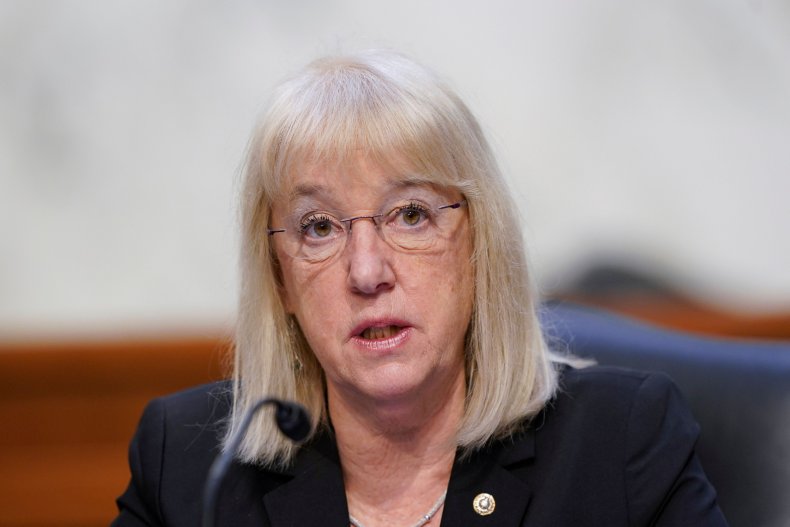 The For the People Act would work to expand voter access, improve election integrity and security, revise rules for political spending, and set out provisions related to ethics for all three branches of the federal government, according to a summary of the legislation.
House Democrats passed the legislation on March 4 with party-line support. But the bill faced unanimous opposition from Republicans, who view the legislation as interfering in the states' autonomy in how they handle elections.
Now, Senate Democrats are likely to face an uphill battle unless the party moves to overturn the filibuster and pass the legislation without GOP-backing.
However, some Democrats, including West Virginia Senator Joe Manchin, have opposed the idea of ending the filibuster, and instead urged Democrats and Republicans to reach a bipartisan agreement.
"Pushing through legislation of this magnitude on a partisan basis may garner short-term benefits, but will inevitably only exacerbate the distrust that millions of Americans harbor against the U.S. government. We can and we must reform our federal elections together—not as Democrats and Republicans, but as Americans to restore the faith and trust in our democracy," he said in a statement Thursday.
On Friday, President Joe Biden urged senators to pass the For the People Act to counter a new voting bill passed by Republicans in Georgia a day earlier, which moved to significantly restrict access to voting across the state. Georgia's new law will add an ID requirement for voters requesting an absentee ballot, cut the length of runoffs, restrict access to food and water while waiting in line to vote, and effectively turn the election board over to the state legislature.
"This law, like so many others being pursued by Republicans in statehouses across the country is a blatant attack on the Constitution and good conscience," Biden said in a statement Friday afternoon.
"This is Jim Crow in the 21st Century. It must end. We have a moral and Constitutional obligation to act. I once again urge Congress to pass the For the People Act and the John Lewis Voting Rights Advancement Act to make it easier for all eligible Americans access the ballot box and prevent attacks on the sacred right to vote," the statement added.
When reached for comment, a representative for Murray on Sunday pointed Newsweek to additional statements from the Washington senator, in which she said if Republicans are willing to restrict voting access, then Democrats should consider an exemption to the filibuster rule.
"Clearly, if Senate Republicans use the filibuster to limit voters' rights, it is time to look at an exemption to the filibuster in order to protect our democracy," Murray tweeted Friday.
"To me, the question cannot be what Senate process Republicans use to limit Americans' voices in our democracy. It should be, why do they want to stop voters from voting?" she added.
Updated 3:30 p.m. ET, with additional information and a headline change for clarity. A previous headline for this story said that Murray was willing to "overturn" the filibuster, rather than to "exempt" it.