Patty Smyth Makes a Return With 'It's About Time,' Her First New Original Album in 28 Years
In the music video for her recent single, the nostalgic power ballad "Drive," the singer-songwriter Patty Smyth is seen ruminating about her childhood spent with her sister; she sings: "I found a picture of us when we were kids/Out in a field behind where we used to live." The beautifully-shot clip combines scenes of two young girls running through a field that evokes the past, with Smyth and her real-life sister Liz in the present day.
"We went upstate [in New York] and shot it," Smyth tells Newsweek about making the video. "I asked my sister to come and be in the video. I had this vision in my mind of being outside and free under the arc of the sky. It is sort of a metaphor of throwing off the shackles of adulthood and responsibility and going back to a time when it felt like it really was just me and her against the world. There was a time when anything was possible, and we did rule the world. It's a joyful song, but it's a little bittersweet."
"Drive" marks a long-awaited return to music for Smyth, best known as the lead vocalist of the 1980s pop-rock band Scandal (best known for the hits "Goodbye to You" and "The Warrior") and a solo singer-songwriter in her own right (including the smash song "Sometimes Love Just Ain't Enough"). The new track is off of Smyth's upcoming solo album It's About Time (due out on October 9 via BMG), which arrives 28 years later after her last record of original material. The long hiatus between albums wasn't due to a lack of trying: Aside from raising her family and performing with Scandal following their reunion in the mid 2000s, Smyth says she wanted to put out the best material that was right for her.
"I kept going into the studio," she explains. "Then I would think I'd have the right songs, but then I didn't like the way it was produced. Or I would like the way it was produced, but it wasn't the right song. I don't think I was asking the right people in a way. I was writing the whole time."
She adds: "I was recording songs, but it's like, 'Oh no, it's not good enough.' You get too critical...because I am super-critical. So that what was happening. I could've put them out, but I was like, 'No, not good enough.' Then I was like, 'F*** it, I'm putting it out. I'm going to do the best I can and I'm going to put it out and that's it, and I'm going to live with the consequences.'"
It's About Time was produced in Nashville by veteran guitarist Dann Huff, who has collaborated with numerous musicians such as Peter Cetera, Faith Hill, Kelly Clarkson, Dolly Parton and Donna Summer.
"I felt like Dann would be the right guy," Smyth says, "because I do love Americana, country, folk and rock. I felt like he had all of those things."
Like its predecessor, 1992's Patty Smyth, It's About Time features a mixture of rockers and ballads whose lyrics were drawn from Smyth's personal experiences—such as the fiery and dynamic rocker "Build a Fire," which was influenced by her 25-year marriage to tennis legend John McEnroe.
"The line that I had is: 'My hands must be tattooed all over you by now'—you think about how you leave your fingerprints, your traces on people," she says of that track. "It's probably the same with my children, and people you love."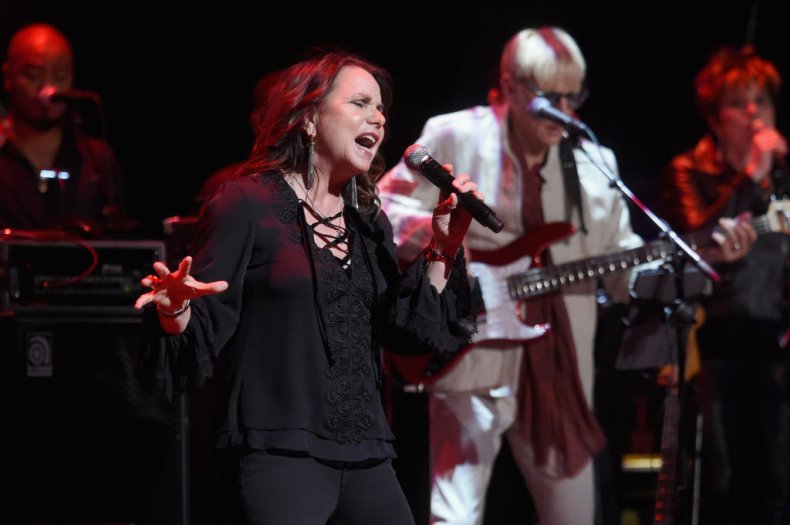 Other songs on the record were inspired by the stories of people she knew, like the empowering track "I'm Gonna Get There."
"That was based on something that someone said to me," Smyth says. "It was the seed that made me come up with a few of those lines. But also, it was basically writing about someone who's just getting up the courage to either go or to stay, and she's gonna get there. When my husband finally listened to the lyrics, he was very upset. He was like, 'People are going to think that you wrote that song about you and I.' I go, 'No, they're not. It's not about us, and I'm allowed to tell stories.' It's just a story."
Rounding out the new album are two covers: Bobbie Gentry's classic "Ode to Billie Joe," and Tom Waits' "Downtown Train," which Smyth previously recorded on her 1987 solo debut album Never Enough.
"I've been doing a stripped-down version of 'Downtown Train,'" she says of performing that song live. "It feels so good to sing and people really responded to it, so I thought, 'You know what? I want to cut this song the way I want to cut it.' I think that the song is so beautiful and powerful."
Despite the long gap in recording new original material, Smyth never really left the public eye, as the Scandal hits from about 40 years ago still get airplay; the band's major hit, "The Warrior," is the theme song of the hit Netflix series G.L.O.W.
"Back in the day, I certainly wasn't thinking 40 years from now," Smyth says about the longevity of the Scandal songs. "I never thought about what my life was going to be like in my 40s, 50s or anything. I still feel exactly the same way I felt back in 1990. I certainly don't feel like 40 years have gone by. I'm happy that people still love hearing those songs. It's great."
Following Scandal's initial breakup in the mid 1980s and the release of Never Enough, Smyth released her 1992 self-titled solo album, which yielded the smash hit "Sometimes Love Just Ain't Enough," a duet with Don Henley that put her back on the charts. When Smyth toured with Rod Stewart at the time, people initially assumed she was a newcomer, despite having chart success with Scandal a decade earlier.
"When I sang "Goodbye to You," I would see people go, 'What?' People didn't know. If you remember 'The Warrior' from that last Scandal album [1984's The Warrior], that chick put all that freaking paint on me [in the music video], so you couldn't really see what I look like. So then eight years later, the record [Patty Smyth] came out, people did not put two and two together. I was like a new artist. Most of the audiences that I played to did not know that I was the chick from Scandal, which is weird."
She adds: "I didn't see it as a comeback, and I was very shocked by how people responded to "Sometimes Love Just Ain't Enough." I knew that was the best song I'd ever written, but I had no idea it was going to be such a big hit. And I had no idea that people were going to relate to it so personally and profoundly. The letters I got about that song were unbelievable, so beautiful and personal."
Now with the upcoming release of It's About Time, Smyth is yearning to get back to performing shows once again, despite being sidelined along with other musicians due to the pandemic. As for It's About Time's potential follow-up, she doesn't anticipate another 28-year wait.
"I'm already working on the songs for the next record. I'm going to figure that out and I am going to do it. I have a lot of things to say. I have a lot of songs. And it doesn't have to be so precious: 'Just put the music out.' So yes, I promise it won't be 28 years."