Paul Allard Hodgkins, Capitol Rioter Who Took Selfie Inside Senate, First to be Sentenced
A man who stormed the U.S. Capitol building while carrying a Donald Trump campaign flag is set to become the first person sentenced for a felony related to the January 6 riot.
Paul Allard Hodgkins, from Tampa, Florida, joined other rioters in breaking into the Senate, forcing lawmakers to temporarily abandon certification of President Joe Biden's 2020 election victory.
Prosecutors have pushed for 38-year-old Hodgkins to be sentenced to 18 months behind bars, arguing that he "like each rioter, contributed to the collective threat to democracy."
Last month, Hodgkins pleaded guilty to one charge of obstruction of an official proceeding.
His sentencing in Washington, D.C., later could prove to be a benchmark for punishments that will be handed down to other convicted January 6 rioters.
Clips of Hodgkins showed him wearing a Trump 2020 shirt, the flag and goggles around his neck in the heart of the Senate chamber.
He also took a photo with Jake Angeli, nicknamed the QAnon shaman, in which other rioters are seen in the background behind him, the Associated Press reports.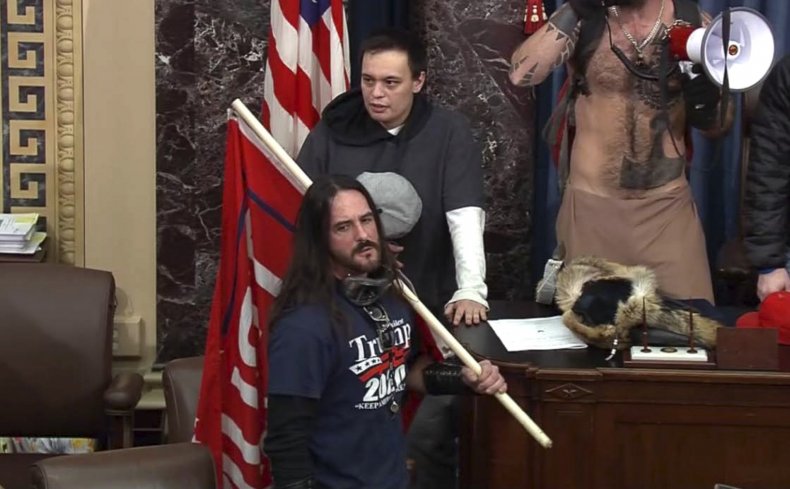 Hodgkins's attorney pleaded with U.S. District Judge Randolph Moss not to impose a prison sentence, the news agency reported.
Another of his lawyers, Patrick N. Leduc, also said in a court filing: "Whatever punishment this court may provide will pale in comparison to the scarlet letter Mr. Hodgkins will wear for the rest of his life."
Anna Morgan-Lloyd
The filing argued that Hodgkins' actions were not dissimilar to Anna Morgan-Lloyd, the 49-year-old from Indiana who o June 24 became the first to be sentenced over the riot. Although the attorney recognized his client also entered the Senate chamber.
Grandmother Morgan-Lloyd did not receive any jail time despite pleading guilty.
She told the judge she felt "ashamed" that her actions, which she said had originally been to support former president Donald Trump, had turned violent.
In a letter sent to Judge Royce Lamberth, she wrote: "If every person like me, who wasn't violent, was removed from that crowd, the ones who were violent may have lost the nerve to do what they did.
"For that, I am sorry and take responsibility. It was never my intent to help empower people to act violently."
About 500 people have been arrested in connection with the riot.
Other suspects have tried to distance themselves from the event, with 49 defendants found to have tried to erase photos and texts linking them to the January 6 attack.
Experts told the Associated Press it could serve as proof of the alleged defendants' guilt, making it harder for them to secure plea deals or lenient sentencing.