Prepare for Military Coup After 2024 Election, Ex-General Warns
A retired general has warned that another insurrection attempt could succeed in 2024 if "confusion" is successfully sown among U.S military members about who the commander in chief is.
Paul Eaton, a former two-star U.S. Army major general, told NPR about his concerns that the U.S. military might be "compromised" by competing claims of who won the election and who it should take orders from.
He said he was worried that some members of the military might not understand "who the duly elected president is."
"If that is not a clear-cut understanding, that can infect the rank and file, or at any level in the U.S. military," he said.
"If you have that kind of confusion around the 2020 election, it is not outlandish to consider that you're going to have a little bit of confusion [in 2024] and that confusion could slip into the ranks of the U.S. military."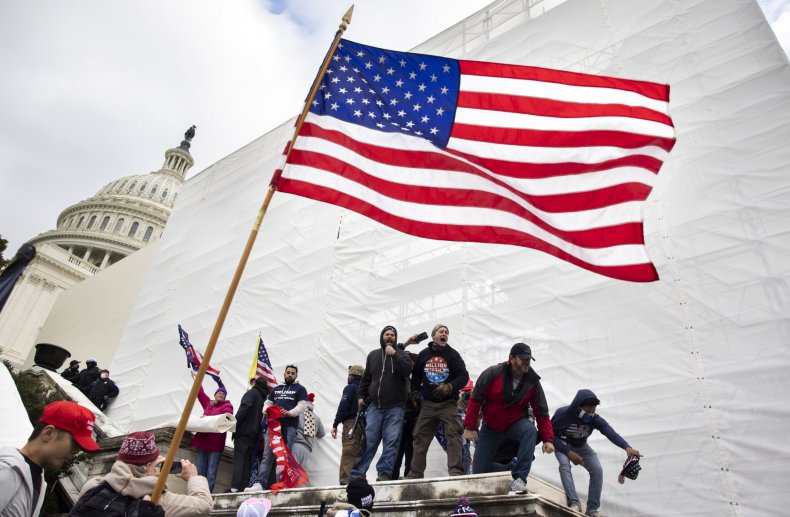 When asked if he was more worried about rank-and-file soldiers who "might sympathize with anti-democratic views," or officers "giving their units orders that would be unconstitutional," Eaton said: "It could be a little bit of all the above because we saw it in 2020."
"I see it as a low probability high impact," he said. "It's an eventuality that we need to prepare for."
Eaton, a senior adviser to VoteVets, said ahead of the next election, the military needed to conduct a war game in which scenarios of a contested election are tested.
He also said that the onus was on military leaders to raise the alert over any subordinate displaying "doubt in the loyalty and the willingness to follow the Oath of the United States."
"Those folks need to be identified and addressed in some capacity," he said.
He said it was essential that "each and every 18-year-old American truly understands the Constitution of the United States.
"That's an important bit of education that I think that we need to re-address. The fact that we were caught completely unprepared, momentarily and from a policing function on January 6 is incomprehensible."
Eaton's comments ahead of the first anniversary of January 6, reiterate concerns he had expressed in a Washington Post op-ed co-written by retired Army Major General Antonio M. Taguba and retired Brigadier General Steven M. Anderson.
Their piece published on December 17 expressed dismay that a group of 124 retired military officials, under the name "Flag Officers 4 America," had released a letter echoing ex-President's Donald Trump's false claims of election fraud that sparked the violence.
The op-ed warned of "a total breakdown of the chain of command along partisan lines [...] should another insurrection occur."
It also said that "the idea of rogue units organizing among themselves to support the 'rightful' commander in chief cannot be dismissed."