Paul Finebaum Warns COVID-19 Could 'Blow College Football up Forever'
The next two weeks could be the "most important" in the history of college football and NCAA authorities risk "blowing up the sport" forever should they opt to start the season in the midst of the novel coronavirus pandemic, ESPN's college football analyst Paul Finebaum has warned.
When the COVID-19 outbreak ground the NBA and NHL seasons to halt in mid-March and forced the MLB to postpone Opening Day indefinitely, football felt somewhat sheltered with the collegiate and NFL seasons still over five months away.
As recently as May, Ohio State's athletic director Gene Smith suggested the Buckeyes could welcome between 20,000 to 22,000 fans while adhering to social distance measures put in place by the U.S. Centers for Disease and Prevention and up to 40,000 to 50,000 spectators if "guidelines are relaxed."
The picture, however, has changed dramatically over the last month with a surge in coronavirus cases in a number of states including Arizona, California, Florida and Texas.
The spike in cases has forced states to pause or altogether reverse plans to reopen after lockdown and has put the college football season in jeopardy, with NCAA executives facing an extremely difficult decision ahead of the scheduled start at the end of August.
Speaking to ESPN's First Take on Tuesday, Finebaum suggested college football faced a lose-lose scenario.
"The next two weeks could be the most important two weeks in the history of college football because either way they go, the decision could be cataclysmic," he said.
"If they decide not to play, they will lose hundreds of million of dollars and many athletic departments will not exist and if they foolishly go ahead without having the facts and without having any sort of protocol in place, which right now I'm afraid they don't have, they could blow up this sport forever.
"It is a Sophie's choice ... and the political conversation on either side is not going to make any difference. ... While everything else is going on, the NFL, the MLB and the NBA, the most difficult decision lies in the hands of people who run college football."
Last week, the Big Ten and Pac-12 announced that their teams would play only conference games, with Big Ten commissioner Kevin Warren warning "we may not have a college football season in the Big Ten". His SEC counterpart, Greg Sankey, conceded over the weekend that college football was "running out of time to correct and get things right".
Finebaum echoed Sankey's thoughts, but criticized college football executives for a lack of leadership and a scattergun approach to the pandemic.
"[The conference commissioners] are waiting for the [number of coronavirus cases] to tell them what to do," he explained.
"I hear a different version every day. It wasn't even three weeks ago that I heard an [Athletic Director] saying 'I think we're gonna have full stadiums'.
"I mean that's the problem. The people in college athletics have been selling their fans a pile of manure here for about four months, and unfortunately it's all coming back to haunt them."
While the NBA and the MLB have reported isolated cases of COVID-19 cases, college football programs have been hit far harder.
In June, Kansas State suspended voluntary activities after 14 players within its football program tested positive, while Clemson reported a total of 47 student-athletes had tested positive for coronavirus, including 37 football players and four staff members.
Earlier this month, Oklahoma said 14 players had tested positive to COVID-19, while Sports Illustrated and AL.com reported "several" Alabama players had contracted coronavirus, although they did not specify an exact figure.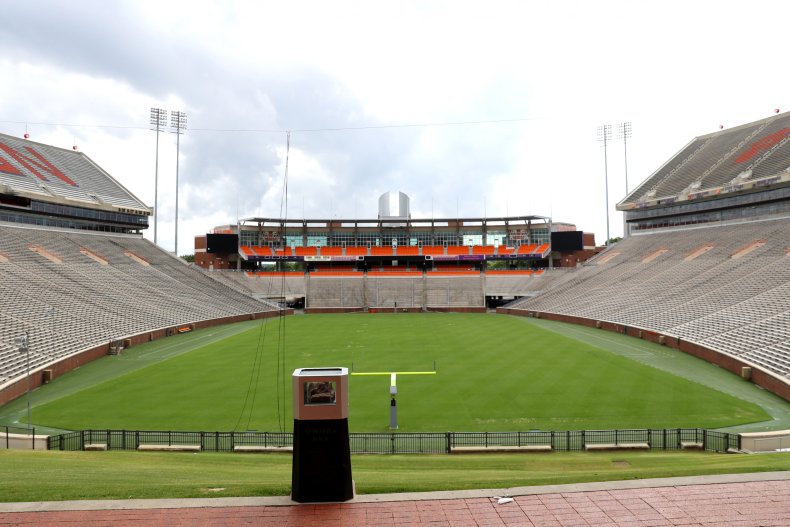 Last week, North Carolina reported that 37 people within Tar Heels athletics—which includes coaches, staff and student-athletes—had tested positive and was forced to halt voluntary activities for its football program after the county's health department identified the Chapel Hill campus as a "cluster" of COVID-19 cases.
On the same day, Ohio State also suspended voluntary workouts on campus, although it did not disclose the number of positive tests among student-athletes, coaches and staff.
Speaking on a conference call last week, Michigan head coach Jim Harbaugh said there was no reason as to why college football executives should postpone the season.
"COVID is part of our society. Wasn't caused by football or caused by sports," he said. "And there's no expert view right now that I'm aware of that sports is going to make that worse. It's part of our society; we're going to have to deal with it."
On Tuesday, Oklahoma head coach Lincoln Riley said he was optimistic the sport's power brokers will have contingency plans in place to ensure the season can be played.
"I just can't imagine a scenario [where we don't explore every option to play]," he said.
"Whether it's something we do in the fall, whether it's a shortened season, whether it's spring, there's nothing we should take off the table.
"Regardless of what we have to do, I don't think there's anything we can't work around and we can't adjust and can't make work in order to play college football. We've all got to do our part on that."
As of Wednesday morning over 3.4 million cases of coronavirus had been reported in the U.S., by far the highest tally of any country in the world.
Of the over 578,600 deaths recorded worldwide so far, more than 136,400 have been in the U.S., according to Johns Hopkins University, which has been tracking the outbreak using combined data sources.
There have been over 13.3 million confirmed cases globally since the outbreak of coronavirus was first identified in Wuhan, a city located in China's central Hubei province, late last year.