Video: Paul George Hits Game-winning Three, Scores 25 Points in Fourth Quarter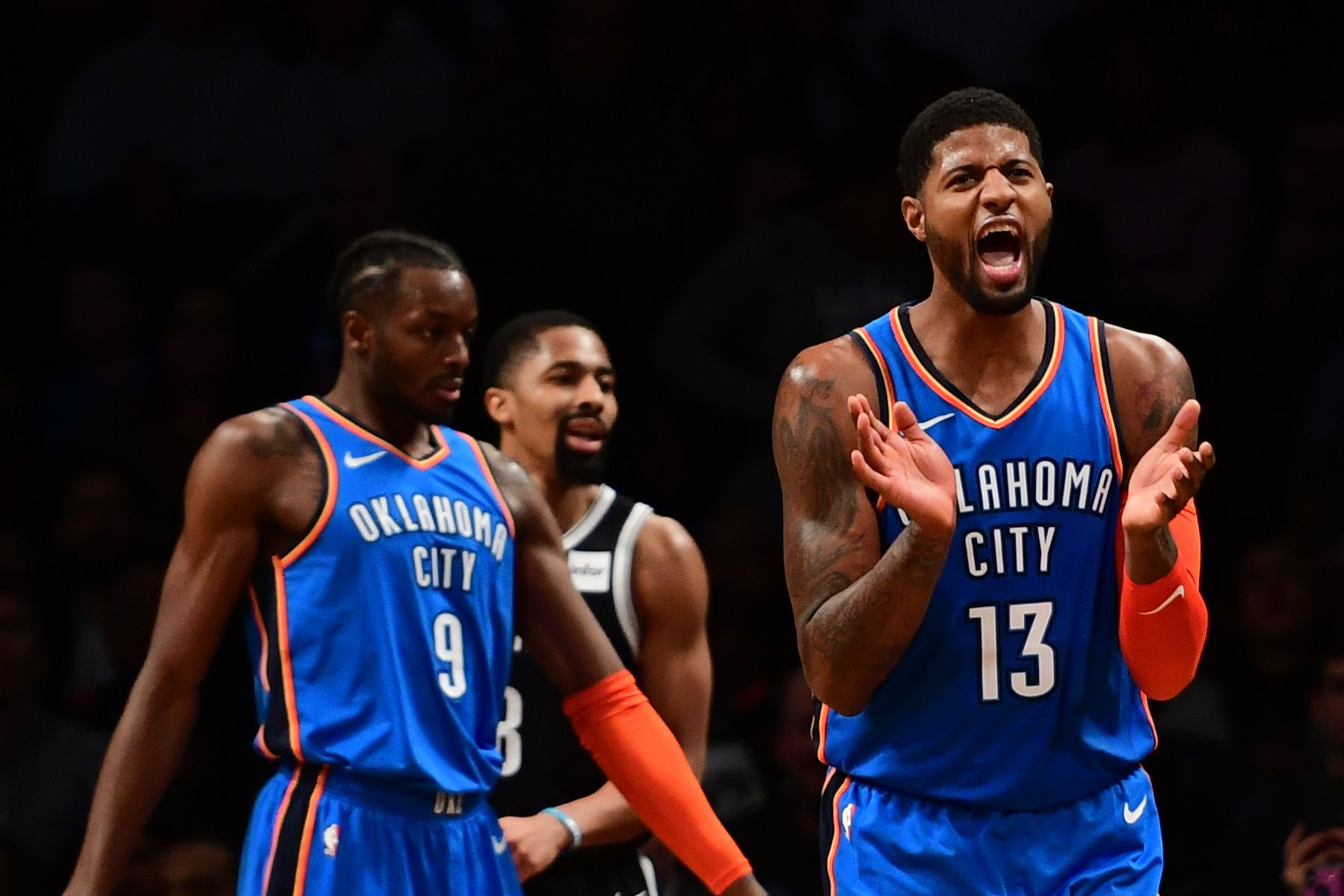 Paul George took over against the Brooklyn Nets, inspiring the Oklahoma City Thunder to their biggest comeback victory ever.
On Wednesday night, the Thunder rallied from a 23-point deficit to beat the Nets 114-112 on the road thanks to a three-pointer from George with 3.1 seconds left. With Oklahoma trailing by 18 points entering the fourth quarter, the 28-year-old exploded in the final period, scoring 25 points and leading the Thunder to a fourth consecutive win.
Read more: Kevin Durant: Lakers, LeBron James will have difficulty finding second option
George ended with 47 points in 37 minutes, on 15-of-27 from the field, including 6-13 from beyond the arc. He added four assists and 15 rebounds and finished a point shy of his career high.
George outscored the Nets by himself in the fourth quarter and his 25 points were the most by any Thunder player in any quarter since the franchise moved to Oklahoma City in the 2008-09 season.
Speaking after the game, the Thunder small forward said he didn't feel under pressure when the ball came to him on his team's final possession, despite the fact he had missed twice on an earlier play.
"It felt good," George was quoted as saying by ESPN. "I had the hot hand, I knew I had the hot hand. I just felt good all game."
George, who averages 23.2 points, 7.8 rebounds and 4.3 assists per game this season, was ably supported by Russell Westbrook, who recorded the 108th triple-double of his career.
Westbrook finished with 21 points, 17 assists and 15 rebounds, moving ahead of Jason Kidd in the all-time list. Only Oscar Robertson and Magic Johnson have recorded more triple-double than Westbrook, with 181 and 138, respectively.
"My job is to make sure that I constantly keep telling him to stay aggressive, to play his game because he's that type of guy, man," Westbrook said when asked why he kept feeding the ball to George.
"He can get hot. He's a superstar in this league and as you seen tonight when he gets hot he can change the game for us."
The win improved the Thunder's record to 16-7, moving them in second place in the Western Conference, half-a-game behind the Denver Nuggets. Oklahoma has turned its fortunes around in style after getting off to a 0-4 start but it is worth noting its record against Western Conference teams is 7-6 and it has lost the only divisional matchup it has played so far.
That is unlikely to bother the Thunder for the time being and they will look for a fifth consecutive win when they travel to Chicago to take on an out-of-sort Bulls team on Friday night.
Video: Paul George Hits Game-winning Three, Scores 25 Points in Fourth Quarter | Sports