Paul George Rumors: OKC Star to Opt out of Contract Become Unrestricted Free Agent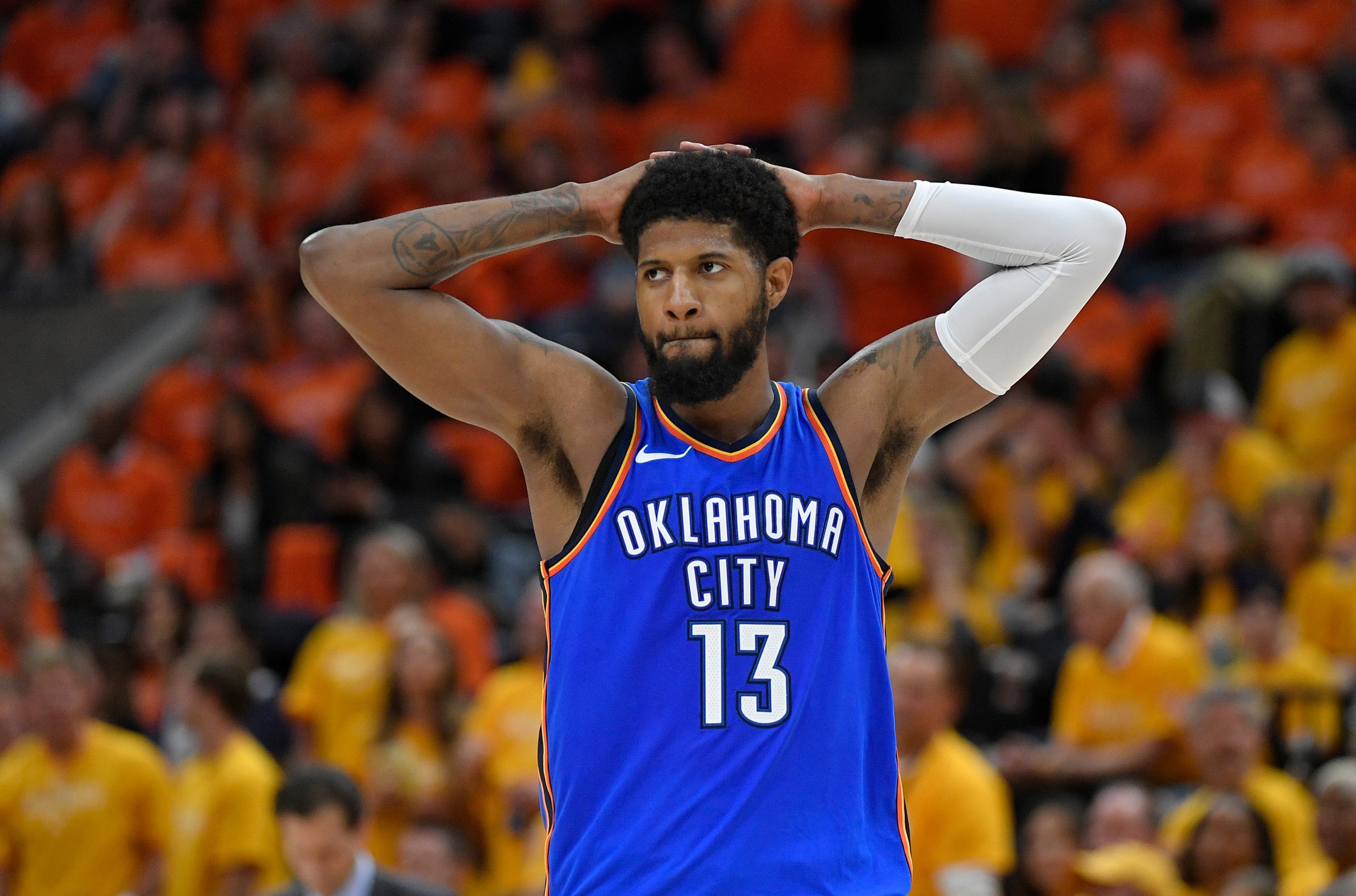 The start of the NBA free agency is only days away and the clock is ticking for players who want to make themselves eligible to explore the market.
Paul George was not expected to fall in the category but the 27-year-old reportedly told the Oklahoma City Thunder that he will not be opting in for the final year of his deal and will become an unrestricted free agent instead.
According to league sources cited by ESPN's Adrian Wojnarowski, George will turn down a $20.7 million salary for next season.
The California native has until 11.59 p.m. on June 29 to formalize his decision but has reportedly already informed the Thunder of his decision.
Oklahoma acquired the five-time All Star from the Indiana Pacers last season in what many considered to be a one-year rental, with George expected to test free agency after telling Indiana's front office that he was planning to sign with the Lakers this summer.
However, what seemed a straightforward conclusion when the Fresno State product first pitched up in Oklahoma, quickly became more complicated as he forged a good partnership with 2017 MVP Russell Westbrook.
While he admitted playing in his native state would be "attractive," George also hinted he would like to re-sign with the Thunder, claiming the team "checked all the boxes."
The tables have since turned again and while George remains keen on returning to the Thunder next season, his decision to become a free agent will undoubtedly turn heads in the NBA.
Aside from the Lakers, the Houston Rockets and the Philadelphia 76ers are said to be interested in the small forward, who averaged 21.9 points shooting 43 percent from the field, 5.7 rebounds and 3.3 assists per game in 36.6 minutes last season.
George, who is eligible for a five-year extension with the Thunder worth $176 million, has a number of options this summer.
He could sign for one of the teams who are likely to come forward with offers or he could sign a new deal with the Thunder, albeit one lasting less than five years.
The move would make sense for him as he will become eligible for a four-year maximum contract worth $169 million by the time he reaches 10 years in the league in 2020.
Alternatively, he could sign a one-year extension with Oklahoma and return to free agency next summer.
Earlier this week, Magic Johnson, the Lakers president of basketball operations, suggested the franchise was prepared to bide its time.
"We don't know what people are going to decide, and we can't control that," he said. "So if guys decide not to come here, it's not a failure—we turn to next summer.
"Next summer, if nobody comes and I'm still sitting here like this, then it's a failure. But if you judge us on one summer, that's ridiculous.
The Lakers have operated shrewdly in the market and can clear out salary space for two max-level contracts this summer.
Along with LeBron James, George has long been identified as the Lakers' main target for the summer.
However, Sam Amick of USA Today last week reported the latter's apparent desire in Oklahoma could seriously undermine the Lakers' pitch to land LeBron.
Meanwhile, L.A. is also working on a trade to secure Kawhi Leonard, which promises to be a difficult task as the San Antonio Spurs have repeatedly stated they do not intend to trade the 2014 NBA Finals MVP to another Western Conference team.