Paul George Sets NBA Record, Ties Michael Jordan's Milestone as Clippers Win Game 5
Paul George delivered a historic performance as the L.A. Clippers defeated the Phoenix Suns in Game 5 of the Western Conference Finals to avoid elimination and give themselves a chance to level the series on home court.
Trailing 3-1 in the series, the Clippers traveled to Arizona with their back firmly up against the wall and needing their stars to step up and deliver. George heeded the call and responded in style, scoring a playoff career-high 41 points, 30 of which came in the second half, and adding 13 rebounds and six assists as the Clippers won 116-102.
George has played 18 games throughout this postseason and has scored at least 20 points in each of his appearances on the court—a feat only three players have managed in NBA history, as per figures from ESPN Stats & Information.
Michael Jordan did in 1992, 1997 and 1998, while Kobe Bryant managed it in 2008 and Kevin Durant did in 2012 and 2018. In a good omen for L.A., Jordan's three scoring runs and Durant's exploits in 2018 all culminated in the NBA title.
George shot 15-of-20 on Monday night, becoming the first player in NBA history to finish with at least 40 points, 13 rebounds and six assists while shooting at least 75 percent from the field in a postseason game, according to Elias Sports Bureau.
His Game 5 performance also made George the first player in Clippers' history to record over 40 points, over 10 rebounds and over five assists in a playoff game. From a personal standpoint, it marked a significant turnaround in fortunes for seven-time All-Star, who became the butt of Twitter jokes last week after missing two crucial free throws at the end of Game 2.
An 85-percent career free throw shooter, George had the chance to put the Clippers three points ahead with 8.2 seconds left, but missed both free throws and Phoenix ultimately snatched a dramatic 104-103 win courtesy of Deandre Ayton's alley-oop with less than one second on the clock.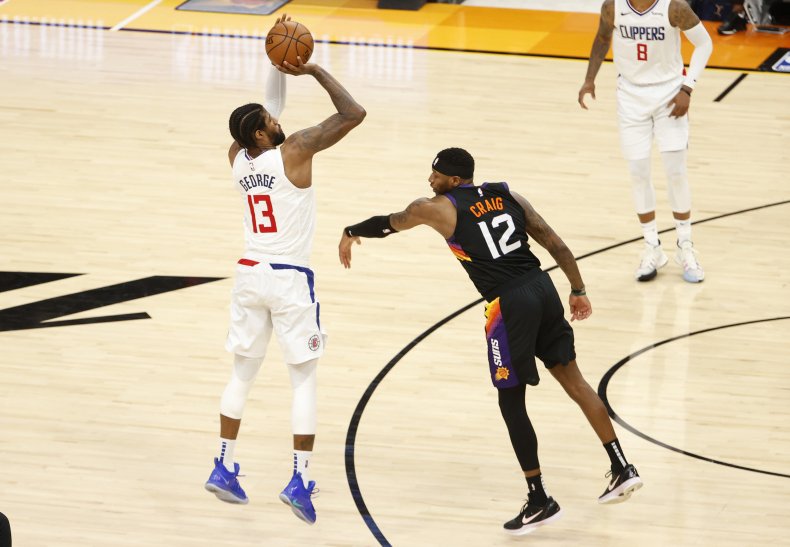 George's heroics on Monday night didn't go unnoticed. ESPN analyst Kendrick Perkins, a 2008 NBA champion, described Game 5 as the "best playoffs performance" of George's career, while FOX Sports host Skip Bayless apologised for doubting the Clippers star.
Criticized for not living up to his "Playoff P" nickname after his costly mistake in Game 2, George has since led from the front in the absence of fellow superstar Kawhi Leonard.
The two-time NBA champion has been sidelined with a knee injury since for two weeks and the Clippers also lost starting center Ivica Zubac with a knee injury after Game 4.
Having played 42 minutes in Game 4, George was on the floor for 41 minutes on Monday night and has now clocked 735 minutes in 18 games in this NBA playoffs, by far the most of any player—Atlanta Hawks star Trae Young is next with 568.
George, however, played down individual praise and insisted the win that kept the series alive was the result of team effort.
"We thrive in this moment. We come together even more so in these moments," he told ESPN.
"This team is just made up of toughness, all across the roster. We're going to give it everything we got and we'll live with the results."
Asked whether the criticism that followed Game 2 had affected him, George was very philosophical.
"It comes with the job, I guess," he explained. "But it is what it is. I still try to go and dominate, whether I'm shooting the ball well or not shooting the ball well. I still try to dominate, just the whole game in general."
Game 6 is scheduled for Wednesday at 9 p.m. ET at the Staples Center in L.A.