When Will Paul George Return? Clippers Star Could Make His Debut on Monday vs. Toronto Raptors
Paul George may make his debut for the Los Angeles Clippers on Monday night after spending the first month of the regular season recuperating from shoulder surgery.
Along with the arrival of Kawhi Leonard, the 29-year-old was the Clippers' statement signing of the summer, but he is yet to play a minute of competitive basketball this season.
George, however, indicated he is "tired of rehabbing" and Clippers coach Doc Rivers suggested the former Fresno State star could be back as early as Monday night, when the Clippers welcome the Toronto Raptors at Staples Center.
"I'm tired of rehabbing," George was quoted as saying by USA Today. "It sucks."
The six-time All-Star underwent surgery on both shoulders shortly after the Oklahoma City Thunder lost 4-1 to the Portland Trail Blazers in the first round of the 2019 NBA playoffs.
As a result, George missed the start of the season and while he admitted spending time on the sideline was frustrating, he acknowledged following his recovery timetable was a wiser option than trying to get back on the court earlier than expected.
"I'm used to being in this rehab stage and knowing what it takes to get my body prepared," he explained. "It's a long process. But with me going through it and having a drastic injury in my leg, I know what to expect. I know what pressure to put on myself and what pressure not to put on myself."
George has since returned to training and Rivers hinted there was a real possibility he would play his first game as a Clipper on Monday, although he stopped short of suggesting it was a straightforward decision.
"It's going to take time for conditioning [...] I don't know, I doubt he plays [Monday], but it's a possibility," the Clippers head coach said in his press conference on Sunday.
"It's possible I may play, too, for that matter. I don't know the answer. I really don't."
In his second and final season in Oklahoma George was dominant at both ends of the court, averaging 28 points, 8.2 rebounds, 4.1 assists and 2.2 steals per game—all career-high figures.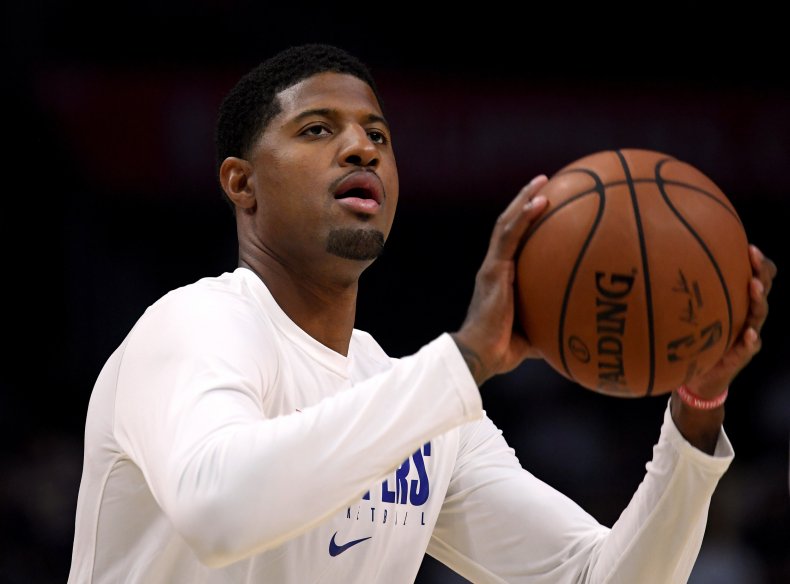 The Clippers haven't particularly missed George so far, winning six of their first nine games, with the two defeats coming in games Leonard missed due to his strict load management.
Along with the Houston Rockets, Dallas Mavericks, Phoenix Suns and Utah Jazz, the Clippers are one of the five Western Conference teams currently sitting on a 6-3 record, one game behind the Los Angeles Lakers.
The Raptors, meanwhile, have got the post-Leonard era off to a flying start, winning seven of their first nine games and are second in the Eastern Conference, trailing the Boston Celtics by 0.5 games.