Representative Paul Gosar said that he didn't apologize for posting a controversial anime video that depicted him killing New York Congresswoman Alexandria Ocasio-Cortez and defended the clip as a way to reach younger audiences.
Conservative radio host Stew Peters asked the Arizona Republican on Tuesday why more members of his party weren't backing him as he risks being censured by the House of Representatives.
"Well, I don't know. We had a conference this morning so I explained to them what was happening—I did not apologize—I just said this video had nothing to do with harming anybody," Gosar said. "It's exactly what you were talking about, it's an anime."
He continued, "We were trying to reach out to the newer generation that likes these anime, these cartoons, fabricated in Japanese likeness."
Gosar's comments come as the House is expected to vote on censuring him and removing him from the Oversight Committee where he serves with the New York Democrat.
Speaking to reporters at the Capitol on Tuesday, Ocasio-Cortez said that if Gosar was telling the truth about the video containing nothing hateful, he would have apologized by now.
"It's been well over a week," she said. "He not only has not apologized, he not only has not made any sort of contact or outreach—he nor the Republican leader of the party—but he has also doubled down by saying that I am somehow representative of undocumented people and that is somehow deserving of violence."
On Sunday, Gosar said the outrage of the video is "infantile" and claims that it is dangerous are "laughable."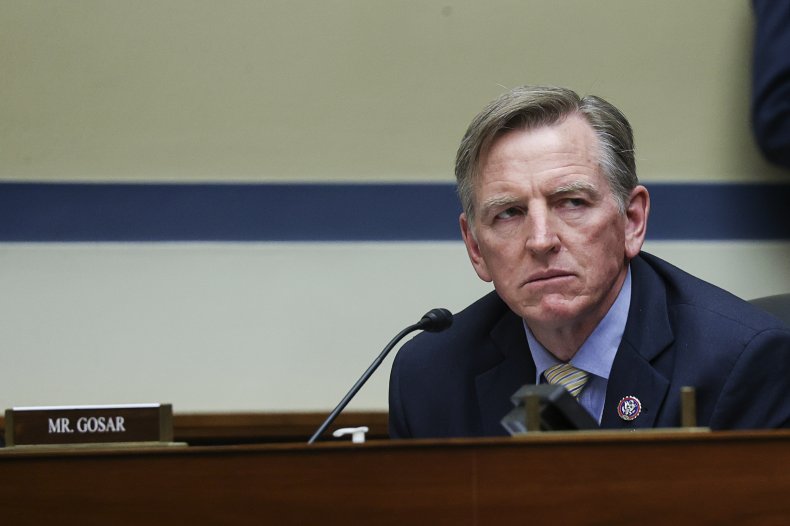 "After Twitter defamed me and called the cartoon 'hateful' we took it down. There is nothing 'hateful' in the video, but the Democrats and left-wing media were screaming at Twitter to take action against me," Gosar tweeted.
The clip shows Gosar killing Ocasio-Cortez with a sword before leaping into the air to attack President Joe Biden in a message the Republican said is about immigration using scenes from the popular anime series Attack on Titan.
Gosar blamed "the left" for purposefully mischaracterizing the meaning behind his video which he said was produced by his staff.
"As a proud member of the open borders caucus, [Ocasio-Cortez] is representative of the plague of illegal immigration. Her penchant for amnesty is well known, as is my opposition. The depiction of Mr. Biden pertains to his administration's decision to leave the border while illegal aliens invade from all points," Gosar said. He added, "The cartoon exposes the threats to America. It does not make any threat to anyone."
The Japanese show features giant humanoid creatures called Titans, which can be seen as violent invaders trying to occupy a country and take its resources, as humans do everything they can to fight them—by slashing them with swords at the back of the nape—and defeat other powerful enemies.
Newsweek reached out to Representatives Gosar and Ocasio-Cortez for comment.