Paul Gosar Responds to Censure Over AOC Meme With Comparison to Charlie Hebdo Massacre
Representative Paul Gosar, an Arizona Republican, compared his congressional censure Wednesday to events that led to 2015's Charlie Hebdo massacre.
Gosar was censured by the House of Representatives for posting a photoshopped anime video on social media that showed him attacking President Joe Biden and killing Representative Alexandria Ocasio-Cortez, a New York Democrat.
In a statement, Gosar stated that, despite the actions depicted, the cartoon did not "incite violence" and sarcastically referred to his censure as a punishment.
Gosar went on to imply that his censure could eventually lead to real violence, saying that the suppression of cartoons is what led to the Charlie Hebdo massacre.
"I remind everyone that pretending to be upset over a cartoon is what happened to the Charlie Hebdo magazine in France," Gosar continued. "All right-thinking people condemned that then, and they should condemn the Democrats now for their violation of free speech."
The infamous massacre occurred at the headquarters of the satirical Charlie Hebdo magazine in Paris France. Two brothers walked into the magazine's office and opened fire with a variety of deadly weapons, killing 12 people and injuring 11 others.
The magazine had depicted the prophet Muhammad a number of times, which is considered by some scholars to be forbidden in Islam. This is thought to be one of the main motives for the massacre, as both of the attackers were Muslim.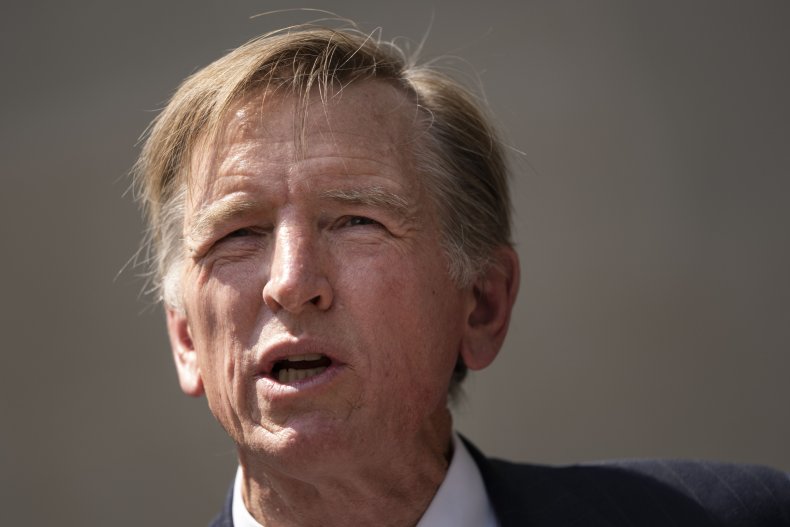 In addition to the Charlie Hebdo comparison, Gosar's statement also took aim at a variety of mainstream media outlets that he also said advocated violence.
"If this cartoon 'incites violence' and needs to be banned...then the Cartoon Network, Disney and all of Hollywood must be shut down and 'punished' for all the cartoon and film violence they portray," Gosar stated.
"I don't advocate [these shut downs], I am merely pointing out the lunacy of those who think the cartoon is violent and incites violence," Gosar continued.
However, despite Gosar's continued insistence that he was censured for no reason, numerous Democrats have spoken out in disagreement.
"When a member uses his or her national platform to encourage violence, tragically, people listen," said Speaker of the House Nancy Pelosi, who added that "depictions of violence can foment actual violence, as witnessed by this chamber on January 6, 2021."
"What is so hard about saying that this is wrong?" Ocasio-Cortez, the cartoon's target, asked Republican leadership. "This is not about me. This is not about Representative Gosar. This is about what we are willing to accept."
Many members of the GOP, though, have defended Gosar's actions, and the censure vote occurred mostly along party lines, 223 to 207, with only two Republicans joining the Democrats "yes" vote.
"There's an old definition of abuse of power: rules for thee but not for me," said House Minority Leader Kevin McCarthy, a California Republican.
Gosar became the first House member censured since 2010, and only the 24th in U.S. history.
In addition to the censure, Gosar was also removed from his committee assignments. Despite this, though, he remained defiant, and has not admitted to any wrongdoing, calling the censure a "false narrative."
He also retweeted a social media post Wednesday afternoon that played the cartoon.
Newsweek reached out to Representative Ocasio-Cortez's office for comment.
Updated 11/17/2021, 6:58 p.m. ET: This story has been updated with additional information.