Paul Gosar Says Capitol Police 'Lying in Wait' to Shoot Ashli Babbitt, Votes Against Gold Medals
Rep. Paul Gosar of Arizona said a Capitol police officer was "lying in wait" to shoot Capitol rioter, Ashli Babbitt, during a House Oversight and Reform Committee hearing about the Capitol riots on Tuesday. Gosar also voted against legislation to give all police officers who defended the Capitol on January 6 Gold Medals of honor.
While questioning FBI Director Christopher Wray, Gosar repeatedly characterized Babbitt's death as an "execution." The Capitol police officer who fatally shot her as she tried to trespass into a barricaded doorway of the Capitol building on January 6 has been cleared of wrongdoing.
"It's disturbing," said Gosar. "The Capitol police officer that did this shooting appeared to be hiding, lying in wait and then gave no warning before killing her."
In response to questions about if he knew who "executed" Babbitt or if he agreed she was unarmed, the FBI director said he couldn't weigh in on the specifics of the case because the FBI was not the investigative agency.
The same day on the House floor, Gosar became one of 21 "no" votes against the Gold Medal legislation which passed in Congress Tuesday, 406 to 21. All opposing votes came from Republican members.
The bill takes follows the Senate's initial unanimous decision to award Capitol Police officer Eugene Goodman the highest congressional honor earlier this year. The Gold Medal legislation would award all police who served that day the same high honor.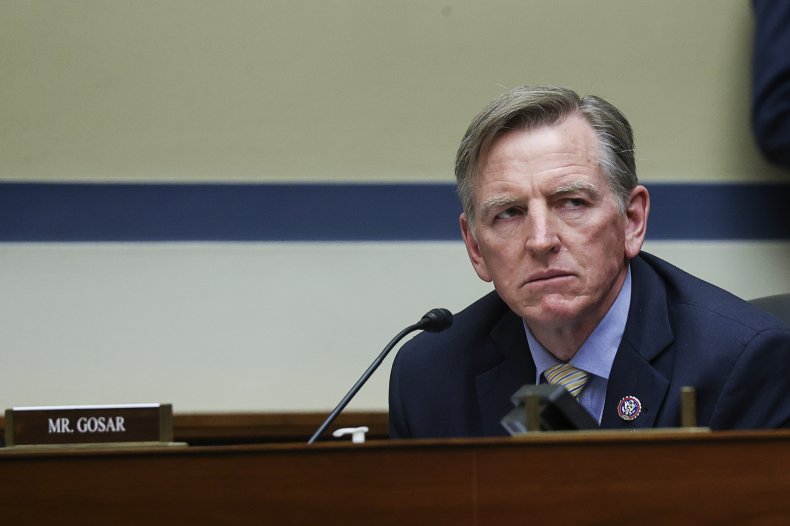 "There were a lot of heroic people, including Officer Goodman," Sen. Amy Klobuchar, a Democrat from Minnesota and chairwoman of the Senate Rules Committee said Monday evening. Klobuchar introduced a similar bill to the Senate on Tuesday that is expected to pass.
Some Congressional opponents to the bill said they took issue with the bill's language. Republican Rep. Marjorie Taylor Greene of Georgia, who voted no, told reporters she didn't like the use of the word "insurrection" to describe what happened on January 6.
"I wouldn't call it an insurrection," Greene told reporters. Greene also said disliked language in the bill that referred to the Capitol complex as "the temple of our American Democracy."
Babbitt, the first casualty reported during the Capitol riots, was a 35-year-old Air Force veteran from Southern California, and a dedicated Donald Trump supporter. She was fatally shot by police as she tried to jump through the broken glass of a door into the Capitol building. The Department of Justice said in April that it would not pursue charges against the officer who shot her as there wasn't enough evidence to support a criminal prosecution.
Newsweek reached out to Rep. Gosar's office for comment.