Paul Heyman Talks Brock Lesnar's Future, Roman Reigns, Ronda Rousey and More
A huge spotlight shines on the upcoming bout between Brock Lesnar and Roman Reigns at WrestleMania 34 in New Orleans as WWE fans watch to see who will emerge with the WWE Universal Championship
Fans on both sides believe their preferred outcome is the most predictable, but Lesnar's future in the WWE is less certain. Will "The Beast Incarnate" go back to UFC, re-sign with the WWE or both?
We spoke with Paul Heyman, legendary WWE manager and Brock Lesnar's advocate, about what makes Brock different from any other WWE Superstar, their future plans with the company, Ronda Rousey's new career as a WWE Superstar and WrestleMania 34 itself.
Editor's note: This interview was lightly edited for length and clarity.
It's been a few years since Brock Lesnar returned from UFC to the WWE. How do you keep him fresh in the eyes of the audience despite his lack of TV time?
Brock is not a sedentary individual. He's constantly improving, pushing and challenging himself so I don't have to think that hard about what I want to say about Brock Lesnar. He offers me enough material from what his life really is like that I can incorporate it into the things that I say when I'm advocating for him.
Brock has his own training centers. He's not being trained by Greg Jackson, Pat Miletich or Duke Roufus. Brock has his own coach and sparring partners, he does not participate in a camp. When you have this at your disposal, your training method is unconventional.
Cain Velasquez [training routine] is very similar to Daniel Cormier's and it's out in the open. But no one knows what Brock Lesnar does. So when I make a claim about his training, you either believe me or you don't, but you have to take me for my word or you challenge me about it because I'm the only one in the conversation, most likely, with any access and information about that training.
There has been a lot of reporting on Brock's no-shows, and contract negotiations. They've been implemented into storyline heading into WrestleMania. Does that make things easier for you?
I would suggest that WWE has taken the approach of playing into the mystique and the intrigue that surrounds Brock Lesnar. Because if there was anyone else that you present these storylines with, what happens is you say, by way of example, "Mister X has left the country, 3 weeks before WrestleMania to go on a hike in the mountains of snowy Siberia." But then you look at the guy's Twitter account or Instagram on a Friday night and he's with his wife and kids at a hockey game, or at a Chuck E Cheese, saying "can't be the villain 24/7." With Brock Lesnar, you can easily make the claim that he is scaling the heights of Kilimanjaro because you are not going to see social media pictures of him with his wife and kids, hanging out at Disney World.
So you can say anything you want about Brock Lesnar, because he is such a recluse. People don't know how much of what is being told to them is storyline and how much is just WWE acknowledging what's really going on and incorporating it into the narrative of what is presented on television.
Brock Lesnar is a fascinating human being.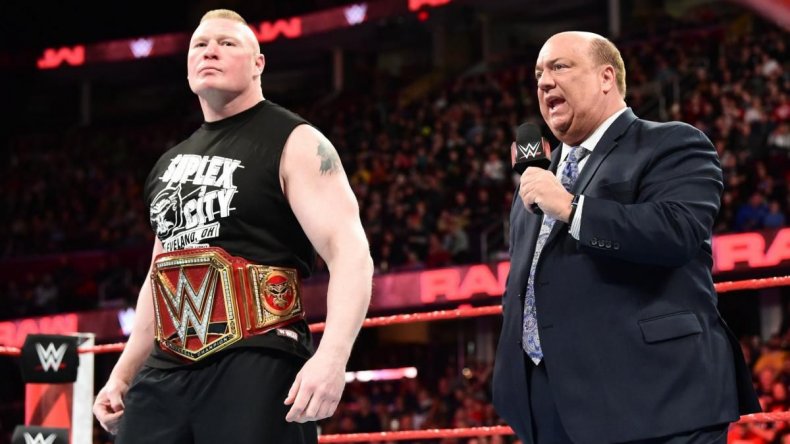 Do WWE Superstars using social media so heavily affect narrative? For example, Braun Strowman and Roman Reigns were seen together during a feud last year. Would you advise against this?
We live in a very open and honest society when it comes to celebrity-dom. If you go out for a drink and a steak with someone you are opposed to in a storyline, it's going to get out there. So either be honest with your audience and acknowledge the picture, or don't be seen with the person you don't want to be seen with. It's one or the other.
We're not trying to fool anybody in terms of the presentation of the product. How much you want to play into the public's fascination with the level of authenticity and the animosity between the characters is up to you. I can tell you it would be very easy for people to vent about Brock Lesnar or Paul Heyman in private or on television.
Whether we choose to squash that beef in private or public is a matter of preference. Or to just go back on television or to the setting and say, "this is how I feel about this guy." And let the people sort it out for themselves.
Speaking of Roman, he's Brock's opponent at WrestleMania. What will both Superstars bring out of each other?
I think Brock Lesnar will bring out of Roman the audience's respect for the toughness possessed by Roman Reigns, in the fact that he's going to have to endure a beating in public in front of 70,000 people the likes of which you are not seeing in the PG presentation of WWE. What Roman Reigns will bring out of Brock Lesnar is the willingness to dish out such a beating in front of 70,000 people that will not be conformed to the PG standards of WWE.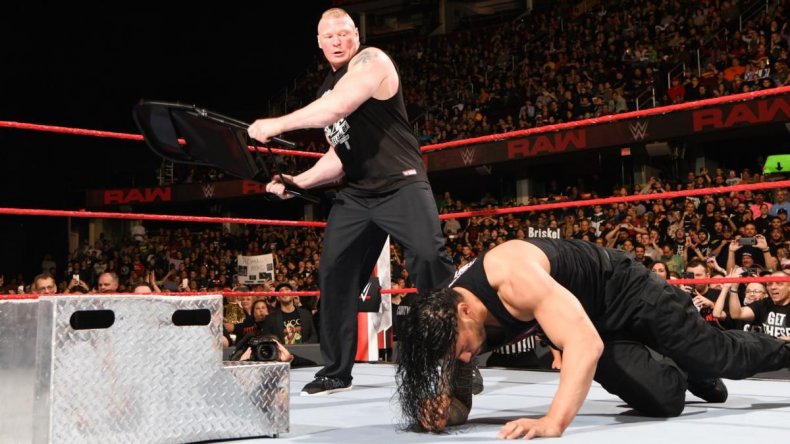 You talk about audience respect. Do you feel Roman will eventually get the respect of the audience? Do you feel he's already earned it?
I don't think Roman Reigns should for one moment of his life be worrying about earning the respect of the WWE audience. Because what he has is their willingness to pay to see Roman Reigns whether they respect him or not. Right now, when you look at any of the indicators of selling tickets in terms of "does his name move the needle?," if you announce his name on a show, how many tickets are sold in the first two hours of his name being announced, Roman Reigns is a box office commodity for WWE.
People are willing to pay to see him win and people are willing to see him lose. People are willing to pay for the right to cheer or boo Roman Reigns. That is your job as a box office attraction. Your job and the manner in which you feed your family is not dependent upon whether the audience respects you or disrespects you. It's dependent on the audience's willingness to pay to see you. And he has accomplished that task better than anyone else on the roster which is why, for the fourth year in a row, he is in the main event of WrestleMania.
What are your plans If Brock were to lose and Roman takes the belt?
I don't think it's any secret that Brock is looking to get back into the octagon. He is obviously eyeballing another fight in UFC. There's no secret. He's posing for pictures with Dana White wearing a UFC shirt in the UFC offices in Las Vegas. That's not a negotiating tactic, Brock Lesnar wants to compete inside of the octagon. There's no leveraging that; it's a fact.
I have an agency that has expanded so fast we're now expanding into also being a full-fledged production studio. We have several projects and deals we will be announcing after April 8, for film, television, representing clients etc
We both have a number of projects we have been interested in pursuing that will start to kick off after WrestleMania. That doesn't mean Brock Lesnar can't retain the title and we do those other projects simultaneously in a continued run as Universal Champion. The proof I offer to you is Brock Lesnar fought Mark Hunt at UFC 200 and, six weeks later, main evented SummerSlam against Randy Orton.
Brock Lesnar can do both and he has proven that time and time again. And I've been the co-founder and co-running my agency since I came back in 2012. I've been working on outside projects this entire time, so we can certainly walk that line when it comes to working in WWE and other projects. Mine is entertainment-based, Brock's is beating the hell out of someone in the octagon.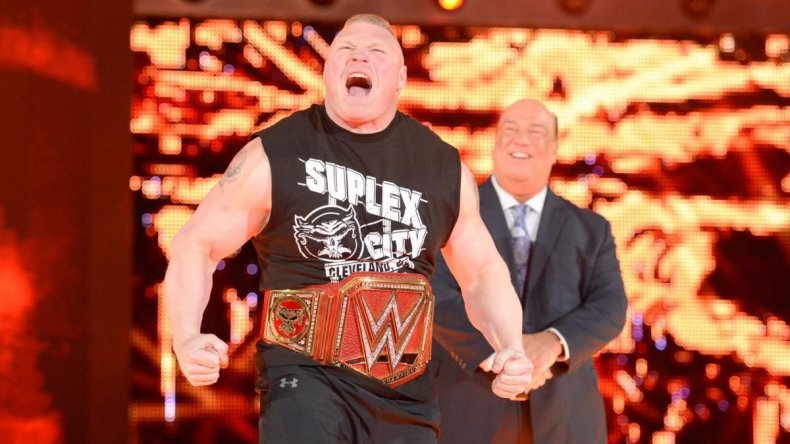 Does Brock have an opponent in mind?
Whomever UFC deems appropriate as both a physical matchup and a box office attraction against Brock Lesnar.
You think that's happening this year?
I don't know, and I don't even know if the timetable has been discussed. The question posed is "are you willing to get into the octagon?" and fight and I would suggest Brock's answer to that is "yes, I am." Now, when will it take place, against who and where? These are just details. The big question has always been "are you willing to do this?" And it's pretty apparent that Brock Lesnar is.
What are your feelings on Ronda Rousey?
I think Brock Lesnar and Ronda Rousey are two completely different case studies. Brock was a collegiate champion who transitioned into WWE, who transitioned to UFC and into doing both. Rousey was an Olympic athlete who transitioned into MMA with StrikeForce then UFC and now transitioning to a full-time career in WWE. There is a big difference.
Ronda is just getting started in an industry that most people start in their late teens and early 20s. But she is such a gifted athlete with such credentials, and I'm not talking about her box office credentials, her athletic gifts are so extraordinary. And her passion for WWE is at such a level that she offers WWE the opportunity to exploit a true game-changer. She may actually raise the level of physicality on the female roster because she is the same Ronda Rousey that revolutionized and evolutionized the entire sport of MMA. Dana White was on record, when Rousey was smashing ratings records in StrikeForce, saying women will never fight in the octagon, let alone main event a UFC event.
By the time UFC and Zuffa bought out Strike Force the first member of the roster UFC could not wait to feature in the main event was Ronda Rousey. Because not only was she such a box office attraction but she was also an extraordinary fighter who upped everyone's game with her talent. I think she'll do the same for the WWE. In fact, I'm sure of it.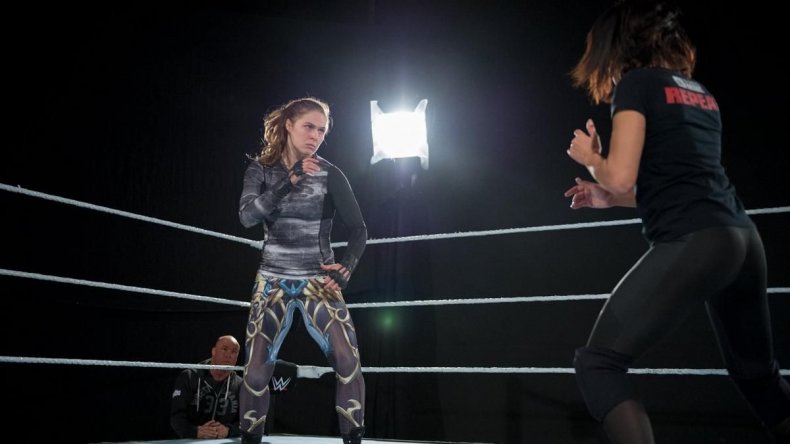 Does Ronda need to be full-time to make it in the WWE?
I am so sick and tired of the discussion regarding people's schedule. And I go back to the same thing that I offered for years. What is the most emotional blissful night of the year? Christmas Eve. And this comes from a New York Jew boy.
Christmas Eve is the nicest night of the year, everyone loves each other, presents all around, all the kids get to wait up for Santa. It's such a great night. Wouldn't it be nice if we can all just feel the same way 365 days a year? Why don't we make every night Christmas Eve? Because then it's not the same.
There are some attractions that work on a 52-Monday, 300-day schedule. And some attractions that are worth far more money if you only get to see them sparingly. I think the schedule that will be worked out between WWE and Rousey will be such that WWE will exploit the box office appeal of Ronda Rousey to its fullest. And she will offer the WWE whatever it takes to exploit those talents and that box office appeal. And it shouldn't be one day more nor should it be one day less.
Would you ever advocate for her?
I've been talking about Ronda Rousey on WWE television for years. The joke amongst the Horsewomen is that I turned Ronda Rousey into a verb at the Prudential Center a few years ago. I offered spoilers for Brock Lesnar matches and that he had the decision to torture you all night long or simply "Ronda Rousey" your ass.
So would I advocate for Ronda Rousey? I think the body of work Brock Lesnar and I have done, especially since 2002, had been of such a historic nature that pairing me with another member of the male roster will pale in comparison. If I were to be challenged to speak on someone else's behalf, I believe that challenge would have to be in a different capacity than I offer at the moment and the Women's division could be that answer. Whether it's standing next to Ronda Rousey and extolling her virtues or opposed to Ronda Rousey. Both present interesting scenarios.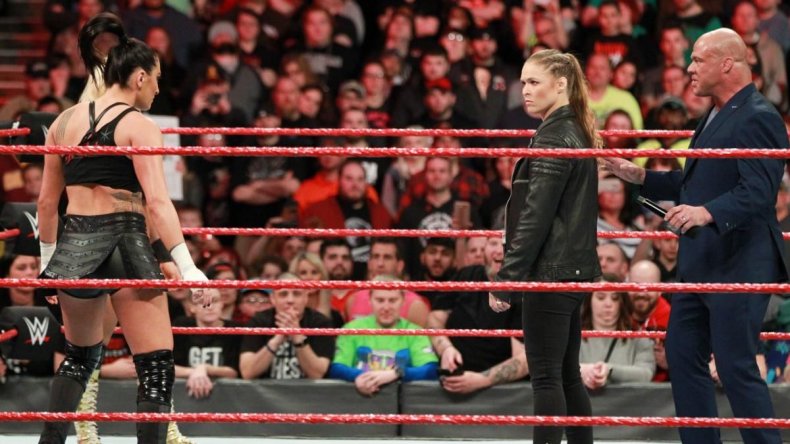 Though, to be perfectly transparent, my task right now is to sell WrestleMania for April 8. The match that has literally been a daily project for WWE for the past three years, which is Brock vs Roman, and a main event that is either going to be passing of the torch or yet another defining moment for Brock Lesnar at WrestleMania in New Orleans where he conquered the Undertaker's streak four years ago.
The responsibility and the accountability of being the advocate, not just for Brock Lesnar but the sales person for that main event, is such a heavy load to carry that I would be nothing but playing a distraction game on myself if I were to think about anything that is going to happen past April 8.
The biggest news of the week was the return of Daniel Bryan. How did you feel when you heard the news?
Ecstatic. This is all Daniel Bryan has wanted since the moment he was told he was being forced to retire. And the emotional rollercoaster that he has been on since that moment has always been with the light at the end of the tunnel, thinking "somehow, someway a miracle will be bestowed upon me that I can be cleared and step back into the ring and do what I love to do more than anything else in this world."
That's all he wants to do. It's what he dreams about, what he envisions, it's what he wakes up wanting to do and thinks about when he's going to sleep. So ever since that moment the doctors told him "sorry we're going to have to advise if you retire" the only dream Daniel Bryan has had, the fantasy in his life, is to be cleared and to exploit the opportunity of stepping back into the ring. And now he has that chance.
So I'm ecstatic for Daniel Bryan. Very few people I know deserve to live out their dreams more than Daniel Bryan.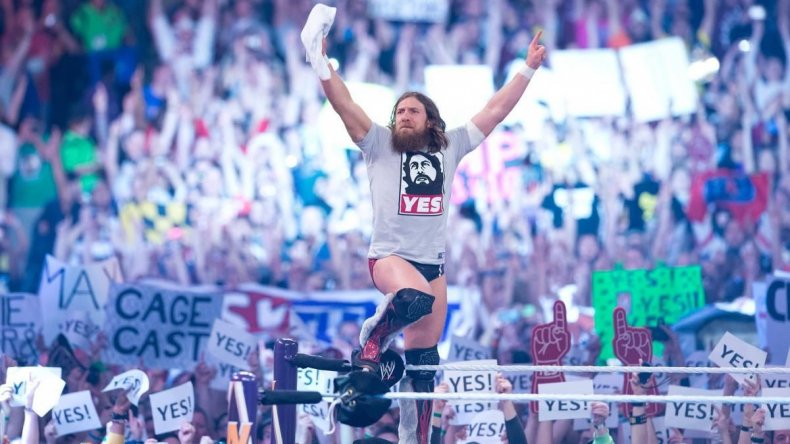 Would you want to be part of a program between Bryan and Brock Lesnar?
I have wanted to see Brock Lesnar vs Daniel Bryan even before Lesnar debuted on the main roster when Bryan was known as The American Dragon. I loved his matches even in the early part of his career and found him to be one of the most compelling, riveting performers in the history of this industry.
AJ Styles vs Nakamura is another match fans are looking forward to at WrestleMania but they are not "WWE guys." Is it par for the company to have this influx of guys come in from outside the company?
I learned a long time ago, both in show performance, in sports and in this industry, that what works, works and what doesn't, doesn't. And sometimes there are reasons why things work and sometimes things work despite every argument against the reasoning for them to work.
Stylistically, the industry constantly evolves, updates, innovates and upgrades. I disagree with the assertion AJ Styles and Nakamura wrestle a different style than is employed by WWE. I would suggest they are a progressive style of sports entertainment. That they are ushering in a new era of WWE that will see more people who use that style be featured prominently on the roster then in title matches at events like WrestleMania.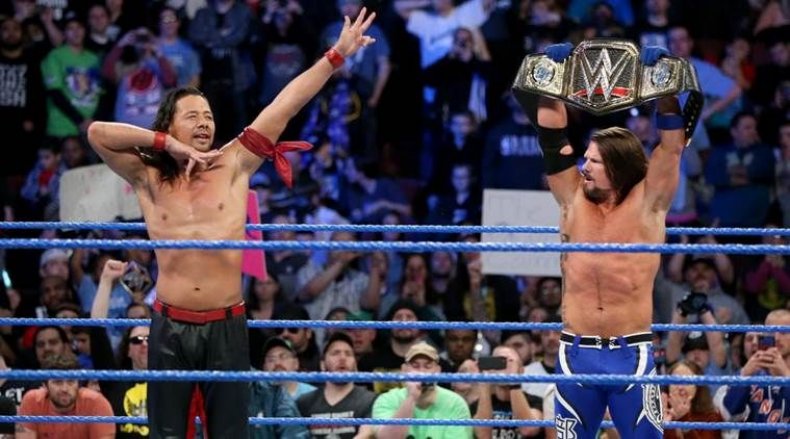 This is where the industry is heading. And WWE, being the dominant player in the game with a market share that is mind boggling, will always present to the audience whatever is going to be the box office for that time. So what the roster looks like today is dramatically different than what the roster looked 10 years ago, which was dramatically different than what the roster looked like in the Attitude Era.
And the roster 10 years from now will look dramatically different than today. We have women main eventing major pay-per-views, that would not have happened five years ago. And in the next five years, or even in the next year, we may see women main eventing WrestleMania that is a completely different concept in the presentation of the product. The same way Styles and Nakamura bring a very different take to the product to their match. What is en vogue today may be the established style tomorrow and then someone new, different and young will come along and that will be the renegade style that we talk about. That's how it works. This industry constantly moves forward, it has to. It's the only way for it to survive.