Golden State Killer Detective Paul Holes Is Now a True Crime Heartthrob
A Bay Area detective who helped search for the Golden State Killer for nearly a quarter-century recently found himself sought out by a much more flattering group—true-crime fans.
Paul Holes, the Contra Costa County District Attorney's Office investigator, retraced the killer's steps and first suggested using DNA evidence to hunt for the man now identified as Joseph DeAngelo. Also known as the East Area Rapist, DeAngelo is accused of two murders and dozens of homicide and rape allegations.
Holes, 50, first received adoring fan appreciation after appearing at an April 25 press conference in Sacramento to announce DeAngelo's arrest. Although he didn't say a word throughout the entire television appearance, several Facebook groups and memes sprang up across the internet demanding to know more about the "hottie" detective.
"He's just a babe," Sacramento designer Annie Breault, 24, told the Sacramento Bee. "Being in forensics and being so smart to solve that case...he's every girl's hero right now."
Allison Birdsong of Carl, Georgia, runs the Holerino's Facebook group and coined the #HotForHoles hashtag. Birdsong told Newsweek she first found out about Holes from the My Favorite Murder podcast in 2016, a true crime program with a comedy twist. Birdsong said the Golden State Killer case was discussed along with late author Michelle McNamara's book I'll Be Gone in the Dark: One Woman's Obsessive Search for the Golden State Killer. Birdsong said she and her husband have traded barbs over her fascination with the case—and Detective Holes—but she likened DeAngelo's capture to the Super Bowl for many so-called armchair investigators.
"We rip on each other all the time, and he likes to remind me at this point what a terrible feminist I am: 'You're objectifying that man,'" she told Newsweek on Thursday about her playful banter with her husband. "I get it, but I can't help it. I don't crush on men.... I'm way too old to be fangirling. But it was [Holes'] level of dedication along with several other investigators and he happens to be the best looking of the group."
Birdsong added that many women are "so dialed into true crime" stories. "We are appreciative to Paul Holes and all of the people who worked so hard, and it's encouraging [to victims] that investigators never quit until they had [DeAngelo]."
"Paul Holes just happens to be really nice to look at," Birdsong added with a laugh.
A wide-ranging series of social media groups in Holes' honor emerged in the weeks since DeAngelo's arrest. "Holerinos" and "#HotForHoles" groups and hashtags feature flattering photos of the married Vacaville, California, lawman, while some groups make more vulgar puns using his last name.
Questions and posts in these groups appear to originate from members who are predominantly middle-aged women. The groups feature people's favorite photos of Holes, selfies taken with him at a recent crime convention and they rejoice over his recent joining of Twitter.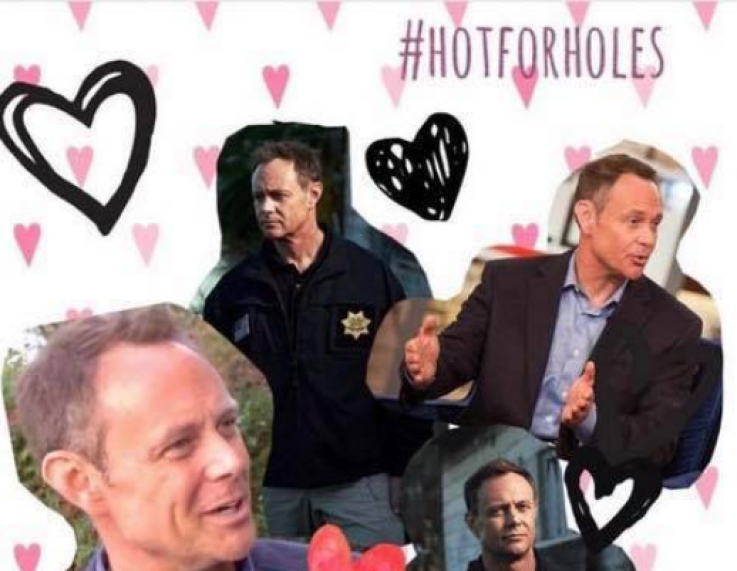 "They are all wanting to come up and get photos, but they are all super nice, and (it's) nothing overtly sexist, like all the sudden I am feeling like an object," Holes told the Sacramento Bee. "Here I'm a 50-year-old-guy, but at the same time it is flattering."
Speaking with KTXL-TV's Exposed podcast at CrimeCon in Nashville earlier this month, Holes described the "bittersweet" ending to the 24-year investigation he likened to a career-long obsession. DeAngelo, 72, is suspected of at least 12 slayings and 50 rapes in 10 counties throughout California.
Hours before he retired from law enforcement in April, Holes detailed his thought process while sitting outside of DeAngelo's Citrus Heights homes before he decided to drive away. "I wanted to solve the case before I retired, but it could have gone very badly...but I take solace in the fact that before I retired I was within 50 feet of the guy."
Jim Clemente, a writer on the TV show Criminal Minds as well as a representative for former law enforcement officers, told the Sacramento Bee that Holes was a "rock star" at the Nashville true crime conference. Clemente said there were "about 3,000 women ... who all think he's very easy to look at."
Meanwhile on the internet, Holes's mainly female fan base seems to be growing larger as the Golden State Killer case has gotten more publicity. Holes himself has been having some fun with the newfound forensic fan base and said his wife has not had issue with most of the fame.
"I really enjoyed listening to him. He's really smart, but he didn't talk over my head!" #HotForHoles Facebook group member Heather Palermino Pruitt told Newsweek Thursday. "He's very attractive and smart.... I'm very interested in other true crime shows, but Paul Holes is really the only member of law enforcement I'd want in my rearview mirror!"