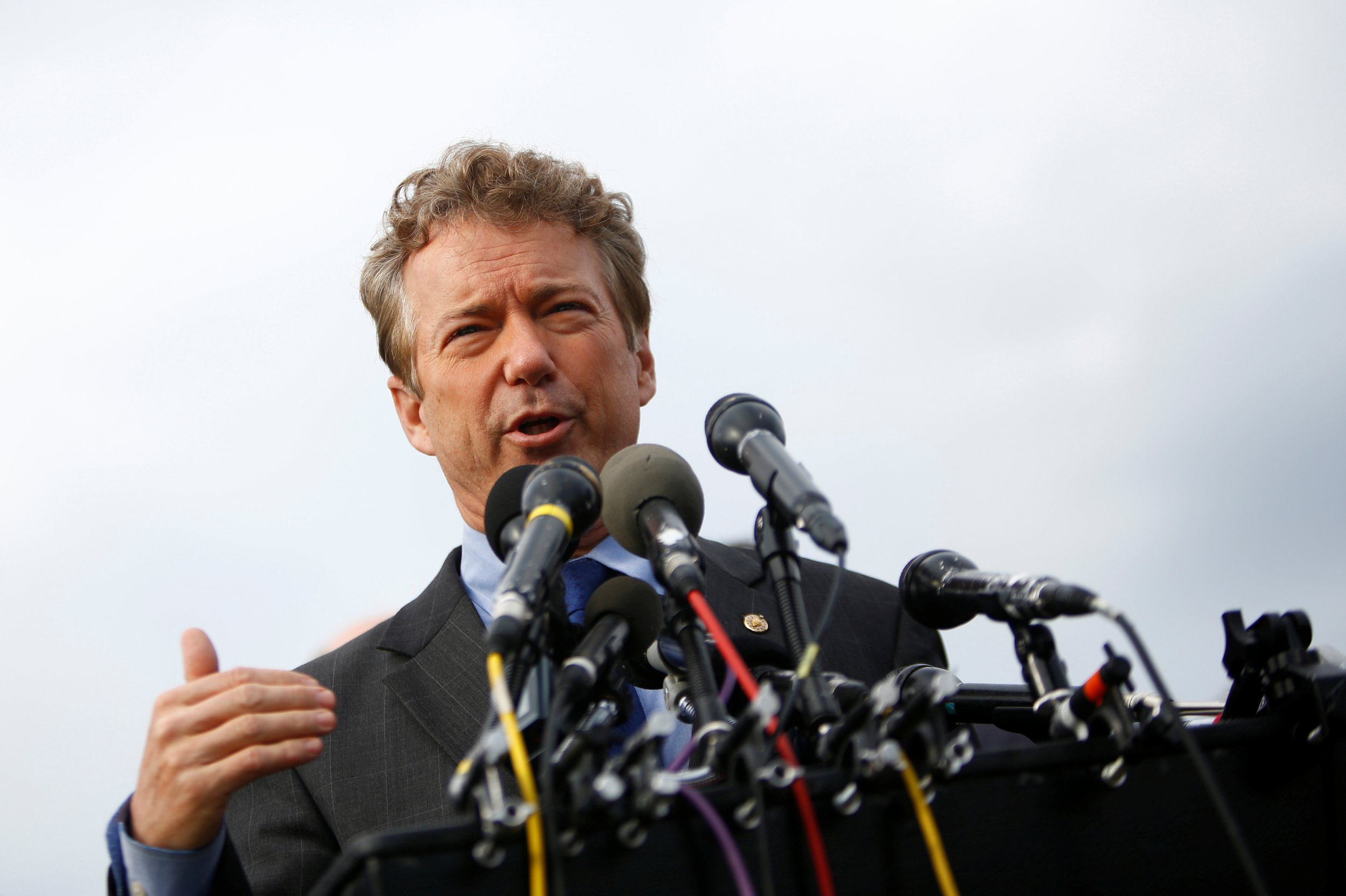 While Republican leaders have offered a series of tweaks to their proposal to repeal and replace Obamacare, one leading opponent of their measure, known as the American Health Care Act (AHCA), predicted Tuesday that the changes won't be enough to win approval in the GOP-controlled House.
Related: Obamacare repeal: Rand Paul introduces alternative to GOP proposal
"I think there are enough conservative votes for it not to pass in its current form," Senator Rand Paul (R-Ky.) told reporters at the Capitol. "I think negotiation begins in real earnest in the next 24 hours or so, once they discover they don't have the votes." As it stands now, the House plans to vote on the plan on Thursday, and with all Democrats expected to vote no, Republicans can afford to lose only 21 votes if the bill is to pass.
Paul's declaration came just hours after President Donald Trump appeared on Capitol Hill to twist House Republican arms in favor of the bill, and less than a day after Trump appeared in Paul's backyard—Louisville—for a public rally to gin up support for health care reform. Vice President Mike Pence is also on Capitol Hill Tuesday to meet with Senate Republicans on health care.
Together, the president and vice president have convened more than a dozen meetings with both supporters and critics of the House bill since it was unveiled at the end of February. "President Trump was here to do what he does best, and that is to close the deal," House Speaker Paul Ryan said at a press conference after Trump's visit. "He is all in."
A rejection of the proposal in the House, then, would be a major rebuff to the White House in its first major foray into policymaking.
And House conservatives, many of them members of the hard-line Freedom Caucus, emerged from the meeting with Trump Tuesday morning still unconvinced. Representative Mark Meadows of North Carolina, the chairman of the caucus, told reporters he was still a "no" after Trump's visit, despite being singled out by the president in the closed to the press gathering. According to Politico, the president told Meadows, in front of his colleagues, that he'd "come after" him if the congressman voted against the plan. Observers said he seemed to be "half-joking."
Trump also name-checked Paul during his Louisville rally Monday night. But the president was far more conciliatory to the home state senator, who did not attend the event. The president told the crowd he liked Paul "a lot," adding, "I look forward to working with him so we can get this bill passed in some form."
On Tuesday, Paul played down the notion that Trump was threatening opponents of the bill. "I think that he's concerned how we do electorally if we don't repeal it," Paul said. "So am I. But I'm also concerned how we do electorally if we put something in place that doesn't work."
Conservatives like Paul are pushing to pass legislation that simply repeals Obamacare, as the 2010 Affordable Care Act is popularly known, rather than layer on a number of replacement proposals, as the current legislation would. They also object to the way the current proposal provides tax credits for low- and middle-income workers to purchase private insurance if they do not receive health coverage from their employer.
In an attempt to assuage their concerns, House Republican leaders announced several amendments to the bill Monday night to speed the repeal of Obamacare taxes and provide more options for states to rein in Medicaid spending. They also sought to woo moderates by providing an avenue to increase tax credits for seniors, whose health care expenses are projected to rise sharply under the GOP proposal.
It's part of a delicate attempt by Republicans to thread the needle between their conservative flank, which wants the federal government to minimize its role in health care, and moderates—particularly senators—who fear a backlash from home state voters who may lose insurance or see their premiums rise under the new plan. Ryan acknowledged that the proposal requires conservatives to make some concessions but also said it includes some "huge conservative wins."
"We know we can't get 100 percent of what we want every time around here, in this particular case because of Senate rules. We don't want to put something in this bill that the Senate is telling us is fatal to the bill being brought up in the Senate," Ryan said Tuesday morning. "In this day and age, in this business, in politics, if you get 85 percent of what you want, that's pretty darn good."
For conservatives—including Paul—85 percent may not be enough in this case.