Paul Manafort Associate Charged With Acting as Unregistered Foreign Agent for Ukraine Political Party
Sam Patten, a former associate of President Donald Trump's embattled former campaign manager Paul Manafort, has been charged with acting as an unregistered foreign agent on behalf of a Ukrainian political party.
A criminal information document filed in federal court Friday alleged that Patten had worked for Ukrainian political party Opposition Bloc from 2014 until 2018 without registering with the Justice Department as required under U.S. law. Opposition Bloc is a successor of former Ukrainian President Viktor Yanukovych's Party of Regions. Yanukovych, who fled to Russia after being ousted by a pro-Western social movement in 2014, was one of Manafort's primary clients.
"Beginning in or around 2014 to tbe [sic] present, PATTEN worked with a Russian national (Foreigner A) on lobbying and political consulting services. The two formed a company (company A) in the United States, and were 50-50 partners. Beginning in or around 2015, company A, among other things, advised the opposition Bloc and members of that party, including a prominent Ukraine oligarch (Foreigner B). company A performed political consulting services, which involved work within Lrkraine [sic] as well as lobbying in the United States," the court document read.
The company allegedly received around $1 million, part of which was for consulting work that violated the Foreign Agents Registration Act. During that time, Patten allegedly violated U.S. laws by contacting the legislative and executive branches of the government and speaking with the media on behalf of his clients. He also helped set up meetings between the Ukrainian oligarch mentioned in the court documents and members of Congress, as well as drafting his talking points for those meetings, the documents read.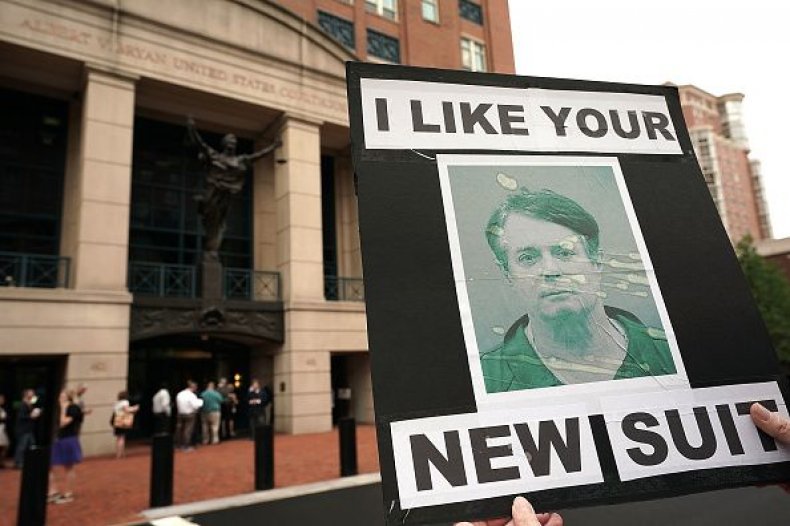 Patten is expected to plead guilty on Friday, according to the the criminal information charging document, which is generally used when a defendant is going to enter into a plea deal.
Previous reports linked Patten to Konstantin Kilimnik, a Soviet-born individual active in Ukrainian political circles whom Manafort reportedly described as "my Russian brain." Kilimnik has been indicted by federal prosecutors for witness tampering in relation to a case against Manafort for money laundering and criminal conspiracy. Kilimnik and Manafort allegedly contacted employees of a public relations firm in London and urged them to give false testimony about their lobbying work in order to protect Manafort.
In separate court filings, special counsel Robert Mueller's team, which is investigating whether the Trump campaign collaborated with Russia to influence the outcome of the 2016 U.S. Presidential campaign, has said it suspects Kilimnik has ties to Russian intelligence. The Soviet-born Ukrainian was once a translator for Russia's military intelligence. Patten, meanwhile, worked closely with Kilimnik in the International Republican Institute in Moscow in the early 2000s. The Daily Beastfirst reported in April that Patten and Kilimnik had formed a company together in 2015 called Begemot Ventures International, which aimed to "build the right arguments before domestic and international audiences."
Patten also worked for Cambridge Analytica, the now-defunct data company hired by the Trump campaign.